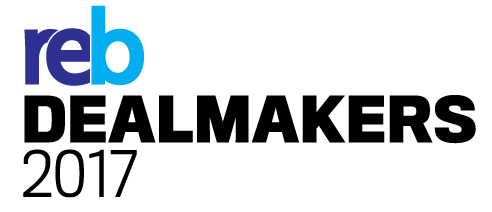 You're out of free articles for this month
To continue reading the rest of this article, please log in.
Create free account to get unlimited news articles and more!
As part of our continued dedication to the industry, Real Estate Business has launched the brand new REB Dealmakers 2017 ranking, partnered by Gough Recruitment, celebrating the achievements of the top dealmakers in real estate.
A WORD FROM Gough Recruitment




Partner of the REB Dealmakers 2017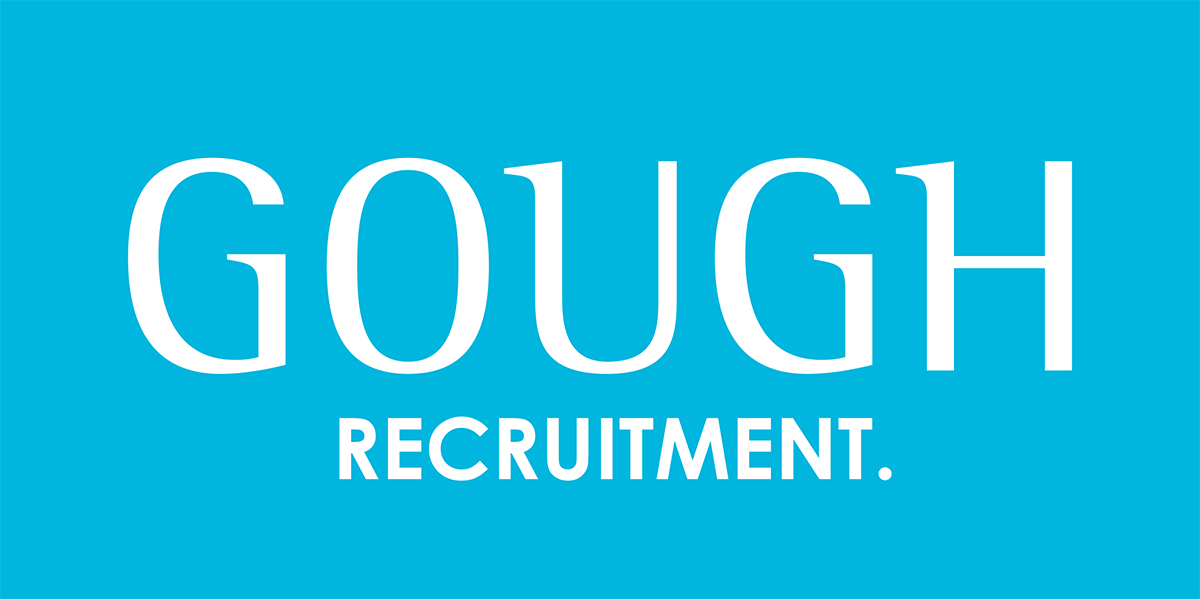 Gough Recruitment is proud and excited to be partnering with REB Dealmakers 2017 in recognising high achievers and celebrating their success. Gough Recruitment specialises in real estate recruitment, and just as we strive to grow business teams and careers through matching quality talent, we are also passionately invested in supporting one of the industry's most anticipated and sought-after rankings in Australia.
With competition levels at an all-time high, along with a backdrop of disruption and an Australia-wide squeeze on listings, the new REB Dealmakers ranking unveils a group of agents who are separating themselves from the pack by being true masters of their craft — in the face of some seriously challenging headwinds. These agents are setting a truly extraordinary standard of performance that will surely be difficult to match, let alone pass, in the years ahead.

In the ranking's inaugural year, Australia's leading dealmakers have been unveiled in the report that recognises excellence in all of deal volume, year-on-year growth and consistency of performance — the three pillars of dealmaking excellence.

The REB Dealmakers ranking, partnered exclusively by Gough Recruitment, is the preeminent ranking of real estate dealmakers in Australia.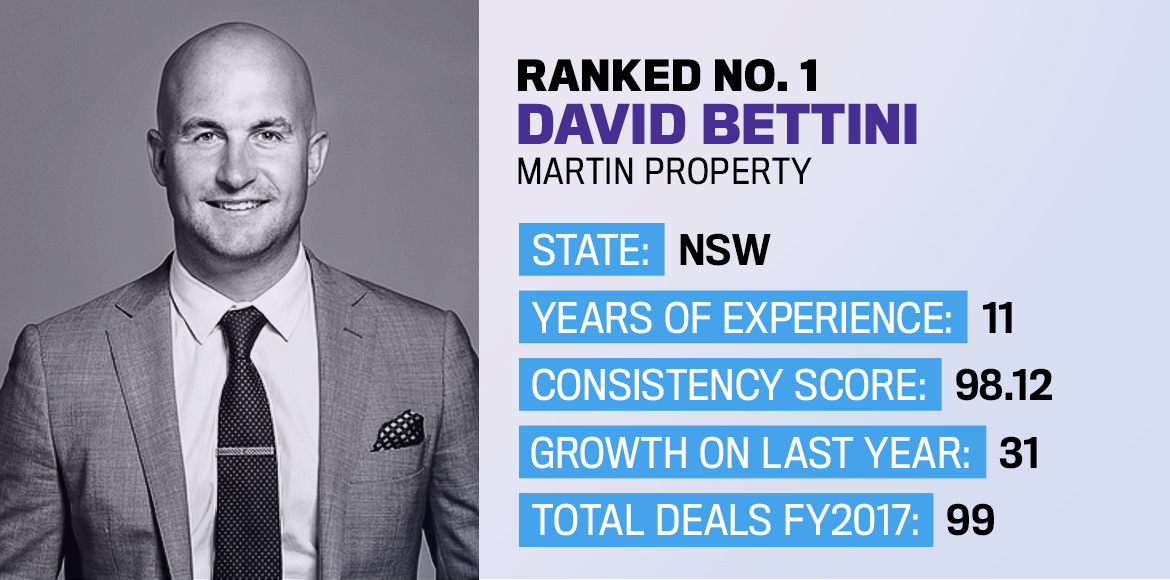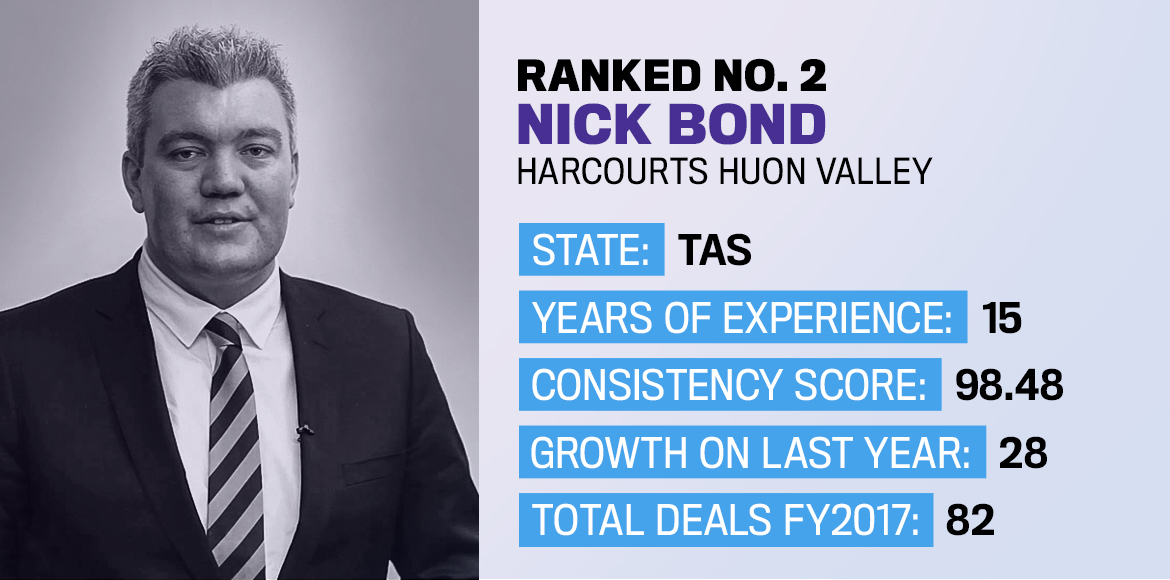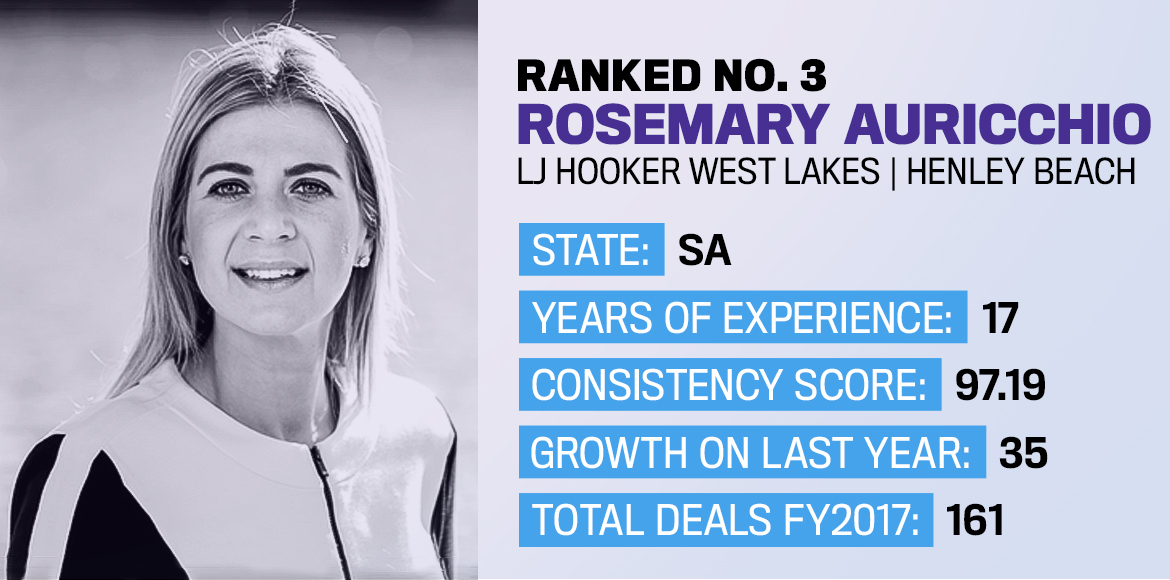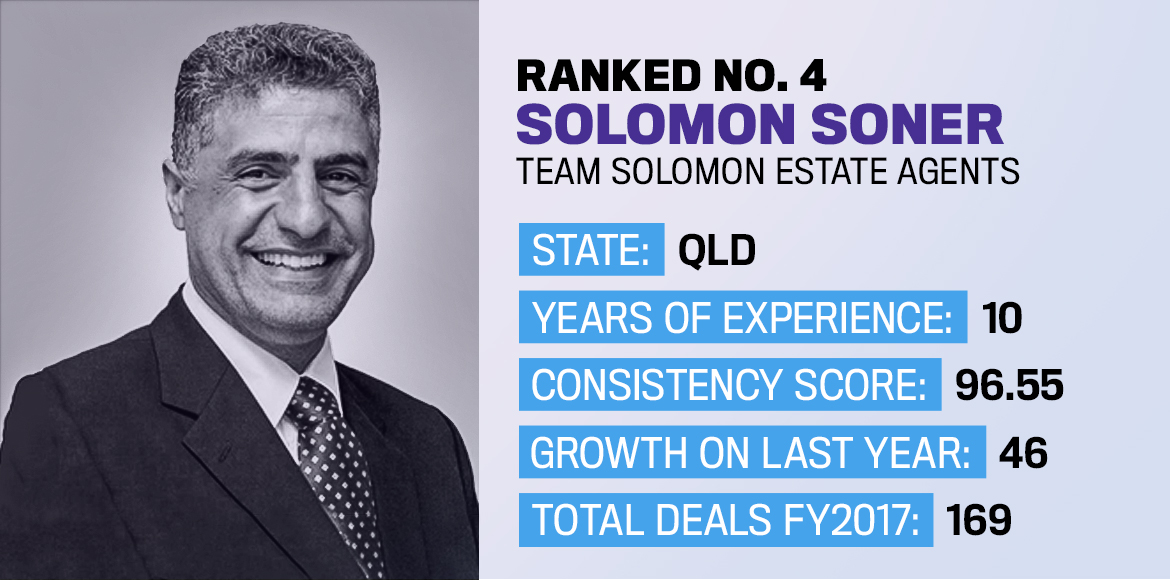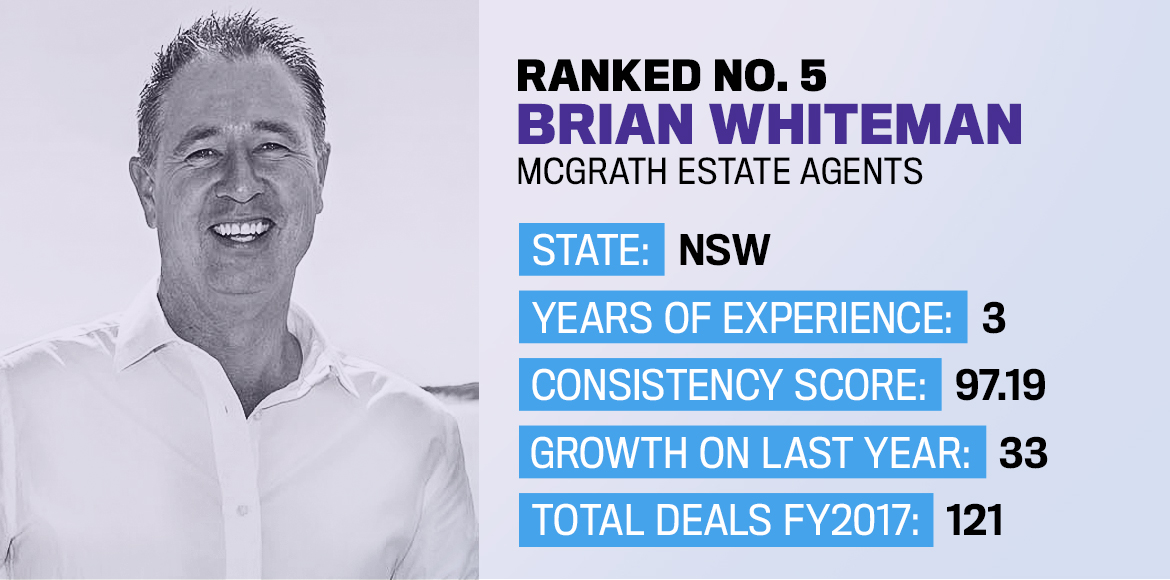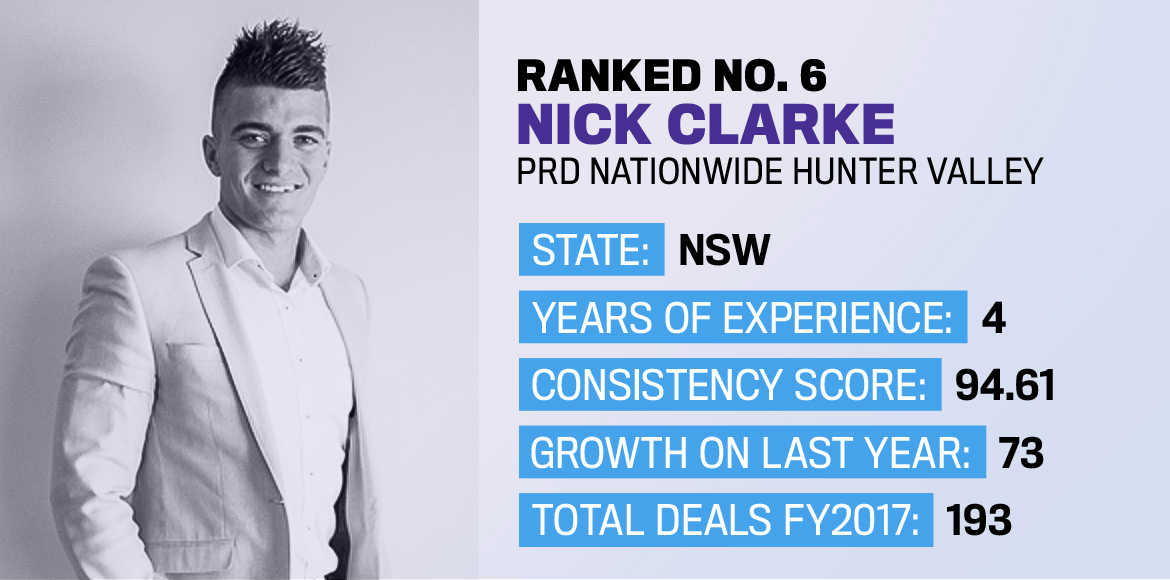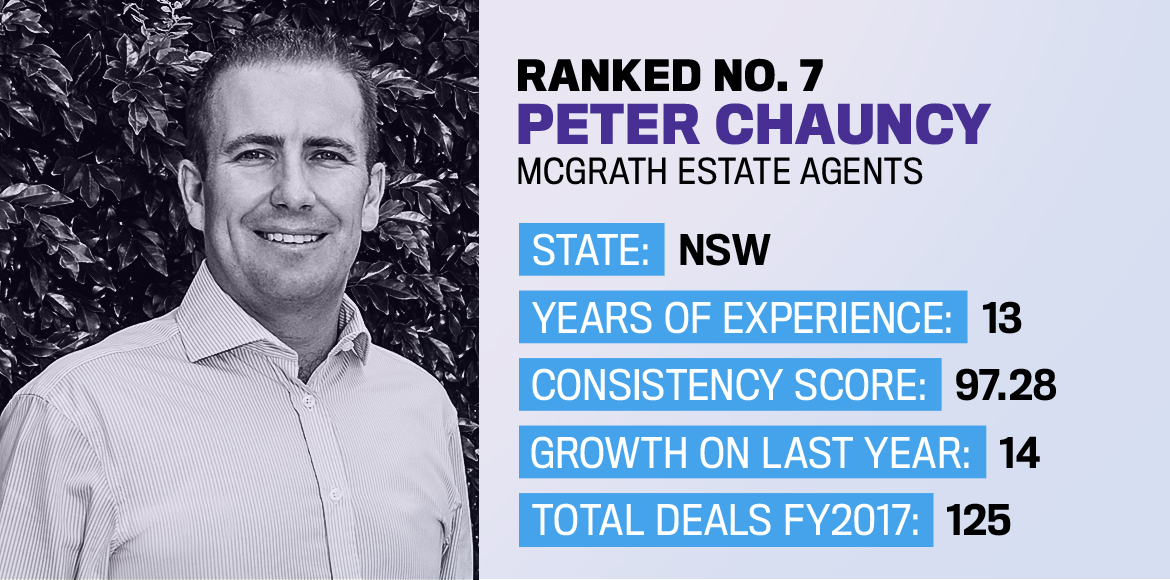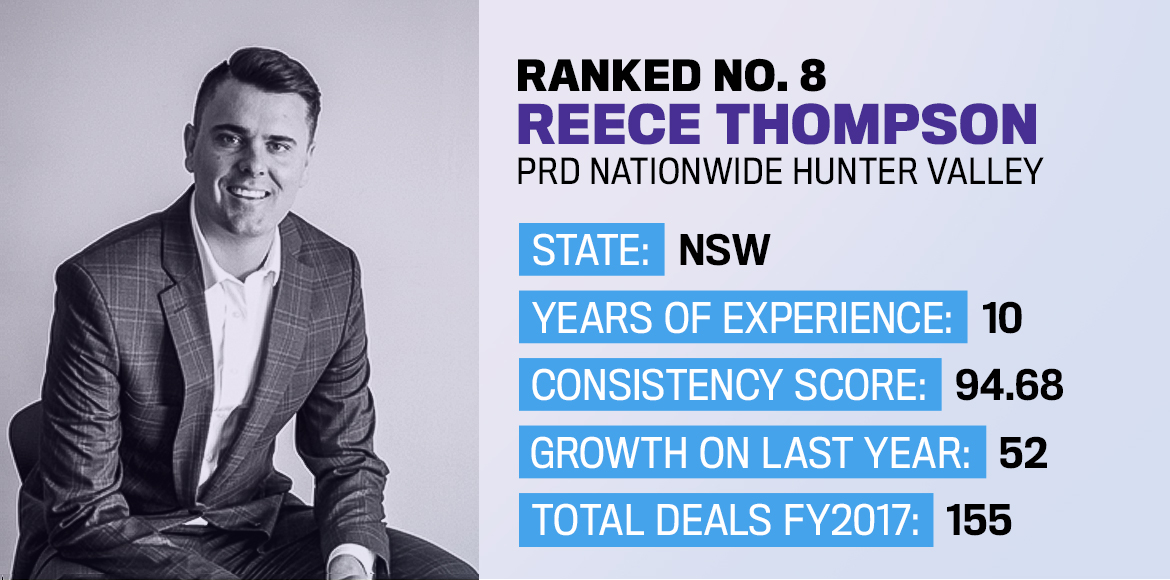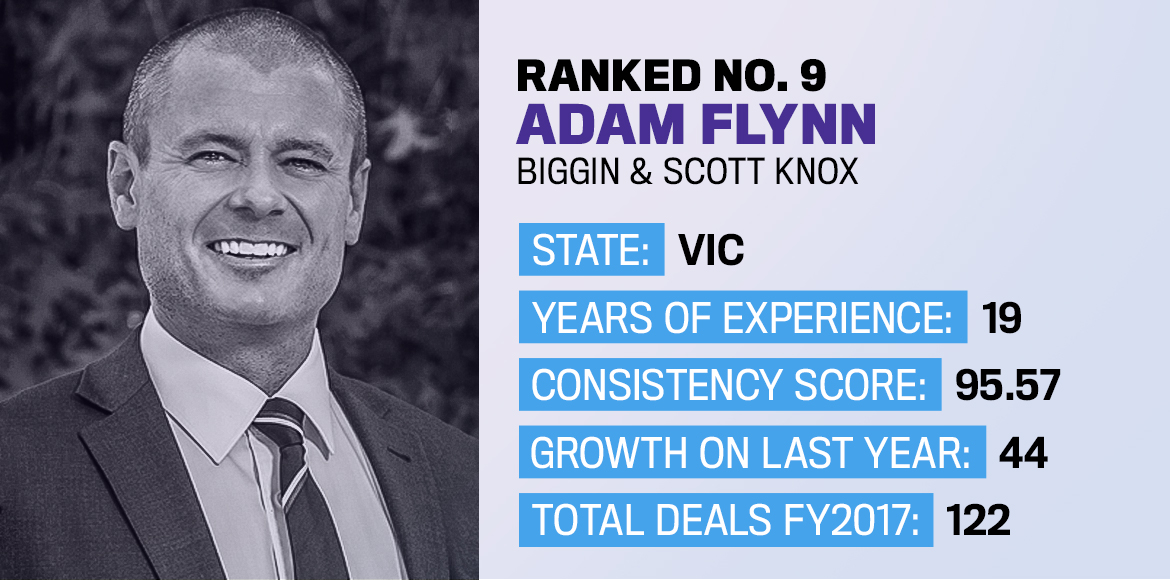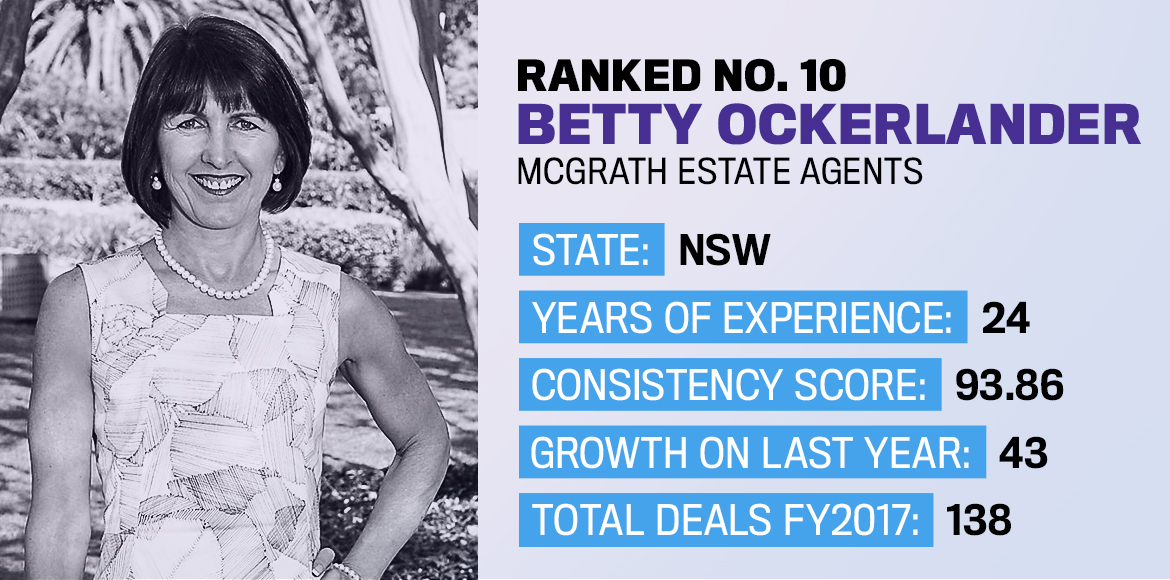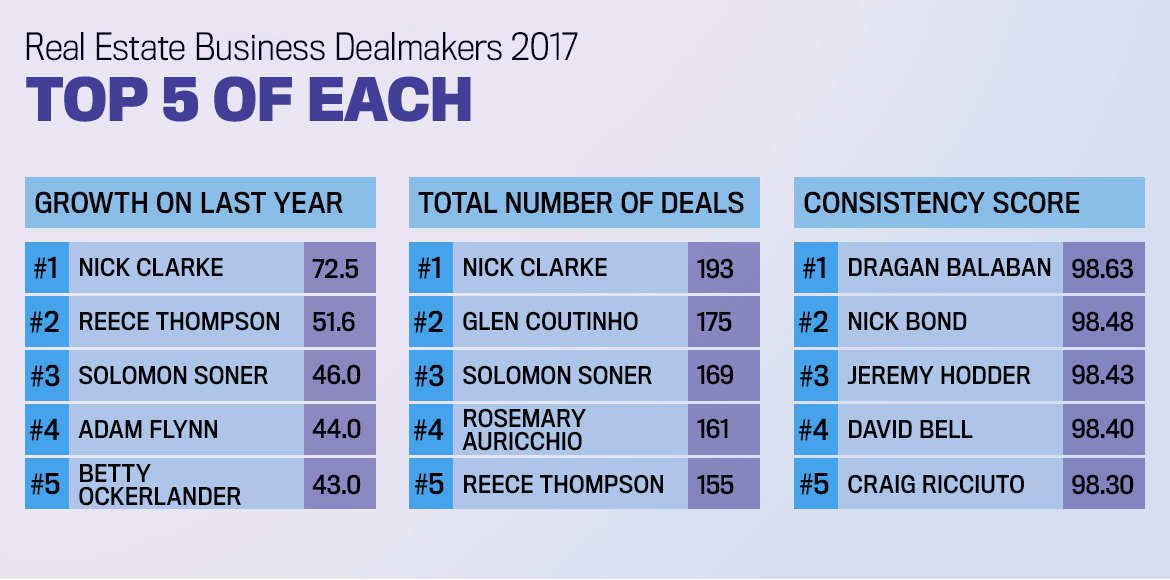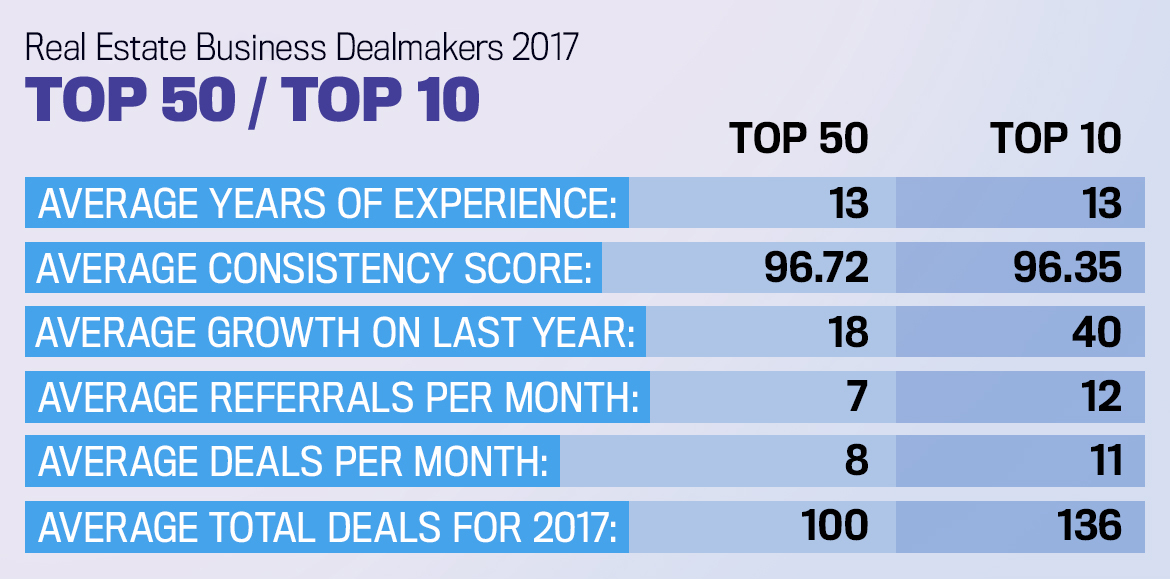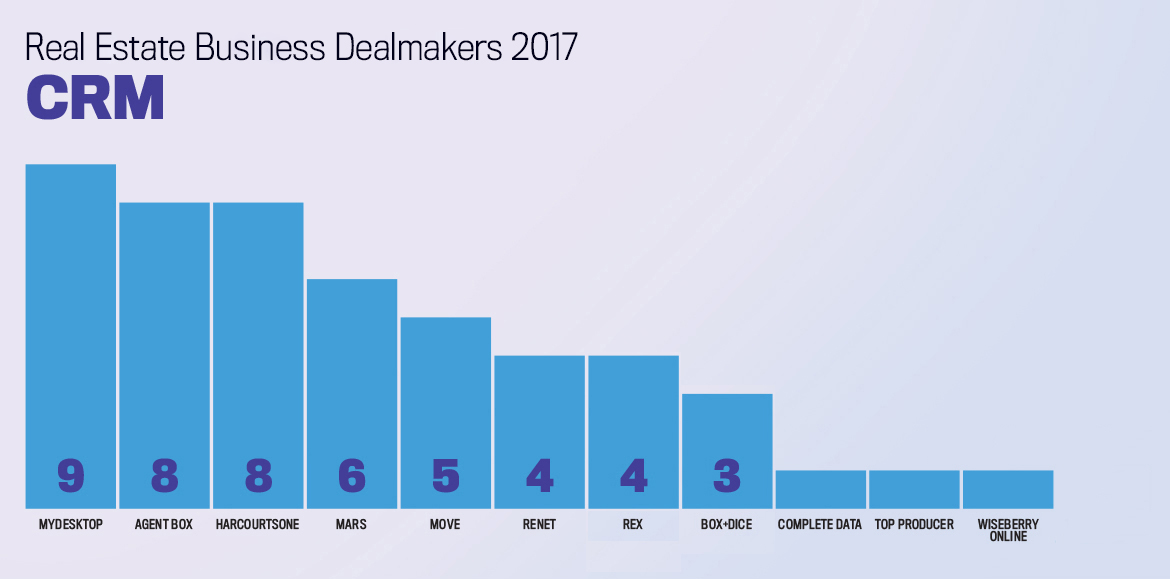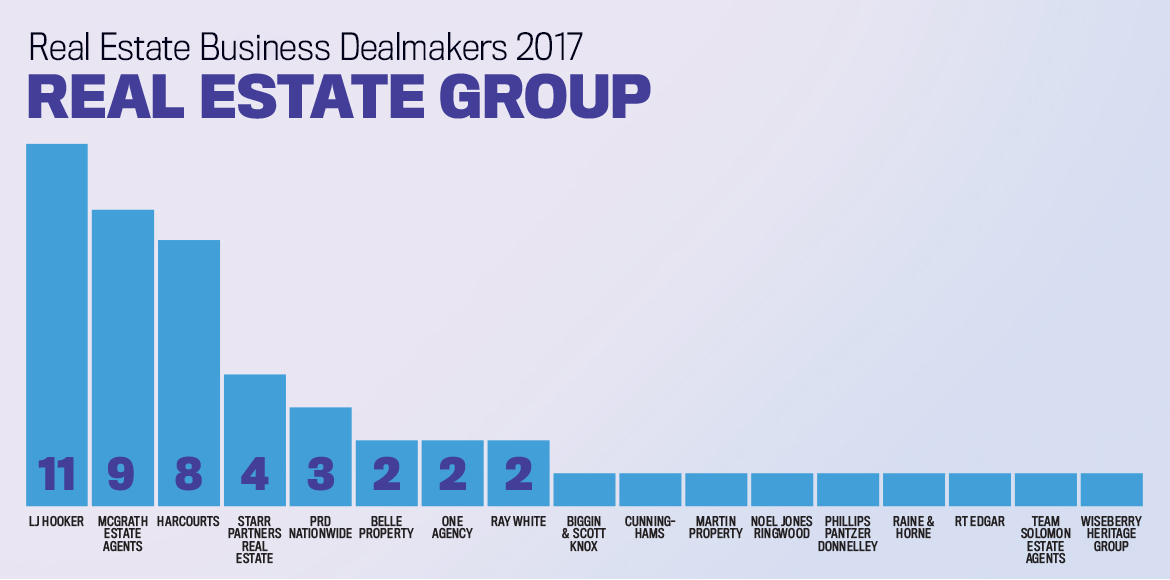 | 2017 RANK | NAME | COMPANY | STATE | YEARS OF EXPERIENCE | CONSISTENCY SCORE | GROWTH ON LAST YEAR | TOTAL DEALS (FY17) |
| --- | --- | --- | --- | --- | --- | --- | --- |
| 1 | David Bettini | Martin Property | NSW | 11 | 98.12 | 31 | 99 |
| 2     | Nick Bond | Harcourts Huon Valley | TAS | 15 | 98.48 | 28 | 82 |
| 3       | Rosemary Auricchio | LJ Hooker West Lakes | Henley Beach | SA | 17 | 97.19 | 35 | 161 |
| 4          | Solomon Soner    | Team Solomon Estate Agents | QLD | 10 | 96.55 | 46 | 169 |
| 5 | Brian Whiteman | McGrath Estate Agents | NSW | 3 | 97.19 | 33 | 121 |
| 6   | Nick Clarke | PRD Nationwide Hunter Valley | NSW | 4 | 94.61 | 73 | 193 |
| 7   | Peter Chauncy | McGrath Estate Agents | NSW | 13 | 97.28 | 14 | 125 |
| 8   | Reece Thompson | PRD Nationwide Hunter Valley | NSW | 10 | 94.68 | 52 | 155 |
| 9 | Adam Flynn | Biggin & Scott Knox | VIC | 19 | 95.57 | 44 | 122 |
| 10 | Betty Ockerlander   | McGrath Estate Agents | NSW | 24 | 93.86 | 43 | 138 |
| 11 | Vivien Yap | LJ Hooker Dalkeith | Claremont | WA | 5 | 95.52 | 41 | 121 |
| 12 | Darin Butcher | Wiseberry Heritage Group | NSW | 26 | 95.71 | 41 | 107 |
| 13 | Arthur Dislakis | Harcourts Rata & Co | VIC | 27 | 95.77 | 39 | 107 |
| 14 | Cathy Cattell | PRD Nationwide Hunter Valley | NSW | 7 | 95.63 | 27 | 123 |
| 15   | Sharyn Crack | One Agency Collins | TAS | 14 | 97.63 | 5 | 94 |
| 16 | Stefon Bertram | McGrath Estate Agents | NSW | 10 | 97.86 | 7 | 79 |
| 17   | Glen Coutinho | RT Edgar Boroondara | VIC | 30 | 93.16 | 28 | 175 |
| 18 | Debbie Ward | LJ Hooker Cleveland | QLD | 11 | 97.83 | 1 | 88 |
| 19   | Adam Woods | McGrath Estate Agents | NSW | 18 | 95.17 | 27 | 122 |
| 20 | Jamie Benjamin | Harcourts Hills Living | NSW | 14 | 98.30 | 3 | 68 |
| 21 | Mark Todd | LJ Hooker Yarrabilba | QLD | 17 | 93.79 | 27 | 139 |
| 22 | Emilie Jordanou | Harcourts Wantirna | VIC | 5 | 97.67 | 16 | 71 |
| 23 | Kym Saunders | LJ Hooker Brisbane West | QLD | 8 | 98.20 | 4 | 68 |
| 24 | David Tyrrell | Phillips Pantzer Donnelley | NSW | 10 | 97.47 | 36 | 66 |
| 25   | Ben Thomas | Ray White Ferntree Gully | VIC | 11 | 96.18 | 20 | 101 |
|  26 | Grant Ormrod | LJ Hooker Twin Waters | QLD  | 27  | 97.68 | 7 | 76 |
| 27  | Braden Walters | McGrath Estate Agents | NSW | 10  | 97.73 | 10 | 70 |
| 28  | Gary Thind | Starr Partners Real Estate | NSW | 7 | 97.90 | 19 | 53 |
| 29  | Matthew Carpenter | Starr Partners Real Estate | NSW | 15 | 95.18 | 12 | 134 |
| 30  | Daniel Starr | Starr Partners Real Estate | NSW | 15 | 97.56 | -7 | 126 |
| 31  | Joel Hollings | McGrath Estate Agents | NSW  | 15 | 96.76 | 15 | 99 |
| 32 | Zacary Theobald | LJ Hooker Bathurst | NSW | 4 | 96.96 | 21 | 80 |
| 33 | Anthony Di Nardo | McGrath Estate Agents | NSW | 16 | 97.80 | -3 | 96 |
| 34 | Dib Chidiac | Raine & Horne Concord | NSW | 8 | 97.60 | 0 | 83 |
| 35 | Karl Gallienne | Harcourts Huon Valley | TAS | 5 | 97.51 | 13 | 69 |
| 36 | Aaron LaCombre | Harcourts Carrum Downs | VIC | 12 | 97.22 | 30 | 66 |
| 37 | David Bell | Ray White Rockhampton | QLD | 10 | 98.40 | 2 | 62 |
| 38 | Kieran Bresnahan | McGrath Estate Agents | NSW | 15 | 97.52 | 0 | 82 |
| 39 | Maree Humphrey | LJ Hooker Drysdale | VIC | 21 | 95.79 | 29 | 80 |
| 40 | Andrew Lutze | Cunninghams | NSW | 15 | 96.26 | 4 | 110 |
| 41 | Craig Ricciuto | LJ Hooker Greenwith | SA | 7 | 98.30 | -9 | 76 |
| 42 | Josh Hart | One Agency Launceston | TAS | 10 | 97.82 | 4 | 67 |
| 43 | Ben Jusufi | LJ Hooker Dandenong | VIC | 8 | 93.62 | 18 | 111 |
| 44 | Archie Mantsos | Harcourts Wantirna | VIC | 20 | 96.93 | 11 | 85 |
| 45 | Ramin Rahimi | Starr Partners Real Estate | NSW | 8 | 95.54 | 8 | 114 |
| 46 | Stephanie Williams | Harcourts Williams | SA | 11 | 97.20 | 17 | 69 |
| 47 | Brett Freeman | Noel Jones Ringwood | VIC | 16 | 94.98 | 20 | 92 |
| 48 | Jeremy Hodder | Belle Property | NSW | 14 | 98.43 | -16 | 76 |
| 49 | Simon Booker | LJ Hooker Kallangur | Murrumba Downs | QLD | 27 | 97.25 | -9 | 121 |
| 50 | Dragan Balaban | Belle Property | NSW | 2.5 | 98.63 | 3 | 23 |