As the paper was passed around the room, I began to feel quite ill. I knew exactly what the comments were going to be — and, sadly, I was right. Over 80 per cent of the comments were based around the real estate industry's lack of service delivery, empathy and trust.
I was recently reminded of the quote, "People don't remember what you say; they remember how you make them feel".
I recently had the opportunity to attend a "non-real estate" conference in Thailand and participated in a marketing activity.
There were about 40 delegates as part of a focus group and we were asked to write our name and the industry we work in on a piece of paper. This was then passed around the room and the delegates were able to write comments on what they disliked about that specific industry — and I began to get that sinking feeling.
Personally, I have attended two interviews for awards where judges have shared with me their thoughts on real estate agents or their experience dealing with them.
The most recent one went something like this:
"I live in the same building as two agents who work for one of the largest real estate groups. They drive fancy cars and are constantly going on holidays to exotic places.
"We pay such high fees to have our properties sold with you guys and all I can think about is… that is my money."
A number of thoughts went through my head at the time. First one was: Well, there goes that award. Secondly: Are you judging me or my industry? And thirdly: If you were having a heart attack, would you not pay for the best surgeon to keep you alive?
Politicians
For three years in a row, the Roy Morgan poll ranks real estate agents as the third least trusted professional. Politicians are above us, for goodness' sake.
As an industry and as leaders, perhaps we need to take a look in the mirror and ask ourselves what are we doing to change the consumer experience and improve these real estate stories. The reality is that not everyone polled would have received poor service; however, they hear stories and the perception is built.
For years now, we have created marketing material that tells our marketplace about our successes — properties listed and what we sold them for. We have placed "just listed" and "just sold" material into letter boxes and now have products that enable clients to rate our services, which we then blast all over social media.
In fact, just about every single agent in every market has the top rating. If this were all true, then our clients' stories would have been different.
Many believe that successful marketing is what gets us business. And those agents who are extremely successful know this is not the case. What gets you business is the relationships you build, the service you deliver and the connections you maintain. But let's just pause and ask ourselves: Why is it that despite these low trust levels, people still use us to sell their homes?
Conduit
Because right now they don't have an alternative. Remember we are the middle men, we connect the vendor and the buyer. We can tell ourselves that our negotiation skills is what the client is buying and paying for, but that could be replaced.
What clients are looking for, I believe, are agents they can trust and build a long-term partnership with. Where we won't forget them after we sell their home; we call them; we give them honest feedback; we make the transactions transparent, seamless and easy.
Our industry needs to have a massive shift on this issue of trust and service. If we can provide service that creates positive memorable experiences, then this creates trust in us and our systems.
I am proud to represent our industry in corporate environments. However, it is constantly teaching me lessons. And one of these lessons is that if we don't turn our people and our businesses focus on the client experience, then this is where the disruption will occur.
People
The benchmark on service expectations and experiences is being set by other industries. It is all about experience and relationships. Too many of our people are focused on transactions — make the sale and move on.
In my organisation, the message and vision are clear. We want to be the most recognised brand in Victoria, but not because we are the biggest, or we sell more houses, or have more settlements. It will be because, across the board, we provide the best levels of service. That our clients connect with us and trust us.
This is a long-term journey, and over the last four years, we have invested in training, mystery shops, NPS surveys and direct conversations with clients on what they want from us. And here is the irony about this journey. Once we nail the service part, everything else will fall into place.
Remember that your clients want to know that you can sell or rent their home for the best possible price. But, more importantly, they want to know that you understand what they are going through, that you have empathy, that you have humility. This is what builds relationship, trust, connections and an ongoing referral base that will never require you to door-knock, cold-call or ride the highs and lows that many agents do.
ABOUT THE AUTHOR
---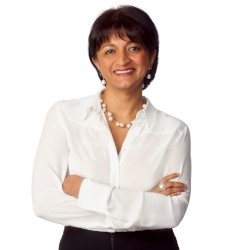 Sadhana Smiles is chief executive officer of Harcourts Victoria, the state division of one of Australia's leading and well respected real estate brands.
She is also a popular speaker and presenter, and is regularly asked to speak at some of the industry's most prestigious events, including ARPM, AREC, AREL, RELC, the REINSW Women's Conference and the Harcourts Conference.
Sadhana is also a regular contributor to a number of national real estate journals and publications.