Star agent Piers van Hamburg reveals the systems he uses to stay close to old clients and ensure a constant stream of referrals and repeat business.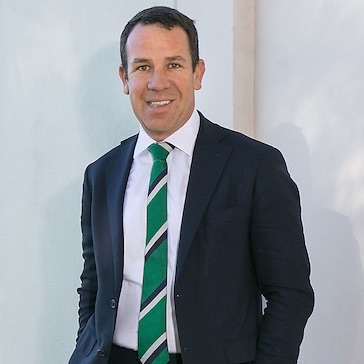 About 80 per cent of my business comes through past clients and referrals, and about 40 per cent of my listings are uncontested. That makes my job a lot easier – but it takes a lot of hard work to get to that stage.
The key thing is to follow up, follow up, follow up. There are some clients I've been in contact with for the whole 18 years I've been an agent, and I may have done half a dozen sales for them. The longest amount of time I've had between transactions has been about 10 years – it was a lot of work, but that was one sale I got that my rivals didn't.
My follow-up process begins between exchange and settlement, when a lot of other agents have already moved on to the next deal. You've got to have a system to ensure really good communication during this period. It's not good enough for someone to buy a property and then not hear from the agent again.
At settlement, we put a lot of focus on making sure the buyer gets a really good gift. I'm not talking about a bottle of champagne, because that looks like you just walked down to the grog shop to buy it before the place settled. Instead, we do tailor-made gifts with really high-quality Australian produce. We also do a little black box with vouchers, giving them special offers to other local businesses in the area. Providing a really thoughtful gift like that means the relationship gets off to a good start and makes it easier to nurture in the years ahead.
I schedule a call one month after the property settles. It's generally a quick call to say: "Hi, it's Piers van Hamburg, just checking in to make sure you're happy at 1 Smith Road." Often, there will be something they need help with – for example, they mightn't have worked out how to use the dishwasher. I can then contact the old owners and help them with that. Our agency is also discussing offering complimentary re-keying of properties as part of our service. That's another thing that buyers wouldn't expect, but which would be a really good value-add.
Once the first month has passed, I usually schedule a call every six months; it's fairly typical, but it's important just to keep checking in. In addition, they'll get phone calls whenever I sell anything in their street or something similar to their property.
I think you've always got to have a reason to call, although I'm not that structured around exactly what I speak about. I take diligent notes on children's names, so I'm able to ask how their children are going. I might also ask clients about their hobbies and interests, which is another thing I make notes about. So my calls come across as friendly chats rather than an agent phoning up to get a listing. Colleagues often say that my prospecting calls sound like I'm talking to friends on the phone. That's great, because I want my clients to think of me as their friend. I want to become their agent of choice.
Another way I stay close to old clients is by positioning myself as their trusted adviser. I'm happy to help people with their DAs and to give price estimates about what value any renovations might add, so they can do their sums on whether spending $100,000 on renovations makes financial sense. I encourage clients to call and ask about this sort of thing, although I think that when you've got that kind of relationship they just do it anyway.
I also subscribe to the theory of what you put out there is what you get back. Recently, I went to a weekend auction in another part of Sydney to bid on behalf of a good client of mine. Even though it was 90 minutes out of my day to drive there, bid and then come back, I didn't charge for that service. I just did it knowing that she's a good client. Soon after, I got a bottle of wine from that client and happened to pick up a referral from someone else. The moral is, if you do things for people and don't expect anything back for it, the universe will reward you.
Last Christmas, I bought 150 gifts at $100 each, which worked out to $15,000. They were personally delivered to clients either by me or one of my team, which took a week to do. I wasn't expecting anything direct in return, but it helps with referrals and cementing pipelines.
My theory is that if I keep connecting with my clients, if I keep adding value, if I keep giving them reasons to think positive thoughts about me, they'll not only go straight to me the next time they need to sell their home, they'll also refer me to their friends and family.
Piers van Hamburg is a director of McGrath Estate Agents Neutral Bay. He placed 12th in the 2015 Top 100 Agents ranking, after placing eighth in 2014 and 17th in 2013. Piers believes that the key to consistently achieving strong results involves outstanding property presentation, an effective pricing strategy and a well-executed marketing campaign.