Ask any experienced real estate agent where their best source of business comes from and they will most likely say 'referrals'. A few clients will do this unprompted, but for most it won't cross their mind – even if they are very pleased with your service.
So when it comes to generating referral business, you have to take matters into your own hands and make the most of your existing and past clients. After all, what better advertisement is there than a satisfied client spreading the word about their positive experience with you and your business?
The prospect of asking clients to refer business can seem daunting or awkward. We've come up with some simple strategies to help you learn to successfully build up your referral business and ultimately generate more leads for the future.
Knowing what to say and when to say it
It's never a bad time to ask a client if they know anyone looking to sell or buy. You shouldn't be afraid to request referrals before, during or after working with a satisfied client. According to therealestatetrainer.com, the highest rate of referrals comes from fostering ongoing working relationships with clients who are in the process of moving.
Similar to the phenomenon when you are looking to buy a new car and you see the same model you are considering everywhere you go, when a seller is moving they also generally have a heightened awareness of other people who are looking to do the same. So it's a good idea to ask clients to keep an ear out during conversations with family, friends and co-workers for people in need of your services and expertise.
Most agents shy away from scripts because they can sound too contrived. But realtormag.org reported top-producing real estate practitioners learn to use scripts to effectively generate new referral business.
A crucial factor in successfully asking for referral business is to become familiar with a few tried-and-tested scripts that you are comfortable using. This will come down to you and your sales style as an individual. Over time, through trial and error, you'll become increasingly familiar with certain lines that work well for you.
Some simple example scripts to try
During initial meetings
"My goal is that at the end of the marketing and selling process, you will be delighted with our service and the price you received. We want you to become an advocate of ours by sending us referrals. That's how our business grows. We will work hard to make sure you are delighted with the process, and we have no doubt you will send us referrals."
"I don't make a living off any one transaction. I make my living off your referral business. I don't get that unless you are happy. If you're pleased with my service, will you refer me to your friends and family?"
Short and simple: "Who else do you know that needs to move right now?"
During the sales process
"Congratulations, your loan was approved today. Now you can get ready to move. By the way, can I ask you something? You know that I have been doing a good job for you, and now that you understand how I work and the processes we use, we could use your help in referring us to other people who want to buy or sell a home. Do you know anyone who might be in need of my services?"
"As you are in the process of moving, you will overhear a lot of conversations from different people looking to move when you're out and about. When you do, would you mind giving them my phone number and ask them to call me?"
Generate more referrals from a referral: "It's been really great working with you thus far, and I feel grateful to John for introducing us. I just wanted to take the time to ask you if you know anyone else who is looking to buy or sell a home, and if you would feel comfortable introducing them to me?"
After closing the deal
"You have been so great to work with and I find that people tend to hang around similar people. I would love to work with more people like you. Do you know anyone looking to move in the near future?"
"I appreciated your business and I look forward to doing business with you again. I also would like to help any of your friends or acquaintances who may be coming onto the market or people in your neighbourhood who might be selling."
"I want to work with more clients like you, and I find that people looking to move know others in the same position. How would you feel about referring my services to them?"
"Working with you was a pleasure, and it's important to me to make sure you have been happy with my service. I have built my business on customer satisfaction. How would you rate my service to you? If you have friends, relatives, or associates who need real estate assistance, would you feel comfortable referring me? Do you know of anyone I should be talking to right now?"
ABOUT THE AUTHOR
---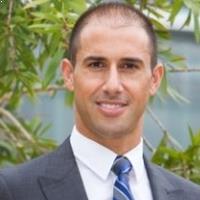 Rocky Bartolotto is the national sales director for homely.com.au. Rocky's extensive experience in introducing new product offerings to the market and client management abilities makes him one of the most knowledgeable property specialists in the country. In addition to his time working in the online space, Rocky is also one of Sydney's top auctioneers, with over 4,000 auctions performed through his business. He is the director and chief auctioneer at Property Auction Services.