How often do you search past page one of Google? If your answer is never, you are part of 91 per cent of people who don't.
Knowing how to make Google love your content by getting your page as close to the top of the search as possible is all about knowing what Google loves, and applying it.
It's no easy feat as there are more than 200 factors that impact your SEO efforts, but here are some tips to get you off to a great start.
1. Optimise your website for SEO best practice
Add useful, fresh content regularly. Blogging is a great way for real estate agents to not only connect with their audience but also increase their Google ranking by adding relevant and regular content to their website.
Get popular, related websites to add a link to your website. Link building is one of the most difficult elements of SEO as it relies on getting a third party to add a link on their website back to yours. A great opportunity for real estate agents to build links is through public relations efforts. Submit fresh content to industry publications and connect with journalists who specialise in your market segment. If you are quoted in an online publication that gets a lot of traffic, and they include a link to your website, this will have significant impact on your SEO.
Reduce page load times. Images and content that cause your website to load slowly will lose your audience before the page is even loaded. Ensure the imagery you add to your website is correctly sized and formatted for the optimal page load times.
Reduce your bounce rate. Once you have a potential prospect on your website, your goal should be to keep them there, looking through as much of your website content as possible. Your 'bounce rate' shows you what percentage of your website visitors have come to your website and left straightaway. Links, call to actions and pop-up boxes can increase your bounce rate. Weigh up the benefit of pop-ups versus potentially sending people away from your website.
Increase your 'time spent on page' rates. The longer people are your web pages, the more Google will like your website, which impacts your search engine ranking. Ensure your content is engaging and reads well, add relevant imagery, videos or other media to keep your audience captivated.
Ensure your website is mobile friendly. At least 60 per cent of your website traffic may be coming from mobile. If these people aren't able to use your website easily, they will most likely leave straightaway, which will push your bounce rate up.
2. Use the correct keywords
Using the right keywords doesn't only boost your search engine ranking, but allows your audience to connect with your website content.
Be wary though of 'keyword stuffing' which is using one word over and over in your content. Google will penalise your page if it thinks particular words are being overused. Look at semantics for your keywords and content. Words that relate to what you are writing about and keyword phrases (two to four words) relevant to your content can be added to your site to help build a list of relevant keywords.
Here are some handy keywords tools;
• http://adwords.google.com/ko/Keywordplanner/
• www.google.com/trends
• www.wordtracker.com
• www.ubersuggest.com
3. Think like your audience
By putting yourself in your audiences' shoes, you think like, and about, them and how they are using search to find what they are looking for. Remember that not everyone in your target audience is at the same stage of the customer life cycle when looking for results on search engines. You want to be able to catch your audience at all different levels.
At the beginning of their search journey, they are looking for a general problem to be solved. As they become more aware of what they are looking for, their search becomes more defined and specific. A good way to think like your audience is to write out the questions one would ask from the very start of their search, and as this is answered, what question would be next.
ABOUT THE AUTHOR
---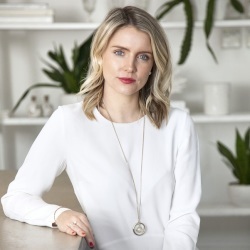 Tiffany founded Chronicle Republic to pursue her love of property and her drive to make brands shine. Her unique industry experience means she truly understands the needs of her customers.
With a Masters in Marketing and a Bachelor of Arts in Communications Tiffany has wealth of experience, and has worked on dozens of marketing projects for businesses in the property, interior design and home improvement industries.
Former Marketing Director for an award winning, innovative real estate agency, Tiffany was awarded the first ever industry award for Digital Marketing in 2014.
Tiffany is passionate about seeing other businesses grow and prides herself on helping brands bring their stories to life.