The Real Estate Institute of Queensland (REIQ) has shared three of its biggest proptech predictions for the coming year.
In a blog post from REIQ's Aislinn Dwyer, she flagged the proptech trends the REIQ is predicting to be a big deal in the new year, drawing on the experience of real estate agents in 2020, and the changing needs and wants of consumers, to do so.
Here are its forecasts:
1. Increased demand for virtual interactions
Ms Dwyer acknowledged that the ability to conduct a routine or open home inspection via a virtual tour or 3D walkthrough was invaluable for agents, buyers, sellers and tenants during the height of contagion.
"While life is almost back to normal in the Sunshine State and buyers/renters are able to walk through a property as per normal, these virtual offerings remove barriers that physical inspections cannot solve," she stated.
It's a sentiment reiterated by REA chief sales officer Kul Singh, who said digital alternatives are often a much easier offering for consumers, and can provide agents with more qualified enquiries.
"Once you've viewed an inspection online, you can then apply, and then to secure the [property] you get to do a private one-on-one inspection, and ultimately this leads to more qualified enquiries," he explained.   
It's led the REIQ to argue that "convenience for consumers and property professionals should be at the forefront of any agency's priorities" as we head into 2021.
Especially with a number of purchasers now considering purchases sight unseen, technological capabilities are becoming particularly useful for international and interstate residents trying to relocate to the Sunshine State, Ms Dwyer noted.
2. Marketing to step up to the mark
Acknowledging how COVID-19 has changed the course of the day-to-day lives of all Australians in 2020, Ms Dwyer expects real estate marketing to respond in kind over the next year.
She said many people were saving their cash for an interstate or overseas relocation, a grand wedding or a year-long backpacking trip before a global pandemic ruined their plans.
"With this in mind, a lot of consumers in the marketplace are potential buyers — but are not acting as active buyers, because they haven't decided what they'll be doing with their spare funds. And as any good agent knows, it's mainly just active buyers that are scouring the property portals," she said.
So, how can property professionals target inactive buyers?
"By implementing marketing plug-ins to an agency's CRM, agents can capture passive buyers on social media platforms. It's predicted that agents will be looking to implement proptech offerings such as these plug-ins in 2021 to make their overall marketing strategy more personalised."
Despite the pivot, in-person and traditional forms of marketing will continue.
The REIQ is actually predicting agencies will take on a 360-degree strategy when it comes to marketing their services over the coming year — portals, print, video, blogs and in-person networking will all maintain their relevance.
3. A bigger focus on data
"COVID-19 emphasised why property professionals must source their information from trusted, expert sources," Ms Dwyer noted.  
While this will see a bigger emphasis on research capabilities, at a local level it means agencies will be "leaning heavily on personal data and analytics to determine their individual success".
Through the use of customer relationship management systems that provide access to agency financials, performance, administrative and visual reports, agents will be more inclined to benchmark their success against their competition, according to Ms Dwyer.
In turn, such reliance on data will also provide principals with comprehensive insight into their team's performance (e.g. appraisal win/loss ratios, activity rates on follow-ups, etc), the REIQ concluded.
ABOUT THE AUTHOR
---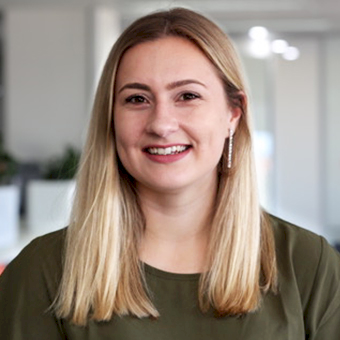 Grace is a journalist across Momentum property and investment brands. Grace joined Momentum Media in 2018, bringing with her a Bachelor of Laws and a Bachelor of Communication (Journalism) from the University of Newcastle. She's passionate about delivering easy to digest information and content relevant to her key audiences and stakeholders.