From a self-professed risk-averse young adult to kicking off his own fully funded commercial outfit, Jeff Moxham never would have guessed he'd be creating an independent agency with some "fairly grand plans".  
Just this month, the former principal at Ray White Commercial – Metropolitan Sydney revealed he's starting his own business, Moxham Commercial.
In conversation with REB Commercial, Mr Moxham said that he would have laughed at anyone who suggested early on in his career that he would become a business owner, admitting: "I was just happy being a good commercial agent in a big institutional business."
Now – it couldn't be further from the truth.
To give some background into his latest business venture, Mr Moxham reflected on the establishment of Moxham Real Estate in Parramatta back in the 1950s by his grandfather. With his father also spending 45 years in the business and him spending time there too – he acknowledges his new agency has been partially inspired by the family history – and a desire "to continue on the family name".
He also attributes Moxham Commercial's creation to his "burning desire" to create his own commercial real estate brand.
Looking down the barrel at his own fully self-funded set-up, Mr Moxham said he's really looking forward to "creating a really dynamic place for good agents to be able to operate".
"I think there's a real space for it in the market," he remarked.
But, being the risk-averse agent that he was, it wasn't always on the cards. Mr Moxham credits his time spent with a franchise as empowering him on the leap of faith it took for him to start his own business.
Having mustered up two businesses under the Ray White banner – one of which he was a partner and one of which he took on himself – he said those experiences "really brought out the entrepreneur within me".
"I said to Dan White when I left, 'mate, please take this as the compliment that it is to you and for the family: being here has really turned me into the entrepreneur that's within me to take this step'," he recalled.
"Yes, it's disappointing I'm leaving but it's also a massive compliment to the environment that Ray White creates to support entrepreneurs and business owners. It's credit to them.
"And so here I am!" 
Expressing his excitement at the upcoming challenge, he considers the feeling "just like being on the starting line of running the 100-metre sprint at school".
So what's in store at Moxham Commercial?

"My overarching goal is I just want to create something really special in the commercial real estate industry," the business owner opined.
Mr Moxham said his desire is to create a brand "like the Nike or the Apple of commercial real estate".
"I love shopping at Apple. I love the whole process from when you go to the store to when you buy something online. I just love the whole process," he remarked.
"I really want to create a brand that creates emotion when people interact with it and see it."
2022 will see him focus his attention on getting the business up and running "a business that's dominated by data and technology" and hiring "some really good people", he is already looking at growth and expansion.
While "the starting point's definitely New South Wales and metropolitan Sydney", Mr Moxham told REB he intends to create a national business.
Quick to point out that "I don't have to grow quickly", the commercial agent believes it's more about quality over quantity.
"It's all about the right people so I'm not afraid of starting small because I've done it twice already and it's been very successful. So, I'm starting small but have some fairly grand plans.
"What's the worst thing that can happen?" he offered.
ABOUT THE AUTHOR
---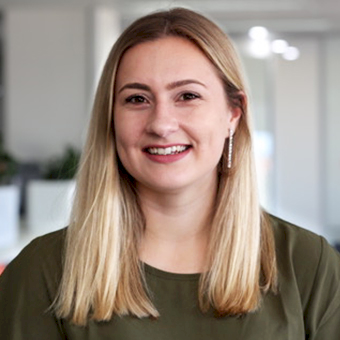 Grace is a journalist across Momentum property and investment brands. Grace joined Momentum Media in 2018, bringing with her a Bachelor of Laws and a Bachelor of Communication (Journalism) from the University of Newcastle. She's passionate about delivering easy to digest information and content relevant to her key audiences and stakeholders.

Never miss a beat with
Stay across what's happening in the Australian commercial property market by signing up to receive industry-specific news and policy alerts, agency updates, and insights from reb.
Subscribe to reb Commercial: