Trading being an agent for the role of auctioneer.
Growing up in Queensland, you tend to be all about lifestyle. The sun, the sea and of course, family. It's pretty simple.
As a boy of 6 and 7, I started going to open homes with my father, who was an agent. He did it all: sold the homes and called auctions. Dad would call up to 20 or 25 in-room auctions on a Saturday with me in the crowd. I didn't know what was going on exactly – but I knew it was kind of cool.
A few years after leaving school I became an agent. Back then it didn't occur to me to become a professional auctioneer. I probably handled 300 or 400 transactions over the initial 5-6 years. Now I know what you are thinking: 'Didn't you like sales?'; 'Didn't you love being your own boss?'. The answer is: yes, I loved it for a while. But I found I was always thinking about clients. Twenty-four hours a day. Seven days a week.
I found it hard to switch off and once you have a family, you need to switch off.
So I entered corporate life. I became a state manager for franchisee groups in Queensland. I got to know lot of people in that role and got a good network. I also noticed a gap for good auctioneers and for training that led to development, not just knowledge.
When I really stopped to analyse what I loved about sales, and real estate in general, I found it was the thrill of the chase, the thrill of the kill, the big highs! Auction day!
Now I get a buzz out of adding value to the transaction, without having to be involved in the lead-up.
Let me tell you: when you leave your life as an agent, you need to replace it with something. You are an adrenaline junkie. You live for the highs. The sales.
So I became an auctioneer. And originally I loved just the change in lifestyle. I'd turn up for 15 minutes and call what I thought to be a good auction. I did it for the money then, but auctioneering has grown to be so much more for me.
Since coming to Sydney in 2012, my experience of real estate has been transformed. The way I look at everything has changed, too. Once I moved to Sydney – where the market was more sophisticated and the consumers much more savvy – I learnt a lot from people like Shannan Whitney and Ivan Bresic.
Ivan, Shannan and other key influencers like John McGrath know auctions inside and out. And they have all done a lot to raise standards across the industry in NSW and improve the customer experience.
In Sydney you turn up and you are, quite simply, the auctioneer. Bookings are tight. You move between appointments swiftly.
In Brisbane you are the auctioneer and also negotiator. Your expertise is often called upon put the deal together.
In Sydney your role is to get up and call a great auction; to entertain people, to push back and to ensure those in the room understand their responsibility to bid.
Today I train people to raise the standards across the board. I also have my own mentor who comes down from Queensland to tutor me and I compete in state and national competitions.
Looking back, I think my agent-side experience makes me a much better auctioneer. I know the D-Day emotions a buyer and a seller go through. I know how much is riding on the transaction. I take things very seriously and respect my role to represent the agent, the owner and the property to the best of my ability. I don't take anything too lightly. I realise the human side of sales. Corporate life? Not for me.
ABOUT THE AUTHOR
---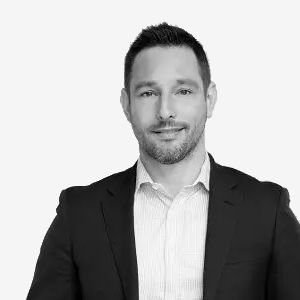 Gavin Croft is the Director of BresicWhitney Auctions, which launched in 2015. He trains and mentors auctioneers all over Sydney, and supplies auctioneers state-wide.