As a consumer of services, have you ever been in a situation where your expectations simply do not match what is being delivered or has been promised? Of course you have – we all have!
I am sure, like me, there are so many things you find annoying when it comes to service delivery. However, perhaps the one that really grates on me is time. Yes, my expectation is instant – my phone is my global wallet to everything and that really is the benchmark today. Google answers all my questions instantly, so why can't you?
Unreasonable, of course. However, the current reality we work in is that the consumer is connected, they are mobile, they are informed, they love to share their rage and love instantly, they want you to make it easy for them to do business and they have over 5,000 marketing messages hurled at them from every medium on a daily basis.
How are we, as agents, reacting to this? Maybe to answer this, rather than have me draw conclusions, let me ask you a series of questions:
1. Are you an early adopter of technology, using it in your listing and marketing presentations and to capture data at opens?
2. Are you deal or relationship-focused? In other words, are you getting more repeat and referral clients rather than new clients?
3. How clean and up to date is your database?
4. Are you connecting with your data sources – CRM, Property Management, Mortgage, Connections, Facebook, LinkedIn, Instagram?
5. Do you cross sell services?
6. Do you put your customer in the centre of your business then build processes around them?
7. Are you across digital platforms and remarketing?
8. Are you engaging with portals such as 'Rate my Agent' and others? More on this in my next blog…
There is absolutely no doubt that our clients are looking for service providers who create memorable experiences, where they can be partners rather than customers, and where they are socially open to being your advocates.
Recently, I was at a conference where the concept of 'routine to remarkable' was mentioned, and the example used to explain this was hotels.
Most of us have spent a night or two in a hotel and regardless of the hotel rating, the process across the globe is virtually the same: you walk in, they ask if you are checking in (strange question, because you are not there to buy a cup of coffee). Then they ask for your credit card in case you go crazy on the mini bar – mind you, they already have your credit card details, plus you have perhaps paid more for the room than what you may spend on the mini bar. Then they direct you to the lift and the porter brings your bags up.
I love this example because, globally, this process has become routine and not many hotels have actually considered turning this routine into remarkable.
Well, one did.
They changed routine into remarkable not by changing the entire process, simply one element of it. Everything else in the check-in process remained the same except the porter walked you to your room, they showed you all the different areas of your room, and then they introduced you to the coffee machine and asked you what type of coffee you drink, made you one and left you to sip on your coffee, hopefully gazing out to some magnificent view.
Real estate has a lot of routine. From our opens, auctions, new tenant processes, settlements, marketing, how we prospect, it is all built on routine that suits the business.
How can you turn this routine into remarkable? Can you change or add in one simple element to the routine that will add in the wow factor for your clients? It doesn't have to be expensive but it does have to be memorable.
Let me share one with you: when you buy a house, once you have signed the paperwork the first thing you do is jump on the phone to family, you post pictures on social media standing in front of the sold sign.
Well, what if once the contract is unconditional, you offer a VIP inspection for up to 10 people where you have a bottle of champagne and the excited buyers can show their new home off.
Turning routine into remarkable.
Regardless of technology or brand, real estate will continue to be a people business. However, people want more than just transactions, they want instant and memorable. Our challenge is that many of our agents are playing catch-up.
The agent or brand that delivers remarkable instead of the routine will win and keep the customer. Good luck turning the routine to remarkable!
ABOUT THE AUTHOR
---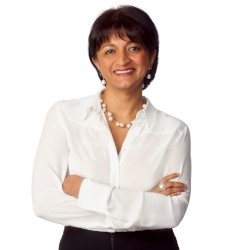 Sadhana Smiles is chief executive officer of Harcourts Victoria, the state division of one of Australia's leading and well respected real estate brands.
She is also a popular speaker and presenter, and is regularly asked to speak at some of the industry's most prestigious events, including ARPM, AREC, AREL, RELC, the REINSW Women's Conference and the Harcourts Conference.
Sadhana is also a regular contributor to a number of national real estate journals and publications.