A sustainable business is one that is profitable on an ongoing basis, which is why I created One Agency – to enable real estate agents to build their businesses with a focus on making a reliable profit.
But regardless of whether you choose to set up with One Agency, start an independent real estate agency or buy into a traditional franchise, the following information may help you to make that next step.
I have never met an established agent who has stopped earning fees. For all of us, income goes up and down, as we all have our good and not-so-good months. However, if your GCI over a year (gross commission income, before you hand a large percentage to your boss/franchise) is respectable, then you are an excellent candidate to become a real estate business owner.
Many agents ask me: 'If I were to start my own business, what would be my biggest challenge?'. Well, there is only one! It's the only thing you must know how to do. It's a very straightforward question: can you list property? As we all know, listing is far more challenging than selling in most marketplaces in Australia. Listing is a sales job, so my belief is that if you can list properties, you'll be able to sell them, or a good percentage of them anyway.
That's the only component to business ownership that you must know. Everything else can be learned: trust accounting, marketing, compliance, IT, etc.
There is plenty of support out there for you, no matter what you need.
It's worth noting here that agents have said to me: 'But what if I don't list? I've been listing successfully for a number of years, but who knows what will happen if I move?'. Ask yourself this: do vendors list with you, or do they list with the business? In other words, what attracts them to list with you? 
I can say with absolute certainty that, in the majority of cases it's the person. How often in your career have you picked up the phone and had an unknown caller ask you to sell their property? It can happen, but you couldn't build a reliable income on it. The truth is that, for most agents, your listings are because of you, your good reputation, your listing activities, your connections, your personal marketing and repeat and referral business.
For all of these reasons and more, if you move to another agency, the calls will come once the market has identified you in your new situation, and you'll continue listing as you did before.
So instead of what I call a parallel or sideways move to working for another business, I'm suggesting you step up to business ownership, then after a short time, provided that you continue all your proven activities, the listings will come in the same way.
If you can make money for your boss, then why can't you make money for yourself? At the same time, you'll gain some security and freedom, improve your self-esteem, increase your income, build an asset and have the enormous pleasure related to self-achievement and running your own race.
Let's face it: most sales agents are overworked and underpaid. Many sales agents get into real estate with good intentions to help people, and because they believe that they can earn a decent wage.
I know for a fact that many agents are putting in more hours than the national average and are retaining less than their average fair share of commission. Are you happy with your current role? Could you make a smarter choice? It's simple, yes you can!
If you are established and have ability then you are far more likely to succeed than to fail in your own business. With all the information out there to assist you, there has never been an easier or better time to take the step.
ABOUT THE AUTHOR
---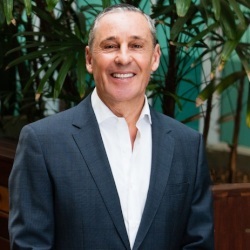 Paul is the founder and CEO of One Agency.
He offers real estate professionals an opportunity to reap the financial rewards of going it alone, with the security (and clout) of an established brand.