A number of agents have been talking about having a tough few months in terms of settlements, listings and their business pipeline – so what can you do to get back on track, lock in more listings and secure more sales? 
I have been contacted by a number of principals whose businesses who have experienced a couple of really difficult months.
The question I am being asked: 'Is this what your other clients are going through, or is it just us?'.
We all know that in this industry, it's really hard to get the truth as no one likes to appear defeated. If someone has had a bad month, they will instead report on how well they listed, or how many rentals they have leased out. Or if it's been a great settlement month, they won't tell you the last three months were totally rubbish!
We know that the market has been very generous to real estate agents through 2015 and 2016.
But to be honest, for the majority, June, July and August have been among the hardest months we have seen in recent times.
Across many businesses, we have heard common reports of:
• Poor settlements;
• Fewer contracts signed in July and August;
• Not enough new listings generated; and
• A weaker pipeline looking to September and onwards.
When this happens, one can't help but be concerned about how the bank balances will look through September. Our client dashboards reflect a drop in bank balances, for sure.
Let's be clear with one thing: every market always will have some stand-out performers. But even they will be prepared for tougher times, harder work and careful cash flow planning.
If you have a large rent roll that subsidises your business, or if you have the largest business around, don't let your sales agents off the hook.
Here are my top 10 tips to help you through the next few weeks:
1. Firstly, remember – listing and selling resolves all your problems.
2. Energy, team dynamic and attitude will determine your success or failure. Tune your daily energy levels and your team's to their very peak.
3. If things are tight, trim down on costs – just for now. Stick to budget and don't waste time with new cars, new clothes or holidays right now. In fact, cancel everyone's holidays until December. You're the boss here.
4. Get your accountant to transfer all GST, PAYG, corporation tax, superannuation and payroll tax money into a separate account. It takes real discipline to do this, but you don't want a fight with the ATO.
5. As a principal, the quality of your sales managership will have to be at its best from now to December. Check what your sales agents are doing each day. These one-to-ones have to be weekly, as a minimum, to focus on the detail of what the agents are actually doing. Surely 152 hours a month of productive work should produce results.
6. Remember, prospecting = profit. In this harder market, do not tolerate lazy agents who won't prospect hard. Try ALL the prospecting methods – doorknocks, phone calls, letterbox drops, 'just sold's, research updates, sponsorships, chasing expireds, gifts, referrals, checking in with past sellers/buyers, joining networking groups, talking to local businesses and current rental property owners, putting up signs, etc. Never confine yourself to your usual one to three methods.
7. Your office database represents the foundation of your future cash flow. I cringe when I hear an agent has 3,000 names on his/her database, but there is no regular contact or it's not in a proper system. Get expert help here. Real estate is a relationships-centric business and every sales agent must work hard to become well known in their area.
8. Consider launching an incentive drive in your office, offering prizes for new listings or sales. Get creative – design an internal brochure with special prizes and get the team energised about winning.
9. Don't lose a listing over a standard marketing budget or commission. It's all too easy to say, 'I won't negotiate my commission using Tom Panos' quality dialogue'. Sometimes you have to negotiate – especially when the vendor looks motivated.
10. Lastly, don't leave your business in the hands of rookie agents. Be prepared to work harder and attend listing presentations with them to help them win work. Help with buyer negotiations to bring the listing to completion. Sometimes newer agents simply struggle, so start to get involved with the detail.
Stay hungry!
ABOUT THE AUTHOR
---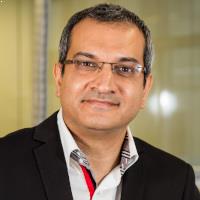 Sanjiv Pabari is the founder and director of Financial Controllers Real Estate, which specialises in real estate agency accounting, tax and performance maximisation. Sanjiv is considered one of the most commercially focused real estate financial experts in the industry with a professional background emanating from KPMG, Ernst & Young and Ray White before he established Financial Controllers Real Estate to work with various real estate franchise groups.
His business currently provides specialised daily accounting, payroll, taxation and business advisory services to a number of award-winning franchised brands and independent agencies. Sanjiv has personally consulted and worked with over 100 business leaders on business formation, stabilisation, profit and growth and is retained by a large number of agency principals as their ongoing business advisor. For more information, email This email address is being protected from spambots. You need JavaScript enabled to view it. or visit www.financialcontrollers.com.au