Despite the ongoing successes of the real estate franchising model, the industry has in recent years fallen prey to disruptors who want to eat into your profits and thrust themselves between you and your clients.
As Barry Plant is one of the most successful real estate groups in Victoria, with more than 11,600 sales last year, we could be forgiven for thinking that we had the right formula for real estate franchising success. But in recent years, our industry has seen the traditional model fall prey to a whole range of businesses who are eating into our profits and thrusting themselves between us and our clients.
Real estate agents are under attack as never before. Vendor advocates, discount models, lead interceptors, portals – they are all eroding our margins and it is only the beginning. Purplebricks is another model that is attempting to disrupt, although their discount offering is not fundamentally different to what's already available in our market place. They are just better organised and better funded than we've seen before.
As franchisor, our role in the face of these challenges is to find ways to maintain the relevance of the skilled real estate agent and to provide the competitive advantages that preserve the ability of our franchisees to run profitable, sustainable businesses. To do this, we need to grow our share of the pie.
There are two main components to our growth plan – 1) free up our franchisees to focus on their client relationships and 2) generate more leads.
The days of letterbox drops are numbered. People don't expect to get mail, they get emails. The generation that is now looking to sell their first home are digital natives. They don't remember a world that didn't revolve around computers. And their parents are almost equally savvy with technology. Therefore, that is what we use to go hunting for new clients.
Over the past two years, we have implemented an aggressive SEO program for our website. We've partnered with experts in this field and have substantial in-house expertise. On most real estate terms, in the majority of suburbs we service, the Barry Plant website will be in the top three organic search positions – the most valuable place to be on the search results page. Currently, Barry Plant websites are generating listing opportunities worth more than $15 million per annum in sales commission for our offices and agents.
We have implemented an 'Individual Agent Website' model with a template that is optimised to rank really well. It's a tool that builds the agent's personal brand as well as the business brand, and drives inquiries and appraisal opportunities. Our high-ranking Individual Property Websites are designed to capture address-based searches while providing the agents with a way to separate their vendor's listing from other agent's properties. 
We've experimented with social media and have refined our approach to the point where we can offer our vendors the opportunity to market their properties to a highly targeted audience of prospective buyers and investors across multiple social media channels at a cost that is substantially cheaper than similar services available in the Australian marketplace. We've also harnessed social media to create a unique program that is generating substantial sales and rental appraisal opportunities.
Data is king and there are a lot of companies out there who are monetising our data for their gain as well as selling it back to us. We are now jealously guarding our data (if you read the terms and conditions on some websites as to what you are allowing them to do with your data, you'd be horrified) and working hard to expand our databases. We now have direct, controlled, relationship-building contact with the people on our database. Our agents receive automated database marketing tools that help nurture customer relationships while generating listing leads.
Our website traffic is rocketing – up 39 per cent in September – driven largely by SEO and database activities. We get 300 per cent more visits than a similar-sized franchised competitor so clearly we are succeeding in our plan for digital domination.
The second part of our plan to increase market share revolves around freeing up our franchisees to focus on their core business – listing and selling real estate. We plan to centralise many of the activities that are duplicated in each office to create better efficiencies and reduce costs.
Our recent strategic alliance with LJ Hooker is part of this plan. The real estate sector in the US, Canada and the UK has seen substantial consolidation, with brands coming together to gain purchasing power and to aggregate non-competitive aspects but continuing to operate under their individual brands. To date, the Australian market has been very fragmented, but with this alliance, we are taking the first step towards a co-operative, mutually beneficial consolidation that will provide substantial benefits to our respective brands and franchisees.
It will help us provide efficiencies, the best ideas and a platform to take our successful brand interstate.
ABOUT THE AUTHOR
---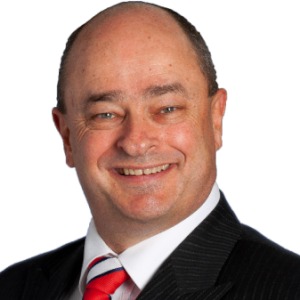 Mike is the CEO and director of the Barry Plant Group. 
Mike's expertise is in franchising – skills that he eventually brought to the real estate industry in 1993. He was the national real estate manager at Elders before joining Barry Plant in 2001 and has overseen the growth of the group by over 150 per cent during that time.
Mike is still readily available to all franchisees for advice and support, whilst his main role today is the strategic development of the group.