I am connected with a large number of Agents and Agencies on Social Media across twitter, Facebook, Linkedin and even Google+.
Blogger: Clare Verrall, senior real estate recruitment consultant at Melbourne-based Design & Build
While I think it is fantastic that real estate professionals have jumped on the bandwagon and are starting to utilise social media, I think many agents need to develop a more targeted social media strategy that is clear about what they are hoping to achieve and how they plan to engage their connections. Individual agents with professional pages and agencies with 'Like' pages need to think about if what they are posting is interesting to the people following them. As someone who follows a large number of agents/agency 'like' pages I feel I need to stand up and let you guys know that you are boring us all to death.
Hey, if I can't tell you who will?
I find many agents have hit social media with a gung-ho, 100 per cent TAKE attitude. They clog up my feed with "OFI – PROPERTY ADDRESS" and "LEASED – PROPERTY ADDRESS". I deal with this by simply turning off the feed – just as I put a "no unsolicited mail" sticker on my mail box to stop the five boring letterbox drops a day that were clogging my mail box. Just like that, connection lost. These updates do not make me or anyone else want to use your services. Instead they make me hate you a little.
Ask yourself, what value am I bringing to this space? Am I adding any value to the lives of the people who follow me? Who is my audience? What am I trying to tell them about myself/the brand? If I was following this page would I find this content interesting and want to engage with it?
Another important thing to consider is that while it is possible to connect your Twitter/Facebook account to your LinkedIn account these social mediums all need to be treated very differently.
LinkedIn is a professional network of industry contacts. Don't smash your connections with marketing material, the seven OFI's you had that day or any other self-serving communication. These people are your peers, they couldn't give a rats what OFI's you are holding. Also, a professional network like LinkedIn is not the place to share 10 personal status updates a day. Your professional contacts don't care what you had for lunch that day, that you went to the gym or that your kids have the runs.  I only post things on LinkedIn I believe my network will find professionally interesting and I only post about once a week so I'm not spamming my professional contacts.
Facebook is a more relaxed medium. I have a more personal photo and post status updates usually once or twice a day. I try to operate on a rule of is 90 per cent give, 10 per cent take. What I mean by this is 75 per cent of the time my posts are something my contacts will find interesting (real estate focused news, a funny real estate photo or a link or update I feel my audience will appreciate). For agencies this could be real estate news, interest rate changes or articles about depreciation for landlords. To appeal to tenants who may also be connected with your page, maybe post information about things like renters insurance and horror housemates.
As my Facebook is a 'friend' page, not a company 'like' page I post personal status updates about 15 per cent of the time to allow my network to get to know me better on a personal level. Something strange or funny that happened to me that day, something people can get a laugh out or relate to. I want my contacts to know that I am a real person who they can connect with. I want them to feel no hesitation in emailing or picking up the phone to me for the first time as they feel like they already know me.
My 10 per cent 'take' is the sell, putting up a link to a job ad or putting up a photo of something I received from a happy candidate (bunch of flowers, a nice card etc).
I also have a professional Facebook and a personal Facebook. I find the two don't mix, the last thing you want is your professional FB friends seeing a photo of you at your friend's hens night where you puked in a flower pot and your personal friends don't give a rats about all the 'interesting' industry news you are posting.
Twitter I use differently again, it is vital that agents realise that twitter is a very interactive medium. You need to get involved in the discussion. You can't just lurk around twitter, posting links but not really getting involved and expect to gain anything from it. You have to engage with your followers or twitter will be a total waste of time. Ask questions, used hash tags, respond to discussions and you will quickly become someone people enjoy 'following'.
So, before you hit post on that photo of a board with a 'leased' sticker, please just stop for a second and thank. You have an amazing opportunity to build and strengthen your brand in the market. Are you wasting it?
---
About Clare Verrall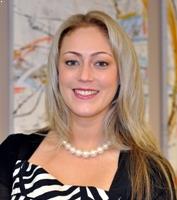 Clare Verrall of Design & Build Recruitment is a real estate recruitment consultant based in Melbourne. With seven years' experience as a property manager, Clare's technical knowledge, passion for property and interest in social media allows her to provide her clients with consultative advice in addition to recruitment services. Clare aims to help individuals realise their career potential and her uncompromising commitment to find quality staff for her clients. You can connect with Clare via her Twitter feed (clare_verrall) or her Facebook page.