Clare Verrall shares her eight tips and tricks that will help you climb that corporate ladder
Blogger: Clare Verrall, senior real estate recruitment consultant at Melbourne-based Design & Build
As a real estate recruiter I speak to a number of property managers each week who have five plus years property management experience and have decided they are now ready to step up into a senior/department manager type role. I then ask them what makes them feel they are ready for this next step in their career and 99 per cent of candidates will say, "I have been a property manager for 'x' years now so I'm ready to manage a department". To me, this shows the candidates lack of understanding about what a department manager actually entails and that they have not created a career development plan. Promotions are not based on how long you have been in a role, but your career development. Feeling that you are entitled to a managerial role purely because you have had 'x' years of experience is an indicator that you are not ready to be a manager.
It is vital that you understand that managing a team is very different from being a property manager. Becoming an effective manager is difficult because of the great gulf that separates the work of management from the work of individual performers. Many new managers initially believe that managing others will be an extension of managing themselves. They assume they will be doing what they did previously, except they will exercise more control over their work and the work of others. This is not the case. Becoming an effective manager requires that you not only acquire new skills and knowledge but also undergo extensive personal growth. In addition to this you need to understand that you will ultimately be held responsible for the actions of your staff. You need to learn how to motivate different personality types, how to create a solid team environment, how to effectively coach staff and how to hold staff accountable. You need to learn to become a 'people' manager rather than a 'property' manager which is a very different skill set. Attempting to learn these skills 'on the job' will quickly result in disaster (resignations, complaints, missed targets, stress and unimpressed senior management.)
So, your long term goal is to become a department manager - what steps should you be implementing in your career development plan?
Do Your Homework
Find out what department managers do. Watch the managers in your organisation and see what they do and how they do it. Read books on management and leadership and learn what/what not to do. (The Times 'top 25 most influential business management books' is a good place to start: http://ti.me/11AIwHo ) Ask questions of managers you know both inside and outside the real estate industry.
Do Your Job Well
Nobody is going to put you in charge if you can't do your own job. The first step toward landing a management job is being exceptional at the role you have.
Study
Complete a management course such as the Certificate IV in Frontline Management or a Diploma of Management. These courses can be completed part time or via correspondence so you can complete them while working full time and will provide you with vital skills required to be a successful manager. Certifications also show that you are serious about your career development and happy to invest in your future.
Develop People Skills
The single most important skill for any manager is the ability to manage people. Learn how people think, react, and function when faced with different outside forces. Develop respect for people, even those different from you. Learn how to work with people and then you can learn how to influence their behaviour. Nobody will promote you to a management position if you can't manage people. Anyone who gets a management position and can't manage people is doomed to failure.
Find a Mentor
Mentors are people with whom you can talk openly and honestly about work-related issues. A mentor should be more experienced than you, and good mentors can point out your blind spots, offer suggestions, applaud your successes, and guide your career. Think about whom, besides your boss, might be open to spending time with you to help you grow. A mentor can also be instrumental in spreading positive press by championing your skills, talents and abilities throughout the real estate industry.
Network
Industry events and general networking events/conferences will enable you to expand your knowledge base and build a network of industry professionals beyond your employer. These events are also great places to meet inspiring industry heavy weights and mentors. There are also many online forums available online on LinkedIn and Facebook - contribute to these forums as this is an easy and cost free way to build your personal brand in the industry.
Show Initiative
Don't sit at your desk and wait for someone to hand you a management job. Remember that you don't become a leader by being promoted. You get promoted because you are a leader. Demonstrate initiative. Take on whatever you can without negatively impacting your performance of your main job. Lead from your current position. Don't try to convince yourself that once you change jobs you'll lead.
Be patient
Having a clear career development plan won't result in you being promoted into a managerial role by the end of the week. While you are waiting for the right opportunity to present itself you are building your skill base, expanding your network, gaining confidence and preparing yourself to become the best manager you can be so you may actually be considered for this type of role when an opportunity presents itself. You must demonstrate patience, after all, that's what leaders are made of!
---
About Clare Verrall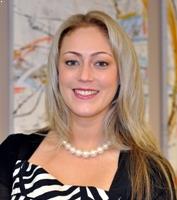 Clare Verrall of Design & Build Recruitment is a real estate recruitment consultant based in Melbourne. With seven years' experience as a property manager, Clare's technical knowledge, passion for property and interest in social media allows her to provide her clients with consultative advice in addition to recruitment services. Clare aims to help individuals realise their career potential and her uncompromising commitment to find quality staff for her clients. You can connect with Clare via her Twitter feed (clare_verrall) or her Facebook page.