By having a guarantee in your property management department, you are providing a formal assurance to your investor. You are guaranteeing that the entire department will provide the level of service expected of them under the legislation.

Blogger: Tara Bradbury, founder and mentor, BDM Academy
Having a property management department guarantee in place is fantastic for the BDM because they can use it as a selling tool during the listing presentation. Now more than ever it is common to see an investor horror story on A Current Affair or Today Tonight. Because of this, many landlords will raise these stories as a concern during the listing presentation. They are not only nervous about renting out the property but also the fact that no responsibility has been taken by the negligent property manager.
I'm sure we will all agree that when we were kids, if we damaged property that did not belong to us, our parents would make us take responsibility for the damage we caused. I even remember having to give up some of my hard earned pocket money and, trust me, I never made the same mistake twice!
So why is it that in the property management industry we don't seem to take responsibility for our actions? Principals, is it really that hard to rectify the mistakes the property managers have made and pay for them, if needed, to provide our landlords with a solution that will satisfy them? Now don't get me wrong, I know we have plenty of landlords who are not willing to go ahead with repairs, who contract outside the act and are difficult to deal with!
I'm talking about the times we make an honest mistake. I have seen offices where it is just shoved in the too hard basket under the big pile of paperwork. We know the landlord is going to be furious when they find out and by putting it in that big pile we hope it will never be heard of or seen again in the future. I'm really sorry but it is just not that easy, and it removes the credibility of your agency's name faster than you can imagine. Bad service will not only affect the property management department, it will also tarnish the sales department.
This is why having a guarantee in place, and following through with it, is so important. Your guarantee basically needs to say that as an agency you are prepared to take full responsibility for the entire team's performance while managing the investment.
You must guarantee that the property management department will perform in a specified manner
You must guarantee that the property management department will take full responsibility for their actions
You must guarantee that the agency is prepared to pay for mistakes made by the property management department
While the above three points are important, my most valuable suggestion is to focus on the one thing that landlords complain about all the time: communication!
This is an area that is so easy to manage yet many principals will agree it is an area where we receive the highest complaint rate. A common problem I see is when the BDM goes out and sells the service to the prospective landlord. The BDM wins the business by successfully selling the service to the investor and then assigns the property to the new property manager.
Then five days in, while the property is vacant, the landlord calls the BDM and says "I haven't heard anything and was wondering if you have a tenant lined up for my property". The BDM's blood is boiling but they think fast, give the landlord a small detailed response of what they know and advise them that the property manager will call back as soon as possible.
Then the BDM storms over to the property manager's desk and says "Why haven't you called Mr Smith?' The property has been vacant for five days and he has heard nothing?" The property manager comes up with excuses, which frustrates the BDM even more. Then by the end of the conversation the property manager finally picks up the phone and rings the landlord to give feedback.
Sound familiar?
I told that story because that is the office I used to work in prior to having a guarantee in place. Once we finalised it, we then shared the guarantee with the entire team to make sure they were aware of what was expected of them on a daily basis. It gave us a chance to explain in further detail during our team meeting what a priority task is.
When writing a guarantee, you should consider using the following opening lines to get you started:
Our goal is to provide you with a service that you need (and want)…
We understand the importance of giving the highest possible level of customer service to our clients…
Our property management department is guaranteed to maximise the income on your investment property…
We will provide you with a comparative market analysis…
If you are dissatisfied with our service at any time you can terminate…
We will let your property within a maximum period of four weeks from the date listed…
Now, I know some of them probably put you back in your seat and are a little bit confronting to read. However, having a strong guarantee in place will not only help the BDM during the listing presentation, it will also strengthen positive word-of-mouth in your area. You will find that if you are willing to pay for the mistakes made by your team, this will be spoken about in your local community. It may hurt the pocket a little bit but I guarantee you will be seen as the agency of choice. If you are prepared to back up the level of service expected from landlords, which in a lot of cases is basic stuff, you will be seen miles ahead of your competition.
ABOUT THE AUTHOR
---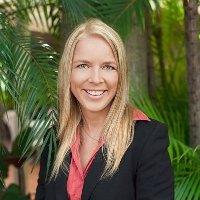 founder and mentor, BDM Academy
Tara commenced work as a trainee property manager following high school and after gaining valuable knowledge and experience became the business development manager at Wide Bay Prestige Properties.
Tara is dynamic, highly motivated and has a strong passion for business development. She has a very strong understanding and appreciates the importance of growth in the property management department.
Tara's major accomplishments include successfully securing 268 listings in one financial year and signing 30 new rental listings in one month.
In 2012, Tara won an all-expenses paid trip to Hamilton, New Zealand and spoke on a BDM panel at the REINZ National Conference.
Tara has previously spoken at the 2011 PPM National Conference about building your property management department and has written articles for the Property Management Journal and Real Estate Jobs Search, providing helpful tips for BDMs.
In 2013, Tara started the BDM Academy and has been contracted to consult for a variety companies throughout Australia and New Zealand. Tara's vast wealth of knowledge in property management growth is sure to interest real estate principals who are looking to grow their most valuable asset and income stream, their rental roll.
Make sure you never miss an episode by subscribing to us now on iTunes
And dont't forget to leave REB a review!

Listen to other installment of the Real Estate Business Podcast