A property management company without core values is like travelling to a foreign country without a passport. Sure, you know who you are, but no-one else does.
Blogger: Joshua Cobb, consultant Real Estate Dynamics
There are plenty of large property management businesses nowadays that are financially successful and you would think that all of these big offices must have a clear set of written core values on what their business and its people stand for right? Wrong.
I recently met with the business owners of a small start-up agency in an inner-city suburb of Brisbane, who spent weeks developing their core values and what they would stand for when they eventually opened their doors. These values set out the guideposts for how staff would behave, speak, act, listen and think. They were displayed on the desk of every employee and they were displayed on their website. They were shared with clients.
Soon after this agency opened their doors, to their surprise they found their core values being used by a large franchised agency in the local area that had copied them word-for-word and displayed them on their website. The fact that this office had tried to pass it off as their own is interesting to say the least. But while some people may react in a negative way, I can only see positives for our friends in the smaller agency:
Their competition sees them as a real threat
Their 'vision' has raised the bar in the area for competitors to pick up their game
They have inspired others to provide a superior property management experience
You can always copy 'how' another company does property management. But you will never replicate 'why' another company does property management. And they are not the same thing.
Sometimes when a property management company is big, they're just big. They have problems just like other companies with staff and client retention.
Any agency that enjoys real success, small and large, have a unique set of core values that remain fixed while their systems and procedures are the things that adjust to meet a changing world. There are no rules or guidelines to follow when writing down your core values. They just simply have to represent the behaviours that your people believe in and how those behaviours are carried out. In real-time business, every person in your agency is a representative of your brand and your purpose. They are shaping how it feels to be inside your agency walls and they are communicating to the public what it's like to be a part of your company.
A clear set of core values that a company truly believes in will determine how a company is perceived by the public. They represent why people are hired, why people are fired and how the growth and retention of clients and staff is ultimately achieved.
---
Joshua Cobb, consultant Real Estate Dynamics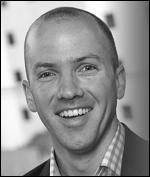 Josh Cobb's unique blend of sales and negotiation skills coupled with exceptional client care and ethics has earned Josh the reputation as a well-respected leader in rent roll management, growth and outstanding performance.
With a decade of experience, Josh has successfully grown rent roll businesses in significant numbers as well as substantially increasing profits and values through additional fee introduction whilst balancing outstanding client care and retention.
Make sure you never miss an episode by subscribing to us now on iTunes
And dont't forget to leave REB a review!

Listen to other installment of the Real Estate Business Podcast