It's snuck up on us, but we are well into 2015! As I am sure you will know, the key to any successful business is planning and goal setting. To achieve anything you need to set a goal and then make a plan to make it happen! This can be done on a business, department or individual level. Easy right? Well in theory yes, but the 'making it happen' part is where many people fall down.
So the question is – Have you set goals for 2015 to ensure your business or portfolio is succeeding beyond expectation? 
If not, it isn't too late. Take some time out to do a quick business check on your portfolio. Remember, the properties you manage are your own business to manage that you are solely responsible for. Think about the number and figures on the following:
- How many properties you manage
- Vacancy rates
- Arrears
- Maintenance 
- Average rents
- Complaint and compliments
Are these where you want them to be? No? Well then it is goal-setting time! 
This is a really simple formula for setting goals:
Goal: Increase number of properties under management from 200 to 300.
Deadline: 31/01/2016
Then, let's break this down into quarterly goals to make it manageable. This means you need to obtain 25 properties with no loss in a quarter. 
Make a list of everything you think you will need to do achieve your goal and prioritise it. Once you have done this, give yourself deadlines as to when each item needs to be done. Under each item write what you need to do to get this done. You now have a PLAN! To continue on with our example:
1. Contact current owners and ask if they have other investments. Call five owners a day, starting 9/2/15. 
2.Follow up old leads. Call two old contacts per day, starting 9/2/15
3. Call Gumtree and newspaper ads. Call all newly-listed properties daily, starting from 9/2/15
4. Do letter box drops on a monthly basis. 
February - JUST LEASED
March - SUBURB MARKET ANALYSIS
April - NEW MANAGEMENT OFFERS etc.
It is then as simple as time managing to attend to these items and get it done! Ask someone you feel is really good at achieving the goal you are aiming for if they can hold you accountable. Get them to check in with you weekly as a bit of a boost! 
It's also a great idea to visualise your goals, write them up and pop them on your desk, bathroom mirror, screen saver - a constant reminder will keep you focused!
Since I started goal setting three years ago, I have achieved or witnessed others achieve AMAZING things, on a personal and business level. These range from dramatic weight loss, full KPIs for a quarter, no loss of management for bad service, quitting smoking... the list goes on!
Take some time to work on your business, not just in it. 
HAPPY PLANNING! 
ABOUT THE AUTHOR
---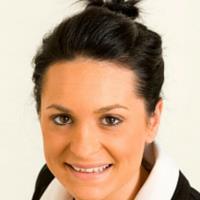 In the 9 years Kaylee has been in the real estate industry she has worked her way up through the ranks to become a senior property manager. She has been with LJ Hooker City Residential, WA since 2007. In those years she has been given the best training in the industry which has enabled her to give the best possible service to her clients.
Kaylee is very proud of her induction into the exclusive Captains Club which ranks her amongst the elite in LJ Hooker. Just recently, Kaylee was award a Multi-Million Dollar chapter induction that again highlights her dedication to her clients.
Make sure you never miss an episode by subscribing to us now on iTunes
And dont't forget to leave REB a review!

Listen to other installment of the Real Estate Business Podcast