For those experienced PMs, we know that we are at most risk of losing a property when it is vacant. For those that are new, you will quickly learn this! 
Landlords can very quickly forget the amazing service you have given them throughout a tenancy once they have a property sitting there not making income. When the rents are down and vacancy rates are high, this is where we need to step up! 
Here are some tried and tested tips that will assist not only leasing properties that won't move but also work towards the owner having confidence and trust in you.
Manage your owners' expectations
Right from the get-go, be honest about what is happening in the market place. And know your stuff. Know what properties similar to your landlord's have leased for recently, know the average rental price per week in the area, and know the vacancy rate for that suburb. Be a bank of knowledge, so when you say to your owner what his property is worth in today's market, you can explain why. 
Marketing
In a tough market, we get one shot at selling a property. With hundreds of vacant properties a potential tenant will read the first line of an ad and if it doesn't appeal, they will move straight on. Make it funny, interesting or catchy. Whatever it is, make it count. Professional photos are a MUST! Again, clients look at photos and if they are not visually appealing CLICK, on to the next ad. 
Inspect Real Estate
Get in contact with this company. I could go on and on about their product, but if I had to sell them in a sentence: "This will assist you in booking viewings in the easiest way, track attendees and assist you in leasing your property faster and more efficiently". Seriously, CHECK THEM OUT. 
Follow-up
Your follow-up and contact procedures are what are going to set you apart in a tough market. You need to be contacting people who have viewed property after there is a rent reduction. You should be calling people if they don't show at home opens and asking why? If someone says they might apply, follow them up. If they didn't, why not? What would entice them to apply? And so on and so forth. In a tenants' market, we need to get our sales hats on and chase, the prize doesn't come easy! 
Being able to move property in a timely manner in a tough market will not just retain managements, but it will help you gain them as well. 
Our main role is to maximise our owner's investment and minimise their risk. Have discussions with them around this and you'll be the best in town. 
ABOUT THE AUTHOR
---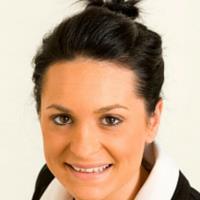 In the 9 years Kaylee has been in the real estate industry she has worked her way up through the ranks to become a senior property manager. She has been with LJ Hooker City Residential, WA since 2007. In those years she has been given the best training in the industry which has enabled her to give the best possible service to her clients.
Kaylee is very proud of her induction into the exclusive Captains Club which ranks her amongst the elite in LJ Hooker. Just recently, Kaylee was award a Multi-Million Dollar chapter induction that again highlights her dedication to her clients.
Make sure you never miss an episode by subscribing to us now on iTunes
And dont't forget to leave REB a review!

Listen to other installment of the Real Estate Business Podcast