As we rush about with our daily tasks, it is all too easy to forget manners.
It's necessary to remember our clients may be dealing with what are stressful times for them, when they approach us to lease their property – which is likely to be their greatest investment and so of paramount personal importance. 
This is compounded further if the property holds a special emotional spot in their hearts, in the case of it being their family home, for example. The ability to treat the situation with kid gloves can be essential; it may slow you down, yet in the business of managing property and people this capability will set you apart.
In this technological age I believe the property management role can be over-complicated, with back and forth, time-consuming and at times misconstrued emails. I prefer a phone call over email at almost every opportunity – having this moment to communicate directly also allows for me to truly understand how the client is coping and feeling, providing me the time to reassure them and recognise that at times all a client needs is for me to listen.
Of course, email has its place – it's a big part of communicating with clients. But it's paramount to impact on the receiver in the same way your smile and handshake would. Responding on the go is so convenient, however, it can provide hurried and unclear delivery at times. Remember, each opportunity you have to communicate adds to the clients' perception of you and your company. 
While the smartphone has broadened our ability to communicate, let's not prioritise these devices above the humans in our company. All too often I notice noses buried while clients and colleagues are right there in front of us. Nothing is so important that it will allow for rudeness.  In the event of an emergency, excuse yourself for a moment to make arrangements. This will then allow you to focus fully and respectfully on your company when you return.
Irrespective of what works for you and how you decide to communicate, the adage is certainly true: "You don't get a second chance to make a first impression." It has been widely reported that we have under 10 seconds to make a first impression, so make it meaningful and memorable for all the right reasons!
As with our office grateful jar implementation, to build on our collective team spirit we encourage our people to add personal touches with clients. Sending a handwritten note or card to a tradie who has gone above and beyond, as they regularly do, can really make someone's day – we all want to feel valued and appreciated.
Certainly, the high-fives around the office when we receive client testimonials make our day! There's no better validation than being aware that the service we work so hard to provide is being appreciated and acknowledged.
ABOUT THE AUTHOR
---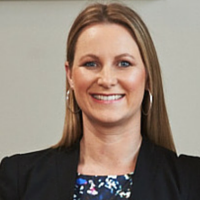 Director of Domain Property Advocates and head of the Property Management  division, Mel leads her team with a hard working attitude, straight shooter approach and tenacious drive to provide consistent, first class service to each and every client.
Make sure you never miss an episode by subscribing to us now on iTunes
And dont't forget to leave REB a review!

Listen to other installment of the Real Estate Business Podcast