Starting Wagga Property Management from scratch in January 2014 was a daunting prospect, but implementing a few key strategies around organic growth and sticking to them with consistency has paid dividends.
In life, people want to do business with like-minded, knowledgeable people, and this is exactly the same in real estate.
Regardless of your marketing budget, how many newspaper or TV ads you take out or how many prospective clients you get to speak to, you need to ensure you are the most knowledgeable and likeable property management professional in your area.
Get to know your market like the back of your hand. Make it your business to know what's on the market, what has leased, how long the area's average days on market is compared to your office's days on market, as well as the overall state of the sales market. If you are able to rattle off this information, you will be seen to be an area expert and your ability to talk about this detail will surely impress.
While it is all well and good to have the information at the ready to wow your next prospective client, the big kicker is how to get in touch with them in the first place. It is near-impossible to cold-call prospective landlord clients, given privacy legislation and them often being absent from the local area, so we need to implement a strategy to create brand champions within the community to spread the good news for us.
By focusing on providing exemplary service to our clients and not shying away from asking for their referrals to family and friends, we are opening the door for warm leads to flood in. Of the 20 or 30 new managements we pick up every month, at least half have come to us by way of referral – these warm leads are like gold and are the easiest ones to close, with the least likelihood they'll try to negotiate on fees or service.
Another high-yielding tool for me has been joining my local BNI chapter. Given that the focus of BNI is to create a platform for referrals between local businesses, the members of my chapter have introduced me to their contacts and as a result I have listed 15 managements from these referrals.
Again, these leads are coming to me warm from my fellow BNI members, who now know my business inside and out and who  sell our message to these prospects for me. From a dollar-to-dollar perspective, BNI has been my most cost-effective promotional activity to date. Revenue generated from BNI referrals is at 1600 per cent of the annual membership costs.
So, aim for the warm leads. Give your current clients and contacts a service experience they have yet to get from any other agent and they will gladly sing your praises to all and sundry.
ABOUT THE AUTHOR
---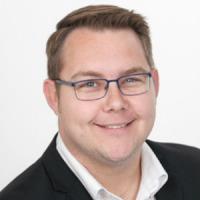 From humble beginnings as the office boy in a small independent agency when he finished high school, Dave Skow has forged a solid career in the real estate industry over the last 15 years.
Opening Wagga Property Management in January 2014, Dave has built a solid property management specialist agency experiencing net growth of over 300 properties in its first 18 months. Continuing to enjoy unprecedented growth for an independent, property-management-only agency, WPM was recently awarded as the best Property Management Agency in NSW at the Investors Choice Awards.
Dave is recognised as a leader in property management and business development, and he's regularly featured in industry publications as well as presenting at events such as the BDM Academy Innovate conference.
Make sure you never miss an episode by subscribing to us now on iTunes
And dont't forget to leave REB a review!

Listen to other installment of the Real Estate Business Podcast