There is a real shift in the workplace away from the busyness badge of honour.
While multitasking is somewhat necessary, being dedicated to a single task and seeing it through, instead of hopping from one thing to the other and back again can increase your productivity by a reported 20 per cent.
That's a lot of time day-to-day – time you could be taking a walk or playing with your children, instead of hanging around the office trying to get through your mountain of work and stuck in a busy rut. The notion that if you aren't super busy, you aren't important or working hard enough is a fallacy. From time to time, there will be days you cannot get on top of your workload, that's a given, yet it shouldn't be a blanket statement for your work life.
The key culprit to the busy cycle is distraction, and learning how to avoid interruptions can be a challenge. A daily or weekly planner can assist with focus to get through your set tasks. Consider dedicating a couple of days a week to administration and management of tasks. Start the day with an out of office message stating the hours you will be available to return phone calls and attend to emails, say between 2-4pm on Tuesdays and Thursdays, then allow a more fluid daily planner on your other work days.
In property, and no doubt all industries, there needs to be an allowance for emergencies that can and do pop up, demanding your immediate and undivided attention. With a strict planner in place for your time on a permanent basis, you effectively allow yourself wriggle room every day of the week for situations that invariably interrupt and distract you from your tasks.
Being scrupulous with your time will also provide more time on a weekly basis to make connections with your clients. By implementing prospecting time, you can be sure you are maintaining and building on the precious relationships you have with your clients. Simply having the desire to catch up with clients on a semi-regular basis will not ensure you magically find the time – it really does need to be planned on your weekly agenda.
Interestingly, in a study conducted by Microsoft, it was found team members took an average of 15 minutes to return to their important tasks every time they were interrupted by a phone call or an email. It's noteworthy that the 15 minutes weren't spent on the interruption, rather the interruptions led the team member to stray to other activities, including surfing the web for pleasure before getting back on task. You can see how a few interruptions every day can really add up and amount to some serious time pressure on team members at the end of the day, week or month.
A new habit can be hard to form; committing to be in charge of your own time and schedule may feel impossible and certainly very foreign at first. Undertaking the change can provide you with 20 per cent more time, which is nothing to sneeze at. Not to mention the benefit of having more time with clients and colleagues to continue building on relationships that are well worth the time and effort, which is far better than spending the time chasing your tail.
ABOUT THE AUTHOR
---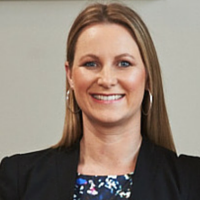 Director of Domain Property Advocates and head of the Property Management  division, Mel leads her team with a hard working attitude, straight shooter approach and tenacious drive to provide consistent, first class service to each and every client.
Make sure you never miss an episode by subscribing to us now on iTunes
And dont't forget to leave REB a review!

Listen to other installment of the Real Estate Business Podcast