The recently revealed census data shows just how much we have grown as a nation. The focus on population growth in the last decade has paid off, with many of our cities experiencing significant growth.
Melbourne is now snapping at the heels of Sydney, with predictions of overtaking the Harbour City by 2050. This may have something to do with the affordability of home ownership in Melbourne compared to Sydney, especially around the city fringes.
However, Melbourne's urban sprawl continues with 17 new suburbs announced earlier this year. Based on the current rate of 2,000 per week, more people are moving to Melbourne than ever and the city is expected to overtake Sydney in decades.
Our population has grown by 1.9 million and 525,000 new dwellings, reflecting significant growth since the last census. In Melbourne, we have seen growth in the apartment sector with many predictions of this market slowing down in 2017.
However, particularly in Melbourne, migrants from China and India are perhaps more open to apartment living and owning air space instead of land space. This has seen significant investment from these countries in our inner-city markets. More than 40 per cent of migrants in Australia are from Asia, which makes our ties with China and India critical.
We continue to be a nation of home owners, with 31 per cent of Australians owning their homes outright, a decrease of 10 per cent since 1991.
As many as 34 per cent of homes are owned with a mortgage, an increase of 7 per cent, while 31 per cent of homes are rented, an increase of 4 per cent. 
In Sydney, 14 per cent of renters are paying more than 30 per cent of their income in rent. This would suggest that many of these people may be in housing stress. 
It is also interesting to see that outright home ownership is declining, while those in rental properties are on the rise. This is perhaps linked to affordability issues, with many who would be in the first home buyers' sector renting rather than buying.
The changes being implemented by the state governments in the first home buyer segment from 1 July will hopefully have a positive impact on home ownership.
On a cultural note, we have truly become one of the most multicultural nations in the world, with more than 300 languages, 100 religions and 300 different ancestries from over 200 different countries. One in five Australians speak a language other than English at home.
And what about the typical Australian? Well, today, she is a 38-year-old female, married with two children, living in a three-bedroom home, with a mortgage and two cars.  
The census has also shown the typical migrant in Victoria was born in India, she is 43-years-old and speaks English at home.
What is interesting is that as a nation we are losing our faith, with 30 per cent of Australians identifying as having no religion, overtaking for the first time those who say they are Catholics.
The most common family composition remains a couple with children. However, the portion of families without children and single parent families have increased. Of the 900,000 single families that were counted, 80 per cent of these single parents were female.
How much has Australia changed in 25 years? As a nation, we are growing with diverse groups entering the country, we are becoming increasingly more urbanised, we are less religious, we are earning more, and although many of us still live in family units, more of us are starting to live as single parent families.
A tool to help the nation plan for its future, it will be interesting to see just how these census insights into Australia's population, cities, families and multiculturalism will be responded to by the government.
ABOUT THE AUTHOR
---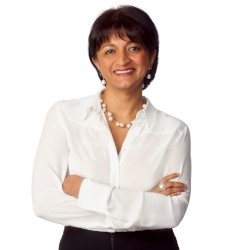 Sadhana Smiles is chief executive officer of Harcourts Victoria, the state division of one of Australia's leading and well respected real estate brands.
She is also a popular speaker and presenter, and is regularly asked to speak at some of the industry's most prestigious events, including ARPM, AREC, AREL, RELC, the REINSW Women's Conference and the Harcourts Conference.
Sadhana is also a regular contributor to a number of national real estate journals and publications.