The everyday person spends two-thirds of their waking hours at work or on work-related activities. As a real estate agent, you can probably relate to this already — and then some! 
Too often, the lines between work and our personal lives are blurred.
It can be stressful just trying to achieve a balance. In 2014, Lifeline's Stress Poll found that 77 per cent of Australians indicated they experience stress due to work, followed by 72 per cent experiencing stress caused by finances.
The truth is, there is no ideal work/life balance; everyone is different and the "right" balance may alter over time as circumstances and commitments change. This means, you may need to reassess your balance on a regular basis.
What are the signs?
The signs are varied and dependent on the person. They can include emotional exhaustion, detachment from work, becoming cynical, reduced efficiency and a lack of sense of achievement.
The thing about stress is that it can affect our behavioural, cognitive and emotional selves, causing symptoms such as:
Behavioural
• insomnia
• being accident-prone
• weight problems
• increased substance use and gambling
Cognitive
• poor concentration
• forgetfulness
• indecisiveness
• hopelessness
Emotional
• anxiety
• depression
• tension
• anger
Prolonged stress can eventually lead to burn-out. This is emotional and physical exhaustion and can cause you to "go through the motions" without any real interaction with people or situations.
Here are some things you can do
The things you can do to manage your stress will depend on your personal circumstances and commitments, your lifestyle and your personal preferences. Some ways include:
1. Priorities
How much time do you actually spend on the most important priorities?
Make time for things that make you feel alive, things you're passionate about, things that are important to you.
2. Manage time
Keep track of where the time goes, and cut down on unnecessary time wastage. Reduce commuting time or avoid non-essential meetings.
Diaries, calendars, apps and to-do lists are useful ways to keep track of time.
Most of all, make time for yourself.
3. Boundaries
Set limits on your work time. Set time aside for other aspects of your life.
Unplug. Switch off the phone, limit your access to work emails, go internet-free for a while.
Learn to say no.
4. Enjoy your work
"Do what you love, love what you do" has become a popular catch-phrase.
If you really hate your job or if it is making your life impossible, consider changing jobs or even careers.
5. Financial fitness
Do you really need a new car? Could you be happy living in a less expensive home or location? Get professional advice to help you manage your finances.
Spending less money could mean fewer work hours and more time for a fuller life.
6. Relationship fitness
Positive relationships and social support can build resilience to cope with stress, although these take time to nurture and develop.
Prioritise time with your family and loved ones.
7. Wellness
Regular exercise has proven beneficial for reducing stress, anxiety and depression.
Get enough sleep at regular times, eat healthy food, drink plenty of water.
8. Downtime
Rest periods are important to recharge the batteries.
For the short term, schedule regular time for yourself each week, read a book, meditate, do nothing or something you enjoy. For the long term, make sure you take your annual leave and do something or go somewhere you love.
9. Environment
Does your environment support you? Is your work area set up to give you the best possible opportunity to be productive and creative? Is it acoustically and ergonomically comfortable? Does the lighting support circadian rhythms? Does it offer areas for different ways of working?
Things like air quality can affect our health and wellbeing. This is not just about the air conditioning system, but also about the materials and furniture in your environment. They can give off gas, Volatile Organic Compounds, that can affect our respiratory health, our cognitive function, our digestive function, and cause rashes and headaches.
10. Listen to your body
The body is a fine-tuned instrument. It knows what it wants and needs, what it likes and doesn't like. With so much noise in our society, and so many things requiring our attention, we have forgotten to listen to our bodies.
Stop, rest, recuperate, nourish yourself — whatever your body needs, do it.
11. Lastly, remember to breathe
When we get stressed, anxious or angry, we tend to hold our breath. The brain absorbs 20 per cent of the oxygen we inhale. When we stop breathing, we're less likely to be able to make balanced decisions. Our cognitive functions are affected, which results in us becoming less productive.
Here's an exercise you might find useful to help manage and deal with stress throughout the day. You can do this anywhere, at your desk, in a quiet room. 
Take deep breaths in, subconsciously saying "breathe in the new".
On the outbreath, subconsciously say "breathe out the old". 
Do this five times or as many times as you need. The result: You'll feel more relaxed and your brain will be energised.
Try it and see.
ABOUT THE AUTHOR
---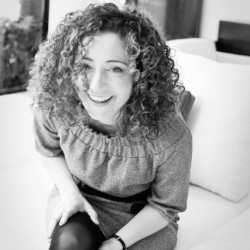 Eminè is a wellbeing consultant to the built environment.
She creates spaces that support health and inspire community. Her work brings together facilities and human resources and covers many genres, from physical and mental to the environment.
But she doesn't do it alone - after all, it takes a village.