Elon Musk was once asked how on earth he learnt so much about rockets. His answer? "I read a lot of books." Probably the best argument for continuous learning ever made.
Without continuous learning, we stagnate. From the day we're born, we learn skills and absorb information to help us move forward. When we're young, it's as simple as learning that the oven is hot and mud pies aren't haute cuisine.

Things get a bit trickier as we get older. It becomes about upskilling yourself to stay relevant and — more often than not — making use of new technology to increase productivity. But it's hard to fit in learning about how to get more stuff done while, you know, still getting stuff done.
So, why bother?
For agencies, it all comes down to productivity. Increased productivity means increased profits. A multitude of studies show that companies that focus on high-impact learning experience three times greater profit growth over a four-year period.
It might seem counterintuitive to encourage staff to spend their valuable time learning, instead of doing, but people working in supportive learning environments are more inspired, motivated and productive, as well as engaged and committed to the business they work in. They're also more likely to continue along that trajectory, as they're constantly acquiring new skills as old skills become obsolete. The machine age is upon us, there's no doubt about it — and none of us are safe, including real estate agents.
Easy things you can do
There's no set rule about how to create a culture of learning in business. But here are a few ideas that have worked for us.
Have an office library
Books like The Subtle Art of Not Giving a F*** and The Brain That Changes Itself sit comfortably in the bestseller lists for weeks at a time. Sure, a portion of readers will be people hopping on the bandwagon for fear of FOMO. But the majority of people buying these books are doing so because they know and experience the benefits of reading: it can change your thinking patterns and influence the decisions you make, the work you produce and the interactions you have.
 
Having an office library is a great way to keep reading front of mind. Ours runs down the length of our office, so it's easily accessible by all staff. When it comes to picking what to put on the shelves, keep it diverse. We've got books on yoga, the human brain, the internet of things… and many, many copies of Elon Musk's biography (of course). For your agency's library, perhaps look at biographies and autobiographies of entrepreneurs, books on human psychology and the art of negotiation.
Listen to podcasts
There's 24 hours in a day. How many of those would you say you spend travelling from home to work and jetting between appointments? Four or five hours a week, at least? You could squeeze in five podcasts during that time. Easy! 
 
There's heaps of options online, covering every topic under the sun, including plenty on real estate. Next time you're in the car, have a listen to Real Estate Pros or Secrets of the Top 100 Agents.
Host events
We need to engage with what we're learning. If you've ever found yourself dozing off in a seminar, you'll understand why. That's why we love meet-ups. Drop by on a Wednesday and you might just run into our developers mulling over the latest advancement in the React ecosystem over beers and pizza.
 
The possibilities for your office are endless. When an agent goes to AREC or another conference, ask them to share the top three things they learnt. Or, invite someone from outside the office for a bit of diversity — who says agents can only learn from other agents, or software developers from other software developers? You can learn a lot about motivation from an athlete, and a lot about time management from an entrepreneurial mum. You get the gist.
Work on other (related) projects
We encourage our developers to spend 10 per cent of their time on whatever they think would benefit the business. We can't take credit for this stroke of genius — Google came up with it first. You can read more about how it works here.
 
Working on projects outside the pipeline encourages creativity and innovation, and can often result in "a-ha!" moments. Most importantly, we find that 10 per cent time stops employees from becoming stagnant and bored — ergo, stops the company from going the same way. For agents in your office, this could mean spending 10 per cent of their time writing guest posts for industry websites, or injecting themselves into their community in novel ways.
 
There you have it: four easy ways to foster a learning culture in your organisation.

Continuous learning opportunities don't have to cost the earth — a few books and some pizza is a great start. What it all boils down to is the culture of your organisation: encourage employees to learn new skills and different ways of doing things, and you're guaranteed to see it benefit your bottom line.
ABOUT THE AUTHOR
---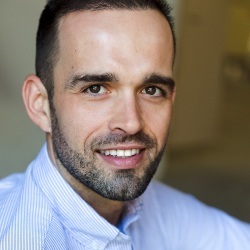 Anton Babkov is CEO of Rex Software, a real estate software provider with 60 staff servicing more than 1,100 agencies.
He talks regularly about the state of technology and innovation in the real estate sector.
Until 2008, Anton practised intellectual property and internet law, working with tech companies from early-stage startups to some of Australia's largest telecommunications and media companies.
When he's not busily jet setting across timezones being an international man of business, you'll find him doing typical CEO things - inhaling tech news and jumping up and down with excitement.