The work of real estate agents may never be the same, but with a completely new and level playing field, there's plenty of opportunity for agents to shine if they are willing to differentiate themselves in a post-COVID-19 world, according to renowned trainer Tom Panos.
In conversation with REB, the real estate coach and auctioneer has called COVID-19 the "perfect chief technology officer".
"All these things that were available in real estate for a decade — no one was doing anything about it!" he exclaimed.
While everyone would talk about innovation at seminars and events for years on end, the coach considers that there was no catalyst — or any perceived need — for such change to actually take place.
"It appears that COVID-19 is the perfect chief technology officer… What it did was actually move away from words being said, and it moved it into action," he continued.
All of a sudden, Mr Panos said, dramatic changes were occurring everywhere, and "in a fraction of the time that it could have been done".
The way that you actually conduct an auction, the way that you would have a vendor meeting, the way that you might run a Zoom community session for your community, the way that you would deliver a virtual appraisal, the way that you would conduct a sales meeting, are just some of the examples that the real estate trainer listed off where innovation has moved ahead "in an instant".
When posed the question of whether these changes are likely to be permanent, Mr Panos replied with the following: "The real issue is, is it changing? Or is it progressing?"
He expressed the belief that there needs to be a new acceptance around the fact that the V-shaped recovery that has been both hoped for, and expected out of, the COVID-19 crisis "hasn't necessarily worked out that way".
It's especially the case for Melbourne real estate agents, according to Mr Panos, who are facing the prospect of moving online again entirely.
"Unfortunately, as we speak, there are some real estate agents in Melbourne who have just re-entered what I call the pyjama slope," he commented.
"The pyjama slope is when it's 10:30 in the morning and you still haven't taken your pyjamas off and you've got your Peter Alexander ugg boots on and you're having your third cup of coffee and you haven't had a shower.
"We're seeing that some real estate agents, left to their own devices, don't know how to manage free time.
"Then you've got another group of real estate agents who can manage free time, who wake up as normal, who behave as normal. And the only difference is that they choose not to actually walk into their office premises."
For this type of agent, "they'll do what they've got to do from their home — they still might go to a listing presentation, a buyer appointment, they'll still go to a marketing shoot, they'll still have a vendor meeting, but what they're doing is they are replacing some of the office work by being at home, and these people are self-directed, self-driven, [and] have the discipline to handle free time", the coach explained.
Where there is a problem, is with the former.
"With a lot of the newer agents that don't have a lot of real estate experience, a lot of the way that that they learn is through observational learning," Mr Panos said.
Observational learning is where you are present in an environment, watching other people exhibiting the behaviours that you need to do.
"Now, if you don't have the luxury of being able to be in a premises to see what other superstar agents are doing to get listings and deals done in this market, what's happening is that you are going to struggle, because your education level has been slowed down," he said, highlighting it as one of the struggles many individuals who aren't self-directed are now facing.
"It's not easy," he acknowledged, before advising that self-direction and discipline is an inside job.
"If you are the sort of person that only seems to work when you've got external influence keeping you on track, you've got a problem."
So, how can real estate agents stay on track despite the 10-year transformation that's occurred in a mere matter of weeks?
The key, according to Mr Panos, is accessing education.
"The truth is, we are now living in a world where your car is a university on wheels, your own bedroom can become your tertiary institution, Zoom basically becomes your course curriculum," the coach said.
"You've got the ability to learn, maybe not necessarily by physically being next to someone, but being next to someone virtually."
Despite the challenges, and the onslaught of changes facing real estate agents during this time, Mr Panos has reiterated that, unlike in times gone past, there is the opportunity that comes with the current "level playing field".
"It's not like you've been unfairly punished," Mr Panos said.
"Everyone is actually in the same position, so essentially, you can differentiate yourself by actually being better. You can differentiate yourself by actually learning the art of being a post-COVID-19 worker. You can differentiate yourself by actually shifting from the traditional sales approach to moving to being a highly effective [and] trusted adviser. You can differentiate yourself by learning the best of the new pivot work, but also the best of the traditional real estate world."
In conclusion, according to the real estate trainer, "what it means is that you don't have to be that much better to stand out".
While he considers there to be an oversupply of real estate agents nationally, "there is an undersupply of good real estate agents in Australia".
"It's lonely at the top!"
Real Estate Gym's 30-day bootcamp begins on Monday, 20 July. For more details, click here.
ABOUT THE AUTHOR
---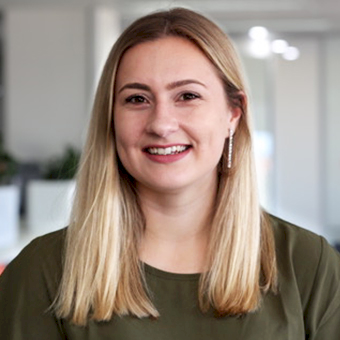 Grace is a journalist across Momentum property and investment brands. Grace joined Momentum Media in 2018, bringing with her a Bachelor of Laws and a Bachelor of Communication (Journalism) from the University of Newcastle. She's passionate about delivering easy to digest information and content relevant to her key audiences and stakeholders.