A Newcastle-based agent has revealed the motivations behind her successful swing from an established brand to her own boutique offering amid COVID-19 restrictions.
Speaking on a recent episode of Secrets of the Top 100 Agents, Cveta Kolarovski gave some insight into her decision to kick off her own real estate brand — in the middle of the pandemic.
Conceding that "there's a lot of work involved", the leap of faith into forming a boutique agency is already paying off for the Hunter Region heavyweight.
"It's definitely not easy, it doesn't matter where you are — I'm sure of it," she said.
"But for us, it's been fabulous!
"We love it. It's all about creativity [and] bringing out you. You're speaking for yourself, and nobody else can do that better than yourself. That's why I love it."
Although Cveta Property has only been in business for several months, the transition to a brand of her own has been a long time coming for the Newcastle-based agent.
"It wasn't just a snap decision overnight," she said.
While she has always positioned herself as "Cveta", she said the onset of the pandemic gave her time to stop and re-evaluate her career, and reflect on her time working under other agency systems and brands.
Calling her method of doing real estate "the old-fashioned way", Ms Kolarovski believes real estate is "all about people".
"Every time we're dealing with a client, it's basically all about empowering the individual. Whether it's a seller, whether it's a buyer, landlord [or] tenant," she said.
"Even with the last brand that I actually did have, a lot of my clients were saying to me: 'Why don't you just use Cveta? That's who we're going to. It's Cveta!'"
While she said she was paying attention to those clients, she said her time at The Agency was representative of a career step that is "something you've just got to do to get to that next step".
"But I can assure you, once I did make that decision to do it, it was 100 per cent!" she said.
"There's no turning back.
"There's always going to be a bit of fear and challenging times ahead for whatever situation… but it's like a butterfly. That's how I feel! It's like you transform, you go into that next level, and no matter what anybody else does, it's me. It's Cveta.
"I really thought there was no time better than then, because it really got us thinking about everything — what I wanted to do as well as what I felt was the best thing in our circumstances for our team and also for our clients."
Finding the silver lining in the period of heavy restrictions, the agent said she used the slowdown as a period of transition. It gave her plenty of time to refurbish her office space and work on "what our Cveta Property brand means to us all — so there was a blessing in it for that".
And so far, it's paying off.
"We're really going through a fantastic transformation. We are growing, our team is growing. We're not looking back and we've got so much more to put out there," she exclaimed.
"I really, really feel Newcastle is going to get even stronger. It's absolutely going on.
"With our new rebranding, all we want do — and all we drive to be — is elevating [the client] experience.
"That's what we want to be known for. We've got TV, we've got billboards. We are happy to shout it out to the world.
"We want everybody to know what Cveta Property is all about."
ABOUT THE AUTHOR
---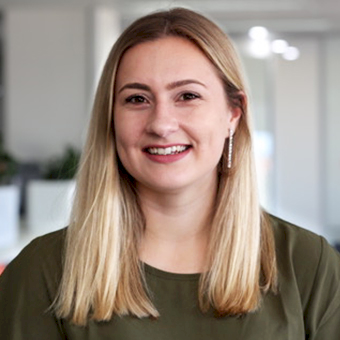 Grace is a journalist across Momentum property and investment brands. Grace joined Momentum Media in 2018, bringing with her a Bachelor of Laws and a Bachelor of Communication (Journalism) from the University of Newcastle. She's passionate about delivering easy to digest information and content relevant to her key audiences and stakeholders.