Belle Property has launched a trifecta of new offices across Victoria's regional markets.
A statement from the network revealed the opening of a new Belle Property Daylesford branch to service Trentham, with principals Will Walton and Peter Douglas at the helm, while also announcing two new offices along the state's surf coast by Peter Julian: Belle Property Geelong and Belle Property Torquay.
According to Belle Property CEO Peter Hanscomb, the brand sees lifestyle-first, regional areas as a "major focus" for the company's growth.
"In spite of a challenging year, Victoria is a booming market and there is plenty of opportunity," he commented.
"We are thrilled to welcome Peter Julian to our network and support Peter Douglas and Will Walton's growth in the Hepburn Shire region as they are exactly the kind of knowledgeable and passionate talent we need to support our expansion throughout Victoria."
Even with recent conditions, Victoria's regional property markets have managed capital growth of 4.6 per cent over the past year, Belle Property said, citing data from CoreLogic.
For Daylesford principals Mr Walton and Mr Douglas, a record-breaking 30 sales in July despite being in "peak lockdown" have motivated the pair to enter the Trentham area to better service the Hepburn Shire.
According to Mr Walton, "Trentham is an attractive gateway to the Daylesford region for urban dwellers, offering every luxury of a rural setting — beautiful vistas, low-density living, abundant food and dining, and accessible cost of living — within an hour of the cosmopolitan CBD".
He added that "the bespoke service that Belle provides, particularly editorial photography and interactive floorplans, will be vital assets as we welcome the influx of tree-changers — particularly for those physically unable to make property inspections".
Across on the surf coast, Mr Julian said demand for lifestyle and high-end property "has been growing in Geelong and Torquay".
"Geelong is the second biggest city in Victoria, and it has been growing rapidly for years, but this year we've seen a mass exodus from Melbourne which has been driving extensive interest and strong results," he explained.
While Mr Julian has always entertained around 50 per cent of buyers from outside the area, he said that the increased acceptance of work-from-home arrangements has skyrocketed demand, with current online searches for the region up by more than 30 per cent compared with last year.
According to Mr Hanscomb, "our homes have never been more important, and as work-from-home arrangements allow us to prioritise lifestyle over centrality, this is a critical moment for the state's local talent".
Belle is "excited to aid them to achieve their business goals", the CEO concluded.
ABOUT THE AUTHOR
---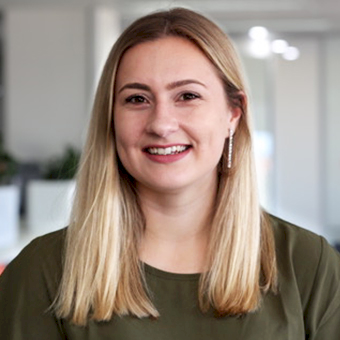 Grace is a journalist across Momentum property and investment brands. Grace joined Momentum Media in 2018, bringing with her a Bachelor of Laws and a Bachelor of Communication (Journalism) from the University of Newcastle. She's passionate about delivering easy to digest information and content relevant to her key audiences and stakeholders.