Acknowledging how good mental health can better enable agents to perform "at the top of their game", a new app aims to better the mental health outcomes of the entire real estate profession.
Recognising the stressful and high-pressure nature of the real estate industry and the impact it can have on health, RISE and Domain have joined forces to launch the REALCare app — a free tool which provides real estate agents and their families with mental health resources.  
REALCare seeks to address "data-driven stressors and risk factors" that can impact the mental health of Australian real estate agents.
"Your mental health affects your income, your teammates and your family," RISE director Chris Hanley has observed.
He said in real estate in particular, an individual's mental health becomes a determinant of income, progress, improvement and job contentment.
Saying the tool was made to help people manage their mental health risk and stress factors, Mr Hanley has touted a number of the REALCare app's capabilities — from planning and budgeting to regular emotion-based check-ins.
"It's also focused on helping your rhythm section, which is your breathing part of your body. Your heart and your lungs really determine your level of calm, so the REALCare app is something in your hand that's with you all the time and allows you to control and monitor all of the stress factors in your life every day," the director highlighted.
The REALCare app is also able to act as a triage.
"With just one on this amazing piece of technology, you can get to whoever you need to get to, to help you with whatever aspects of your mental health you need help with, at a particular point of time," he said. 
"So, it allows you to manage all the stresses in your life, it allows you to monitor yourself as you move along, and if you are in need of urgent, immediate help, it triages you to those places with one simple click."
He believes the app's release is all the more timely given COVID-19's exacerbation of fear and mental health issues: "Real estate has always been an uncertain joy ride up and down — of your own emotions, of your buyers and sellers, your landlords and your tenants' emotions. But I think what COVID has done is turbocharged everybody's fear; it's turbocharged all of our concerns about the normal issues of life, and it's enlarged our fears."
The director has also observed job uncertainty as taking its toll on the real estate profession.
"It's made them uncertain about their job, and even about maybe real estate as a career, because a lot of people lost their jobs in the first part of COVID. Many businesses in Australia sacked and dismissed people," he said.
"On a number of levels, COVID exacerbated the stresses and the risk factors that already existed, and the issues and challenges that were part of everyday activity."
Another factor impacting the profession has simply been agents being unable "to get in the flow, get in momentum, not being able to get out and about and talk to people — and certainly — not being able to list property".
"The biggest income source for all sales agents is listings, and if you haven't been able to list and if you haven't been able to do your normal things in the last five or six months, it's usually increased your personal stress levels and your income stress levels," he said.
From Domain CEO Jason Pellegrino's perspective, this year, more than ever, the real estate industry has faced extensive challenges and stress.
He believes it is important that the industry recognises "that some of the factors that make our industry such an amazing place to work, also contribute to a high-risk environment for the mental health and wellbeing of everyone in the industry".
Noting the RISE partnership and app's creation as a way in which Domain can support the mental health and wellbeing of the industry, he offered that "mentally healthy staff promote a mentally healthy workplace".
"This helps to attract and retain talent and delivers better results over the long run. It's important that wellbeing is promoted and that principals and managers lead from the front, and create policies and processes that help build a positive and healthy workplace," Mr Pellegrino said.
For Mr Hanley, "there's so many upsides to having a program within an organisation where people's mental health is looked after, as opposed to not having one".
"I think the most important word I'd also add here is control," he continued.
"I think a huge element in the REALCare app is that they're able to use the app UI to control areas, i.e. mental health, that a lot of people didn't think they had any control over previously. And I think that idea of having control makes people sleep better; it makes them feel better; it makes bosses work better within organisations and it makes teamwork better."
He believes "there are just so many upsides to having something like a REALCare app in every organisation to help everyone, when they need it".
But he did concede "that the REALCare app will not install itself on someone's phone — it doesn't work that way".
"We as a profession need to spread the word," he said.
ABOUT THE AUTHOR
---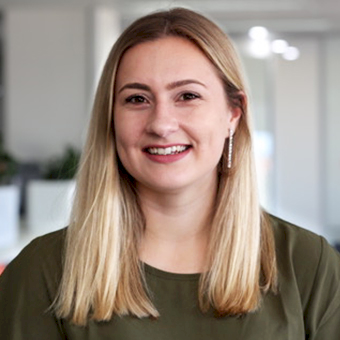 Grace is a journalist across Momentum property and investment brands. Grace joined Momentum Media in 2018, bringing with her a Bachelor of Laws and a Bachelor of Communication (Journalism) from the University of Newcastle. She's passionate about delivering easy to digest information and content relevant to her key audiences and stakeholders.