A range of reasons factored into one agent's decision to start a real estate agency from his garage.
The year 2020 was the first full year of trading as Avenue Five for director Sam Parsons, and what a year it was! Despite wrangling with the repercussions of COVID-19, Mr Parsons wrote more than 100 deals in the space of 12 months – without even having a proper office space.
Cost and overheads were major factors in the agent's decision to forego a traditional bricks-and-mortar agency to kick off his brand, but these weren't the only reasons he decided not to jump straight into an office space.
"I also believe now that social media reach, relationships, networking and ensuring all your contacts know what you are doing is far stronger," he commented.
"Once you have a reputation, it doesn't matter where you are working from."
According to the director, as long as he remains available to clients, is creating lifelong relationships, treating people as he would like to be treated, bringing energy to his business and achieving results, the momentum will continue.
Prior to kicking off Avenue Five, Mr Parsons was the sales manager for Porter Davis, after having kicked off his real estate career with a franchise brand 10 years ago.
To start his own agency has been a "goal and plan" of the director since he was just 19 years of age.
"When I started at Porter Davis, I had always informed them I would be moving on to start my own agency when the time was right," he stated.
"They had been a great support in my leadership skills, my growth and relationships built in the development and construction industry."
Even now, Mr Parsons said he leverages the lessons learnt in developments and land in his work as an agent, despite his concession that "it's a totally different skill set of education, knowledge and relationships".
He also counts Porter Davis' founder Anthony Roberts as a "great industry mentor".
To spread the word about his business, Mr Parsons said it was "important to cover off on print, social media, [and] property portals".
He also stressed the need for those around him to know about his business – what he does, and how he does it: "The amount of networking and connecting to new and old connections is always a key target and metric on a weekly basis."
Social distancing had an impact on his methods: "Digitally, a lot of introductions and communications has been via FaceTime, zoom, [while] many property transactions during covid have been completed with minimal face-to-face – where communication and education has had to be twice the amount as normal."
He flagged that while April and the beginning of the pandemic did see things slow, he's been very fortunate to be based across Geelong and the Surf Coast region – "which has definitely been buoyant and a real draw card over the past few months for people looking to move away from the city and achieve a real positive lifestyle change".
"I saw it as an opportunity – agents were either going to work harder and show their value or vendors were going to look for new representation," he reflected.
Humble beginnings aside, Mr Parsons said 2021 will see his agency take on a new office space and fit-out at Armstrong Creek to accommodate a growing team and growing business – all while "helping clients achieve the best they can out of property".
ABOUT THE AUTHOR
---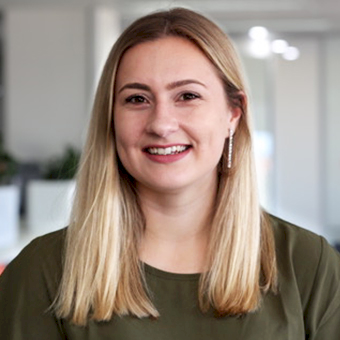 Grace is a journalist across Momentum property and investment brands. Grace joined Momentum Media in 2018, bringing with her a Bachelor of Laws and a Bachelor of Communication (Journalism) from the University of Newcastle. She's passionate about delivering easy to digest information and content relevant to her key audiences and stakeholders.