One of Australia's leading auctioneers has weighed in on some of the biggest themes set to impact auctioneers and agents alike in the coming years.
James Pratt, the man behind James Pratt Auctions Group, has told REB that already in 2021, he's seen the property market change.
"It's stronger and much more active than last year," he commented.
"I've been experiencing strong numbers registering to bid at auctions and robust bidding across all price points."
It's led the Auctioneer of the Year at the 2021 REB Awards to consider now as "a great time for both agents and auctioneers to take advantage of Australia's strong position relative to COVID".
Mr Pratt has outlined two major trends he expects will have a major impact on the property market.
Here are his predictions:
The resurgence of high-priced expats
According to the award winner, "auctioneers need to be prepared for high-priced expats and Asian buyers who are coming back to Australia".
He said many of these potential purchasers are coming back with pounds, US dollars or euros — "all of which are worth much more than the Australian dollar".
Encouraging agents to look more to international buyers and expats this year as part of their sales strategies, he went on to suggest we will see these buyers pay strong prices at auction.
The rural sector will continue to boom
Mr Pratt reiterated that he has been experiencing strong registration numbers for auctions — a sentiment true for city, regional and rural locations.
Considering "people are creatures of habit", and with many Australians now in the routine of working from home and taking Zoom calls, they have no need to live close to the city.
5-year forecast
The auctioneer maintains his 2021 positivity when he looks further into the future, expressing the belief that auctioneers and agents alike will have more options coming available to them over the next five years.
According to him, "there will be more delivery platforms that let distributed bidders participate on a more level basis with bidders who are in the room".
Mr Pratt expects to see more digital auctions taking place and more auction tools to support the process.
"Having a choice of options when auctioning is always a good thing," he commented.
"I think auctioneers understand every auction is different; it's never one size fits all.
"What works in premium auction results in one suburb may not work in another, so having more options is a positive step."
Despite the new trends, Mr Pratt did concede one thing that hasn't changed, even with the impact of a pandemic.
"Pre-auction communication is still very important," he acknowledged.
"Agents want us to constantly help them and their vendors improve their auctions."
He said he talks to his agents about current success rates regarding onsite and in-room auctions, average registration numbers in the local area, "and other useful stats".
According to him, "it is very important to have data and to communicate with your agent".
"It is so important to provide market knowledge that they can share with their clients," Mr Pratt said.
ABOUT THE AUTHOR
---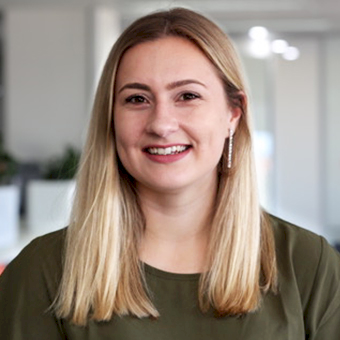 Grace is a journalist across Momentum property and investment brands. Grace joined Momentum Media in 2018, bringing with her a Bachelor of Laws and a Bachelor of Communication (Journalism) from the University of Newcastle. She's passionate about delivering easy to digest information and content relevant to her key audiences and stakeholders.