Two real estate directors recently ditched a decision to go boutique, and instead, are choosing to rebrand to First National Real Estate Engage Eastlakes. Here's why.
Chris and Kerrie Rowbottom were on the cusp of merging a successful sales business with a property management offering in the Lake Macquarie suburb of Belmont under a new independent brand when they decided against such a plan.
According to Mr Rowbottom, "Kerrie and I had put so much work into our new brand and future plans, but there was a sense that much more was needed".
Stating that a change of direction towards a recognisable network at the 11th hour wasn't an easy decision, the pair did concede it was "unavoidable".
"When we discussed our vision for the future with Katina Giannos of First National Real Estate, we understood the challenge of change," Mr Rowbottom explained, stating that they were asked about future plans, strategies for those plans and addressing digital needs. 
He said: "It quickly became clear how much more time we would need to invest in research and development, and also how much more commitment would be needed to the training needs of our team."
Considering that the directors had already invested in the design of their new, boutique brand, joining a network became a big decision. 
According to Ms Giannos, First National's business growth manager, backflipping from boutique is not an uncommon journey for directors to embark on, but she has acknowledged it as a tough decision for those who have already put in a lot of hard work towards brand development.  
"Developing a brand has serious implications for estate agents and frequently overwhelms critical elements of business strategy, training, technology and marketing expertise required to reach those goals," she explained. 
"As an independent, you have a steep uphill battle."
From her perspective, "trainers want ridiculous amounts of money, brand development is expensive, connecting to the best technology is far from certain, and mistakes are expensive".
"You soon discover you've spent all this money and you haven't even touched the digital space. Then, who helps you plan, where's your mentor, and who is going to help you keep everything on track?" she said.
Having now made the decision to align with First National Real Estate, Mr and Mrs Rowbottom have completed their transition — and could not be happier with the outcome.
It's already seen First National Real Estate Engage Eastlakes' sales and property management teams inducted by business growth manager Katrina Tarrant. 
Mr Rowbottom said his team's acceptance of the business decision to join First National was "critical". 
"Having discussed our transition to First National with almost every person that works for me, everybody has said the same thing. First National has delivered an outstanding message to everyone," he reflected.
"We are so proud that we reached the right decision for everyone in our office."
Mr Rowbottom concluded: "We really feel blessed to be in business with some great people and have a clearly defined future. Katrina seems to have this amazing relationship with Kerrie already, and we are thrilled."
ABOUT THE AUTHOR
---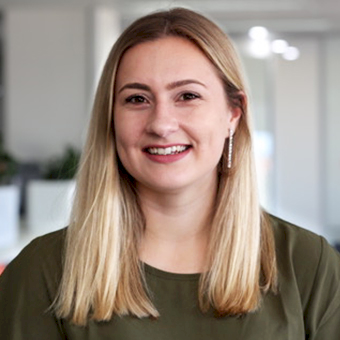 Grace is a journalist across Momentum property and investment brands. Grace joined Momentum Media in 2018, bringing with her a Bachelor of Laws and a Bachelor of Communication (Journalism) from the University of Newcastle. She's passionate about delivering easy to digest information and content relevant to her key audiences and stakeholders.