REB caught up with an award-winning mentor to unpack why these roles are so important in real estate, and the types of people worth looking up to.
In a recent episode of Secrets of the Top 100 Agents, Stepfanie Regan, the head of property management at LJ Hooker across Queensland, the Northern Territory and northern New South Wales, discussed what a good mentor should be able to offer their mentees.
She said: "A mentor is somebody who can incorporate a coaching and consulting approach to when they're speaking to a mentee.
"What I mean by that is a coach, by definition, is somebody who uses a question-based technique to maximise the performance of their mentee.
"People who do work as a coach don't actually provide people with the answers."
This is because you could actually be limiting what their ability is by telling them how to go about resolving an issue or obstacle — "when, in actual fact, there could be a better way to do it".
But that's not the only value a mentor should provide, according to Ms Regan, who was recently recognised as the Mentor of the Year at the REB Awards 2021.
She highlighted the value of advice from someone who has been in a similar position to a mentee.
"As a mentor, you also offer advice because you have experienced those certain things yourself," she flagged.
"What makes a really good mentor is somebody who has walked the walk, somebody who can offer advice, but somebody who also genuinely has the best interest of the mentee at heart.
"You want them to reach their maximum potential... And that could very well exceed your own potential."
Why you need a mentor
For Ms Regan, seeking the support of a mentor is invaluable for achieving success — whether that's in business or otherwise.
"Any successful person that you come across in any industry, and particularly in real estate, will have a mentor or numerous mentors that they reach out to," she said.
"People will have business mentors, personal mentors, relationship mentors, whatever it may be.
"You need to have somebody to bounce ideas off that is the kind of person that can ask you questions outside of your box, so you can make sure you're reaching the potential that you could possibly reach."
Expressing a firm belief that individuals who don't have those people around them are limiting their potential, she flagged the saying: "A business will never outpace its leader".
She said; "You can only train people on what you know, and unless you know more than that, you'll never know more than that — if that makes sense!"
Choosing a mentor
"If you don't get inspired by the people that surround you, you don't have a circle, you have a cage," Ms Regan offered.
For real estate professionals who are looking to strike up a mentoring relationship, the mentor suggested they should first look to the people around them: "If you aren't inspired by those people, then you need to get new people around you."
Drawing on her own experience, the mentor said that, a few years ago, she made the conscious decision that she would no longer take advice from anybody who didn't have success in the area they were advising her on.
"You wouldn't take financial advice off somebody who is perhaps bankrupt and had no money in the bank, so why listen to your friends if they're single and aren't in successful relationships? Or don't listen to somebody who doesn't own a business and hasn't got that success behind them," she said.
"I definitely have people that I go to. I have a girl that I go to who has an extremely thriving business, and she happens to also have a beautiful relationship with her husband, so I actually go to her for my personal and professional life."
Adding that she also has two business mentors — one who works in real estate and one who doesn't — she said she is "constantly bouncing ideas off those people as well".
All in all, the mentor advocates for individuals to "make sure the people that you're drawing energy from and you're going to for advice are successful for whatever it is that you're going to them for".
For more mentoring insights from Stepfanie, you can listen to the Secrets of the Top 100 Agents episode here.
ABOUT THE AUTHOR
---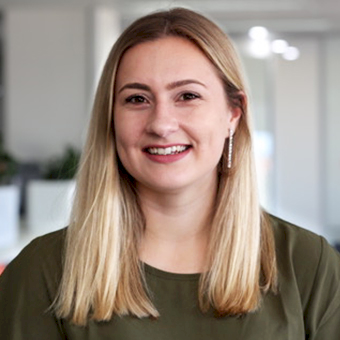 Grace is a journalist across Momentum property and investment brands. Grace joined Momentum Media in 2018, bringing with her a Bachelor of Laws and a Bachelor of Communication (Journalism) from the University of Newcastle. She's passionate about delivering easy to digest information and content relevant to her key audiences and stakeholders.