Succession planning could be one of the biggest challenges facing the real estate profession in the coming years, according to an expert strategist.
According to Kylie Walsh, the director and founder of REGROWTH, there are a lot of principals out there who are going to want to be transitioning out of their businesses in the next three to five years who "may be in for a rude shock" — since they've never been shown how to crunch their numbers and work out their actual profitability, or even how to better create efficiencies within the day-to-day running of the business.
She was speaking on a recent episode of The WIRE when she flagged that the average age of a real estate agency principal in Australia sits around 65 years of age.
With such a high median age — and pending the potential for succession planning problems to arise — she's urging principals who are looking to eventually move on from their business pursuits to start the succession conversation "now".
Not only this, she has encouraged those leaders ensure they are running "better, profitable, more scalable and efficient businesses" to better facilitate that succession process.
According to her, there will be many issues that arise when these business leaders do choose to move on, given there's currently a lack of education and training in real estate businesses around growth, profitability and scalability.
She highlighted how "most real estate principals just haven't been shown about how to get to that break-even and profit point — and make decisions based around those numbers and efficiencies".
"The challenge in our industry is that 80 or 90 per cent of business owners in real estate have come into that role by default, generally when someone retires or they've been a top-performing sales agent and they've landed with the business," Ms Walsh conceded.
While highlighting that there's not anything wrong with being a selling principal in an agency, she did flag the importance of being able to identify "what your strengths and weaknesses are" with respect to the business.
She said: "So, if you're responsible for a lot of the revenue, is that the line that you want to be in? And if you're really good at it and that's your skill set, there's nothing wrong with staying there."
The director also acknowledged how there's been a lot of discourse around over the past few years arguing against the idea of a "selling principal".
She's not so critical of such practices, but does advocate for those principals who do bring such skills consider bringing in external resources — whether that be a general manager, an operations manager, or accounting assistance — to manage any weaknesses.
In her experience of agency succession, "the sweet spot seems to be at year 17".
She continued: "They all decide they're either selling the business and getting out or they've had enough of sales and they don't want the business to be so vulnerable to their income, that they then want to take a step back and they want to upskill themselves in those roles around managing their numbers, managing their people, [and] being better leaders.
"Often that's too late, from what I'm seeing out there."
It's why she considers it as "fundamental" that business leaders know their numbers, know their cost of sale, know their gross profit and understand what that actually means for their business — and their break-even point.
"I reckon eight out of every 10 principals that I've sat in front of over time have never been shown (a) how to work that out and (b) what it is for their business," she said.
"Not only have they not been shown, but it's the discipline and making it easy to access those numbers," she added, noting busyness as another commonly cited barrier to success.
"Quite often, business owners - or even agents - don't get the data till the 10th, 12th, 15th of the month from their bookkeeper, which is by that stage way too late to do any changes. So, it's not just being shown. It's actually having access to the data in an easy way that you can understand and then take the right actions to adjust the ship, as such, before it's too late."
When business owners come to Ms Walsh and ask her about whether they should be adding tech, or even a new team member, she said she responds with "what do your books tell you?"
She said: "What happens to your ratios? Can you actually afford it?"
She said that instead of it being a question of "how does it feel in your gut?", it needs to be: "Will your business allow it?"
And depending on where in the lifecycle of the business you are in, your strategy to problem-solve, encourage growth or add efficiencies should reflect that.
You can listen to the entire conversation with Kylie Walsh here.
ABOUT THE AUTHOR
---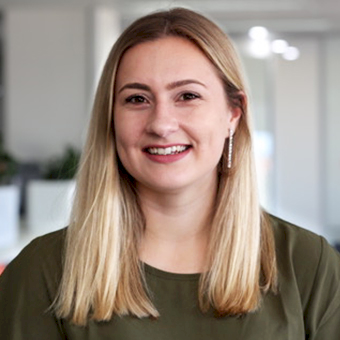 Grace is a journalist across Momentum property and investment brands. Grace joined Momentum Media in 2018, bringing with her a Bachelor of Laws and a Bachelor of Communication (Journalism) from the University of Newcastle. She's passionate about delivering easy to digest information and content relevant to her key audiences and stakeholders.