Having recently achieved a milestone 200 agents under the Eview umbrella, the group now has its sights set firmly on having 400 agents within its ranks by the end of next year.  
In September 2021 alone, Eview is expecting another 12 agents to align with the group.
The influx of new agents reportedly brings the group's numbers over 365 all-up, including: property managers, administrators, sales support, IT, design, trainers and accounts.
Eview Group's "Your Brand Your Business" model was launched by group CEO and co-founder Manos Findikakis alongside his wife Maria Findikakis five years ago.
The milestone's announcement comes as the Eview Group is on track to end the 2021 calendar year with over 3,500 property transactions, for a total sales value of $2.75 billion.
"They are big numbers," Mr Findikakis has acknowledged, "but [are] only the beginning of what's to come."
According to Mr Findikakis, it's been "a managed approach" to growth that is boosting agent numbers, with their day-to-day operations actually focussed on "ensuring service levels for our current teams remain as the priority".
"Achieving this milestone is very humbling noting that our goal has never been to be the fastest-growing, but rather to be the most progressive," he commented.
Despite the less conventional approach to growth, the CEO sees even faster growth for the business on the horizon.
"Taking this measured approach to growth will see us double our numbers in the next 12 months.
"We will comfortably reach our 400-agent target by year-end 2022," he continued.
Mr Findikakis attributes the growing popularity of the Eview Group's model to providing agents "more profit and freedom than the traditional agency setup".
"We have developed a model that focuses on maximising leads for our sales and PM teams, but also removing all the important but mundane backend administrative activities required to run a successful agency," he continued.
Coinciding with the milestone announcement, the CEO has also touted a brand-new tech partnership for the business.
He has flagged the "imminent" release of the Managed App property management platform to owners.
Mr Findikakis said that the partnership with Managed "will further strengthen our service offering for our current and new team members".
"Our boutique brands will have the ability to build wealth by growing or acquiring a rent roll with our complete backend support and retaining 100% ownership."
ABOUT THE AUTHOR
---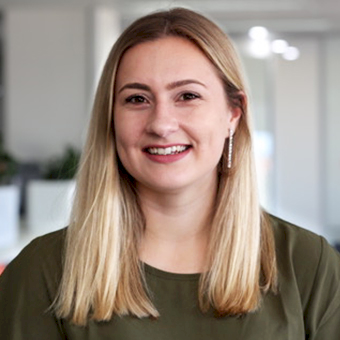 Grace is a journalist across Momentum property and investment brands. Grace joined Momentum Media in 2018, bringing with her a Bachelor of Laws and a Bachelor of Communication (Journalism) from the University of Newcastle. She's passionate about delivering easy to digest information and content relevant to her key audiences and stakeholders.