A Queensland agency believes putting in place individual business plans for all of their agents has been integral to their set-up's success.
Speaking on a recent episode of REB's Business Empowerment Showcase, LJ Hooker Property Centre sales manager James Carmichael explained how personalised business plans offer a pathway through which agents can grow.
This business plan is not to put pressure on an agent or force them to perform. Rather, he sees it as a way to empower agents to move at their own pace.
"Nothing's pressured – it's all their own goals," Mr Carmichael explained.
"But what that business plan does, [is] it breaks down into very basic terms what they need to be doing."
Because the agent's goals are written down within the business plan, Mr Carmichael said it becomes "a really, really good tool" that not only advises agents where they need to be each month but also how they can stick to that "as close as possible".  
Even when an agent does fail to meet their goals, the sales manager expressed how the business plan isn't meant to be punitive.
Mr Carmichael said that outcome instead offers a way to reflect – enabling agents and managers to instead ask the questions: "What can we adjust? What can we change to get those goals?"
One-on-one support is crucial to implementing individualised business plans, according to the sales manager.
Not only should that support be consistently offered, Mr Carmichael advised that "it's got to be in line with what the real estate agent wants".
Adding that agents who are empowered to set their own goals are "more likely to work to that goal", Mr Carmichael outlined that he himself meets with agents on a monthly basis to go through their business plan.
"That breaks down – every single month – what they have to do to get to that goal.
"Then we review the previous month, and if something's not quite right in the previous month, then we look at what we can do to improve," he explained.
According to the sales manager, this then allows them to amplify their wins, troubleshoot any process problems or overcome any barriers to success.
That could look like extra marketing around a particular listing, more marketing pushed into the area that they work, or even the provision of extra training for listing presentations and the like.
"I have trainers that can do one-on-one specific training sessions with them, if a particular skill is not where they want it to be," he remarked.
You can listen to the full conversation with LJ Hooker Property Centre's managing director Iain Carmichael and sales managers James Carmichael and Graeme Carmichael here.
ABOUT THE AUTHOR
---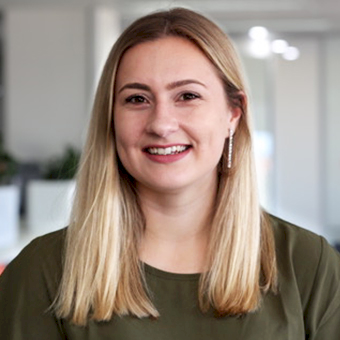 Grace is a journalist across Momentum property and investment brands. Grace joined Momentum Media in 2018, bringing with her a Bachelor of Laws and a Bachelor of Communication (Journalism) from the University of Newcastle. She's passionate about delivering easy to digest information and content relevant to her key audiences and stakeholders.