Real Estate Business' Half-Yearly Sentiment Survey revealed that the Australian real estate industry is not happy with the way in which the government has managed the economy but, going into the spring season, is optimistic about the housing market.
MONEY MATTERS
The Real Estate Business Half-Yearly Sentiment Survey is an online poll, with the latest one conducted in July and August 2013. The survey sought to gauge the sentiments of the real estate industry on matters related to the economy, the housing market and business initiatives. The results are based on 287 replies, with a majority of respondents coming from the real estate sales sector (70.7 per cent). More than half were principals (55.9 per cent); 28.3 per cent were real estate sales representatives; and the remainder were property managers (5.2 per cent), real estate employees (2.8 per cent) or had other roles (7.7 per cent).The Real Estate Business Half-Yearly Sentiment Survey revealed that the industry has mixed feelings about current economic conditions.
According to the survey results, 38.3 per cent of the 287 respondents said current economic conditions are worse than during the first six months of the year. On the other hand, 36.6 per cent felt they are the same. The remaining 25.1 per cent said the economy is better now than at the start of the year.
Despite this mixed response, the poll also revealed that an overwhelming majority of agents are not happy with the current government's economic track record.
A notable 82.6 per cent of respondents said the federal government is not doing a good job of managing the economy; 13.2 per cent said it was; and the remaining 4.2 per cent were unsure.
Principal of Harcourts South Coast in South Australia Mark Forde told Real Estate Business he feels the government is making poor decisions regarding the economy.
"No-one has any clarity [about] the direction of the government, and its decision-making is poor, so there's a real lack of confidence in the community which transcends all businesses, particularly retail and property," he says.
However, managing director at Morton & Morton and Australian Real Estate Awards Thought Leader, Ewan Morton, says he feels the government has managed the economy well in light of the recent economic crisis.
"When I think about confidence since the GFC [global financial crisis], I think the way they lowered the interest rates and they managed that, it has actually probably averted a much harsher landing," he told Real Estate Business.
"I think, from an agent's point of view, turnover has dropped significantly as a result, and probably the financial hardship of people has been minimised as a result of that."
Disapproval of the government's performance, however, was reflected in agents' sentiments about the federal election campaign.
The survey revealed that 62.5 per cent of agents believe the September 7 federal election has had a negative effect on the property market due to uncertainty about a possible change of government.
Thirty per cent said the property market had continued as normal, while another 7.4 per cent were unsure.
According to Mr Forde, many owners and potential owners would not make a decision on whether to sell or buy.
"Once the election is behind us and we've hopefully got a government elected with a clear mandate, I think it will give people a degree of certainty that whatever we've got, at least we can get on with it. Right now, there's just too much uncertainty," he says.
Mr Morton agrees: "Elections always make people sit on their hands regardless of whatever everybody thinks the outcome will be," he says. "I think it does create a sense of uncertainty and I think it is one of the factors that has led to the current stock shortage, as people are waiting to see what will happen."
Senior economist at Australian Property Monitors Dr Andrew Wilson says 'the jury is still out' on the government's management of the economy.
"A key indicator of economic success is the unemployment rate," he says. "Unemployment has shifted moderately recently, but we're still in a position where most unemployment rates are reasonably solid.
"I think once we start moving into the six per cent realm in terms of the unemployment rate, it does show a significant issue with the economy. We are still in the mid-five per cent in most capital cities – some are doing better than others."
Dr Wilson does not believe the election has had any effect on the property market. "We've got rising auction clearance rates, we've got sellers, we've got more buyers and all of the leading indicators remain positive for the property market. Given that we had an interest rate cut, that'll only improve," he says.
MARKET PULSE
While there is uncertainty due to the election, there is a sense of optimism following the Reserve Bank of Australia's cutting the official cash rate in August to an all-time low of 2.5 per cent.
According to the survey, 61.7 per cent of 287 agents believe the rate cut will have a positive impact on demand for residential property over the coming six months.
Richardson&Wrench executive director Andrew Cocks says the cut will help to sustain a recovering real estate market.
"Confidence is the key motivator in real estate and we are seeing that return, not only due to interest rates but [due to] other factors such as an improvement in the US economy and an extended period of stability in Europe," he says.
"The green shoots of recovery have been evident across all areas of NSW, including popular retirement destinations that have struggled since the GFC."
Agents also have optimistic expectations about the market for the next six months, compared to their expectations for the first half of the year.
Specifically, 54.4 per cent of the 287 survey respondents said they expect their listings to increase, while 27.2 per cent believe their numbers will remain the same. The remaining 18.5 per cent said they will decrease.
Sales consultant at CENTURY 21 Helensvale, Hunter Partel, says he expects listings to grow once a new government has been elected as confidence will then return to the market.
"The Gold Coast hasn't had a good time, but there's a better feeling out there now than there has been for quite some time.
I'm being optimistic, but I would like to think we are going to go through a nice listings phase," he says.
According to Grant Comley, principal of RE/MAX Results Plympton & Aberfoyle, "there's growth in the air, everything seems to be picking up." Mr Comley attributes this to the spring season as well as to the rate cut.
"For people that were just out of reach, all of a sudden they can afford it and of course they come in and buy, which means somebody else sells, which means they buy something else," he says.
BUSINESS BEAT
The outlook for business within the real estate industry is positive, according to survey respondents, with 57.5 per cent saying they expect business to grow in the latter half of the year.
Another 35.2 per cent expect business to remain the same, and the remaining 7.3 per cent expect their business to decline.
Agencies also appear to be stabilising their staff numbers over the second half of the year, with 61 per cent of 287 respondents planning to keep their staff levels the same and 33.8 per cent intending to hire staff. Just 5.2 per cent intend to cut staff.
The industry retention rate is high, with a solid 87.1 per cent of 287 respondents not considering leaving in the next six months.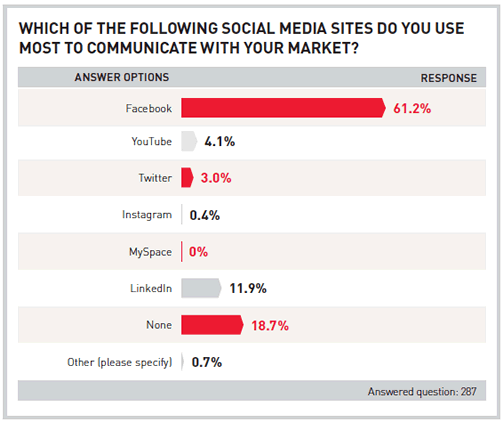 Other key findings of the survey relate to industry 'hot topics', including discounting commissions, the use of social media and the dominance of major listing portals.
According to the survey, more than half of respondents have reduced their commissions. Of the 287 participants, 54.7 per cent said they had given a discount to their vendors in the first half of the year, while 45.3 per cent said they had not.
The survey also revealed that vendors regularly haggle over prices, with 82.9 per cent of respondents claiming that in the first half of the year they had been asked to discount their commission.
Director of hockingstuart Mooroolbark Ken Chappell says he has, on occasions, discounted his commission but will only do so in certain situations.
"If you had something on the market for a long time, and you have got a fairly stubborn vendor in terms of price and they've got a figure on what they want or they need, and you get close to that figure and you just want to do the deal, sometimes you can bite the bullet just to get it off the market and get it sold," he says.
Mr Chappell adds that with a market in a state of buoyancy, this is not a question he is commonly asked, but generally it is a case of negotiating price.
"It's very easy for a vendor to come back to you and say, if you can't get another $5,000, take it off your commission. But if you stand your ground and work it through with the vendor, they will soon realise that you've worked very hard to get the price you have."
Bruce Baker of RE/MAX Territory says he has been asked by vendors to discount fees, but has refused to do so.
"In a way, by discounting your fees then you're discounting your service," he says. "We choose not to discount our service fee because we offer a professional service and I think our fees are appropriate.
"I think the minute you start discounting your fees then I suppose something's got to give somewhere. Where does it stop?" Meanwhile, a large proportion of the industry has embraced social media, with the survey revealing that 71.5 per cent of the 287 respondents use social media to communicate with their markets. On the other hand, 22.9 per cent said they do not use social media and the remaining 5.6 per cent say they only use social media to connect with their network or office.
The survey also found that Facebook is a popular tool among agents, with 61.2 per cent of respondents saying this was the social media site they used most to communicate with their market.
However, managing director of Focal Real Estate Glen Spink says he does not see the value of using social media.
"Anyone who wants to buy real estate will go to the area where it's sold, which is realestate.com.au, but I don't see that Facebook will help with making any sales at all," he says.
"All it does is fill in agents' time. You have to go out and talk to people and this business is all about talking to people. You can't get sales any other way."
Managing director of RE/MAX Western Australia Geoff Baldwin says social media is important to help people to find agents.
"I don't believe you can be successful in the work that we do – either as a trainer, franchisor or any aspect of real estate – without allowing people to check you out. These days we are an open book and I think social media falls right into that," Mr Baldwin says.
"Social media is a terrific way to communicate with as many people as you possibly can. Simple fact is that there are eight to nine million Australians on social media every day so you really would have to be fairly naive to think you can be without it."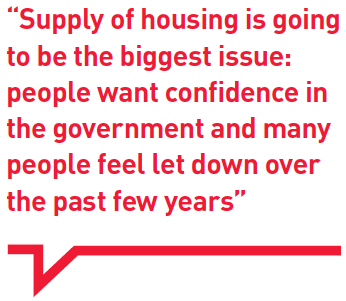 However, Mr Baldwin says there has to be a balance and a disciplined approach to using social media to ensure valuable time is not wasted.
Another major issue the industry has been forced to confront is the dominance of listing portals, and the Real Estate Business survey found that most feel forced to use them to stay in competition. The survey revealed that 73.1 per cent of respondents are not satisfied with their current rate and pay structures for their listing portal but pay the fee to stay competitive.
The survey also confirmed the influence realestate.com.au has on the marketplace, with 83.2 per cent of respondents claiming the site was the portal they used most to list properties.
Owner of Kawana Coast Realty Geoff Batten says the problem with realestate.com.au is that the site is too strong and has a monopoly on property listings.
"They're swinging the big bat and they're knocking the other agents around," he says.
"At one point, I was spending $1,150 on them but I went back to the standard subscription, which I think was $590, about two years ago, and now I'm paying $790."
According to Mr Batten, this is particularly an issue in Queensland where clients have been 'wired' to use realestate.com.au for selling and buying.
"Domain tried to come onto the coast here and take a foothold but they didn't survive for the simple [reason] that they weren't getting anywhere near realestate.com.au and we weren't getting the same exposure because the mindset of Queenslanders is that if you're looking for property, or you want to sell, you go to realesetate.com.au." realestate.com.au continues to grow rapidly.
REA Group, the owners of the portal, recently reported a net profit for the last financial year of $109.7 million, a 26 per cent jump from the previous year.
Make sure you never miss an episode by subscribing to us now on iTunes
And dont't forget to leave REB a review!

Listen to other installment of the Real Estate Business Podcast