Balancing work and life
Blogger: John Paranchi, sales agent, McGrath Estate Agents Hunters Hill
In this fast-paced 24/7 business we work in, the only way to be productive, stay sane and keep your family or significant other happy is by having a balance.
The good news is it's not as difficult to achieve as it sounds. In fact, the busier you are, the easier it should be to find a balance – and you don't have to sacrifice any income for it either.
Let me explain.
A busy agent is basically forced to be organised, and that's the key to finding balance. By implementing smart systems and procedures, you'll find there are many more hours in the day than you realise.
Over time, I've managed to find a balance, while also increasing my business. I work four and a half days per week. I probably do more work than most agents, I just get it done in less time by being super efficient, super organised and by having the right team in place to support me.
The first step is committing to your 'me time' and scheduling enjoyable things to do.
I have Fridays off. My perfect Friday is a game of golf and a long lunch with friends in the afternoon. I also finish early on Wednesdays so I can spend time with my kids. My son has soccer, so I pick them up from school and my daughter and I hang out in the grandstand while he plays. I have a massage once a fortnight, and five weekly gym sessions to stay healthy.
Scheduling enjoyable things to do will make you work harder during work hours. Many agents turn up to the office, grab a coffee, have a chat. I'm going hard from the moment I get in because I know it means the difference between Fridays off and not.
The second step is identifying systems and procedures to make your time more efficient.
Here are my tips:
Know what you need to achieve the next day. Have a call sheet with everyone's name, number and reason for the call, with a column to make notes on the outcome

Have an 'ideal day' and 'ideal week' and stick to it

I avoid calls on Fridays by anticipating who will want to call me and why; and contacting them on Thursday instead

I only do evening appointments two days per week. The difference between getting home at 7pm or 9.30pm is not much – I'd rather work really late on two nights so I can be home at 5pm every other night

I never leave the office for just one meeting. I group them together, so I'm not wasting time travelling. I also tell every client that I'll be coming from another appointment, so I could be 10 or 15 minutes early or late, and is that okay with them. This means I avoid sitting around for 10 or 15 minutes if I'm early, or stressing if I'm late

I schedule appointments for on the way to work or on the way home from work to cut down on travel time and keep my office hours uninterrupted and productive

Having a team is probably the single biggest thing you can do to find more balance. I have a PA and marketing manager, a buyer's agent, and an administrator. I have more time for my family and I can go away for a week and the business doesn't miss a beat because I've hired great people
As agents, time is one of our biggest commodities. If you can maximise your work time with great systems, procedures and support staff, you can maximise your 'me time' and get the balance you deserve.
ABOUT THE AUTHOR
---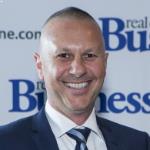 John Paranchi is an award-winning agent at McGrath Estate Agents Hunters Hill with an outstanding track record for exceptional sales results in any market conditions. He was ranked number six in McGrath's 540+ network in 2012 and was ranked number six in the Real Estate Business' Top 100 Agents this year. John was recently named Sales Agent of the Year at the 2013 Australian Real Estate Awards.