We speak with our vocal chords yet we communicate with our entire bodies.
Studies show that a staggering 93 per cent of communication is non-verbal, so why is a vast majority of training in our industry language-centric? I'm sure you'll agree, this seems very disproportionate.
Don't get me wrong, honing your scripts and dialogues is extremely important, but you must also consider the psychological, physical and paralinguistic aspects of what you do.
Body language is instinctive, so mastering how to use it to your advantage could lead to you becoming a legend of the lounge room.
Here are my top 10 tips for improving your non-verbal communication:
Start with a firm handshake. A handshake that isn't firm signals a lack of authority. A handshake is not a contest though, so don't try to crush the other persons hand and don't hold on too long.
Maintain eye contact. When you don't look someone in the eyes, it can be interpreted as a sign of disrespect or dishonesty. It is often said that we actually speak with our eyes, so always keep your chin up and your eyes forward.
Stand tall. Bad posture signals to others that you lack confidence and have low self-esteem or depleted energy levels. Keeping your posture erect, your shoulders back and your head held high makes you look self-assured.
Active listening. The ability to listen is often difficult, the ability to 'actively listen' is almost an art form - one that only a select few truly master. 'Active listening' is having the ability to listen while simultaneously participating in the communication process instead of remaining passive.
Point your palms down. Gestures with palms exposed show that you are open and willing to negotiate, so always try to point your palms down when having the prickly conversation about your commission.
Widen your stance

. A broad stance helps calm your nervous system, allows you to breathe with ease and amplifies your voice.

Remain open. Folding your arms is a big no-no as this signals that you are closed-off and disinterested.
Use your hands. If you keep your gesticulations calm and under control, this can be one of the most effective forms of body language. The physical act of gesturing can actually assist with you using more declarative language.
Steepling. A really effective use of your hands is where you press the tips of your fingers together but your palms remain separated. 'Steepling' signifies knowledge and conviction. Steve Jobs often used this technique when trying to get a point across.
Smile. Smiling is our most potent (yet probably most underutilised) weapon when it comes to body language. Smile and the world smiles with you!
ABOUT THE AUTHOR
---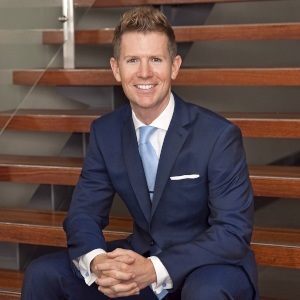 Douglas Driscoll is CEO of Starr Partners, and was named Industry Thought Leader of the Year at the Real Estate Business Awards 2016. Originally from the UK, Douglas is widely regarded as one of the industry's preeminent thought leaders, and is lauded for his dynamic and pioneering approach.