When a promising career with the NRL came to a grinding halt, Dane Queenan decided to make the most of a bad situation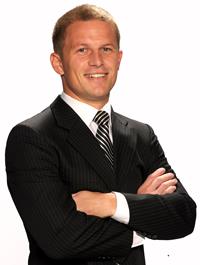 While most agents would tell you that as a kid they never dreamed of selling homes, Dane Queenan certainly did have a dream.
After growing up a typical country boy in Corlette in Port Stephens, NSW, Dane found he had a passion – and a talent – for rugby league.
At the age of 17, Dane moved to Manly to play professionally with the Sea Eagles.
"I was a little bit young. I was a country boy and I didn't really fit into the city lifestyle as well as I thought I would," he says. "I got a bit homesick so I moved home for the rest of that season, in 2001."
But Dane's passion for the sport proved too much for him to resist, and he returned just a year later, this time to the heartland of Sydney's west, Parramatta.
"I stayed with Noel Cleal who played for Australia, and after a training week with the Eels, I was offered a contract and signed with Parramatta for two years.
"The squad I was playing with had about eight players, and the club was working toward having us play first grade within two years. But through that squad you had to do 25 hours of work experience so if you didn't make it in football, you had something to fall back on"
"The training squad I was playing with had about eight players, and the club was working toward having us play first grade within two years."
One of the NRL's conditions for players who aren't full-time is that they have to be undertaking some other sort of employment or an apprenticeship.
"With that squad, you had to do 25 hours of work experience so if you didn't make it in football, you had something to fall back on.
"So I chose to do that at PRDnationwide at Parramatta. That's where I got my first taste and learnt about the industry," he recalls.
But before Dane had even got to debut with the Eels, he snapped his cruciate ligament and was out for the season.
Giving him four physio sessions a day for six weeks, the club was determined to get him back on the field – but Dane's confidence had taken a hit, and he decided to head home.
Finding his feet
Before coming to Sydney, Dane had completed a course on greens keeping, but he was in a conflict about which career to pursue.
"I didn't actually like the real estate industry that much after I went home when I was injured," he says.
"A lot of the real estate agents in that Parramatta area weren't very honest or loyal. They changed offices like they changed their underwear and would do anything to get a sale, whether it through misleading information or whatever – they just didn't care about their client."
But after deciding at first not to return to real estate, Dane then reconsidered and prepared to give it one last shot.
"It was a different area; I thought agents might be a little more laid back here; it might have been a different approach and not as cutthroat," he says.
During his time at the Parramatta office, Dane had been given basic training and the background to the industry, but in Port Stephens he found himself starting from the very bottom.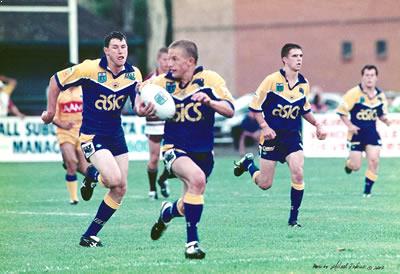 "I started at reception, and then went into property management. I ran our property management section for between six and 12 months," he says.
"After that I went across to a PA role with the principal for 24 months, but the principal was actually away for the first 11 months, so I helped out top sales agent Graeme Schmarr."
While the program was supposed to last two years, when his principal returned, Dane said he was ready.
"I was ready to go on my own – and he had all the confidence in me and said, 'I think you're ready as well'."
Within 12 months, his awards started rolling in.
"In my first year of selling real estate, I was Australian Rookie of the Year and in the top ten selling agents in the network the year after. In my third year, I was the number one selling agent Australia-wide."
For the past four years, Dane has been ranked number two – behind close friend George Rafty.
Finding a mentor
While he was initially supposed to work as a PA for two years, the PRDnationwide principal's 11 month vacation proved to be a blessing in disguise for Dane – since it teamed him up with industry veteran Graeme Schmarr.
"I saw how he negotiated, how he did listing presentations, how he showed a property and how he did everything," Dane says.
"He'd been in the industry for over 30 years; I just picked up everything that he did. I thought, 'he is the best agent I know, so how can I be better than him? How can I improve on what he's learned?'"
Previously, Mr Schmarr had owned his own successful real estate business and retired at a young age.
But after retirement had become boring, he decided he wanted to get back into the industry.
"I saw how successful he'd become and I wanted to achieve that," Dane says.
Learning from such an experienced agent shaped Dane into the hard-working individual he is today – but it was his adaptations and improvements that truly made him a top agent.
"Some of the things that I took to the next level were things like online marketing," he says. "The online world is a much bigger place, and marketing is more aggressive than what it was when Graeme was in the industry."
In 2012, Dane placed 51st in the inaugural Real Estate Business Top 100 Agents ranking. The following year, he jumped up 16 places to be ranked 35th in the country.
"Real estate is no different to building a home: those foundations and the first things you do are crucial to making sure the rest of your career is as good as it can be," he says.
"If you get those foundations wrong in a building, you're always going to have ongoing issues."
According to Dane, it's the first two years that will make or break a real estate agent.
"The databases you build up during your first six to 12 months, you won't see dividends until you're into your second year, so a lot of people give up on them.
"People think, 'I'm not getting anything out of this database I've been working on for 12 months,' but they will start coming through so long as you keep in regular contact with those parties."