A year ago Trent Godfrey had never called an auction, had no profile in the Australian real estate industry and was struggling to achieve credibility as an agent. Skip forward to the present day and he is not only an active auctioneer, he is also South Australia's 2014 rising star.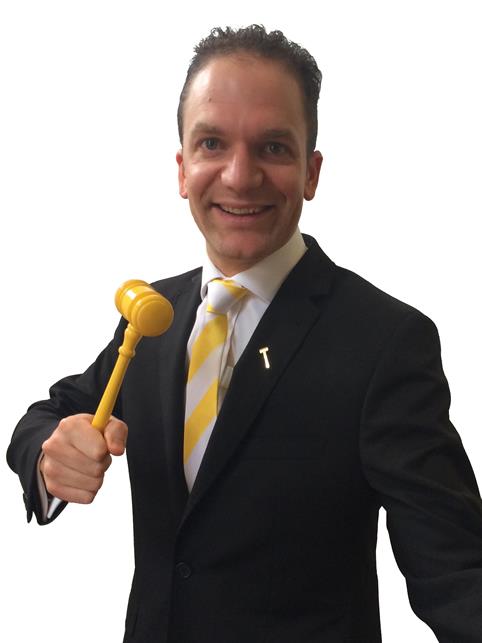 Winning the Society of Auctioneers and Appraisers News Australia SA Golden Gavel 2014 Rising Star award, Trent said it marked a "massive" turning point in his career.
Hailing from Christchurch, New Zealand, Trent (pictured left) made the brave move to Adelaide 12 months ago when his ex-wife and former business partner of 13 years called an end to their relationship.
"I got home from work in February 2013 and my wife and partner of 13 years had her bags packed in the car and I had absolutely no idea … you live and learn," he says.
"Call it intuition, but I made the decision to run away from Christchurch and move to Adelaide to restart my life," he adds.
Trent says 2013 was a "very tough" year as he struggled to come to grips with the past and find his feet in a new country.
"I think what I have learned is you have got to crash to rock bottom to really come back in life," he explains.
"I guess I just kept going. I had several meltdowns over that period … and it took those breakdowns to get a breakthrough and now I am so free of all of that," he says.
Trent says everything started falling into place in December last year after he attended a two-day auctioneering academy with the Society of Auctioneers & Appraisers in South Australia.
"I was quite good at it and I loved it," he says.
"Also meeting Jason O'Halloran from Ray White, who then put me in contact with Scott Robinson from the Ray White Brighton team, was just amazing."
"I just met the right people that gave me the right opportunity. Without them I would not have done any of this," he adds.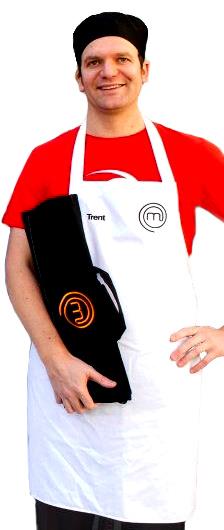 The idea of becoming an auctioneer first took Trent's fantasy when he appeared on MasterChef (pictured right) in New Zealand last year and realised he loves to perform.
 "I went on MasterChef and I made a salad, I actually never cooked anything and I kind of talked my way onto the show," he says
"[But then] I got sent back to the kitchen [where] they gave me a mystery box. There was a fillet steak in there and I had to cook it medium rare. I had 30 minutes to do it and I actually nailed it; I cooked the perfect steak, so it all worked really well."
"I always talked about doing it and I ended up making the top 24, but then I had to fillet a snapper fish. I had never done that and I destroyed it with my knife," he adds.
Trent says he looked at his real estate background and his MasterChef experience and it all fell into place.
"I decided I would make a good auctioneer," he says.
Trent says he watched YouTube footage of other auctioneers to copy them while throwing in his own "quirky twist".
 "You have got to be different in this world where we are all the same – I guess I am just a bit different," he explains.
"Someone said after I had won the Golden Gavel that I was a super energetic Mr Bean," he adds.
When asked about how he has found the Australian real estate industry, Trent says there are always a few egos around.
"[However] I have found that people in South Australia are very helpful. People have gone out of their way to help me and I like to think what you get given, you give back," he says.
"I am not here to cut anyone's grass or stand on anyone's toes, I think there is enough for everybody and you have just got to work together. I think I was more cutthroat in Christchurch," he adds.
In terms of goals for the future Trent is not selling himself short and has a dream to win the Australasian Real Estate Institutes' Auctioneering Championships.
"I want to win the Australasian Auctioneering Championship … I am not mucking around, it is happening next year," he states.
"This year it is in October in Auckland and the qualification for it is the two top auctioneers from South Australia, and other capital cities, all come together and compete in the Australasian championship that happens once a year."
"Next year I need to finish [in the] top two in the Golden Gavel to then go on to the Australasians," he adds.
In preparation to achieve his goal, Trent says he needs to be heading out into the field and calling as many auctions as he possibly can.
"I am [also] travelling to Auckland in October to watch this year's competition to do some reconnaissance for next year," he says.
Trent explains that to keep his goal within arm's reach he needs to more importantly focus first on the "bread and butter" of his job, which is the day-to-day real estate sales.
"At the moment I am building my database. So every day and every week I am looking to build a database of clients who trust me as a real estate agent and to build a rapport with them over time so when the day comes that they sell their home, hopefully they'll give me the opportunity to appraise their home and perhaps work with them to sell their home," he says.
In regards to the broader reputation of the real estate industry, Trent says he thinks it is a shame the way agents are viewed as sometimes unsavoury characters.
"We are sort of seen as used car sales people and we bombard people's letterboxes," he says,
"I guess to quote some of the top trainers, I want to be an 'attraction agent' where people phone me and then I don't have to call them when they don't want to hear from me," he adds.