There have been a number of meetings and conversations about REA in recent weeks, all designed to put pressure on them to reduce their prices.
REA is a 'monster' we helped create through our own lack of unity in the industry and our competitiveness.
In recent weeks we have seen over 400 agencies in Victoria unite and propose working with a media buyer to obtain better pricing from REA and discuss the upcoming announcement of a new portal that will hit the market in July or August.
This is perhaps the first time there has been significant unity against REA. We have had a multitude of opportunities provided to us to disrupt their monopoly, but as an industry we have not supported any.
REA representatives inform our businesses every year that prices are increasing and there will be no room for negotiation.
The last time we had an REA representative present to our business owners, his feedback was that prices were increasing as they were improving their products, they were servicing the end user, the sellers and buyers, and that we need to ensure we collected VPA from our clients.
There won't be many agents who will agree that REA products have improved to such an extent they justify the increasing fees.
So let's focus on the consumer experience then. The consumer assumes - via REA marketing and our agents - that REA is the best portal to market their property on.
What would happen if as an industry we actually united and chose to educate the consumer on the alternatives, to ensure sellers still had buyers through their property, and to support other portals, and simply pulled data feeds from REA?
What if, as an industry, we nationally worked with a public relations and marketing company to ensure the consumer was being educated on options and alternatives?
What we are all looking for is price equality across all portals.
For the new portal to be successful, it needs to provide the products and services we require. However, we as an industry need to support it and put all of our listings from REA's site. This means that across the board we need independents and franchise networks to work together and not have splinter groups.
We need to educate the consumer and our agents that REA is not the first, last and only choice. We need to educate them on the alternative choices that are available.
For any new portal to be successful it needs listings and eyeballs; and we agents hold the key to success.
I believe we have been provided with an opportunity where there is now significant backlash against REA, we have a new portal about to come onto the market and all that remains really is how we, as an industry, unite to create the change we so want to see. We have been given another choice, it is now our responsibility to make the right one.
ABOUT THE AUTHOR
---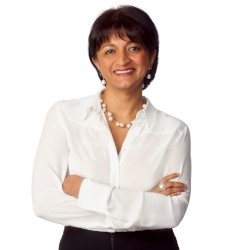 Sadhana Smiles is chief executive officer of Harcourts Victoria, the state division of one of Australia's leading and well respected real estate brands.
She is also a popular speaker and presenter, and is regularly asked to speak at some of the industry's most prestigious events, including ARPM, AREC, AREL, RELC, the REINSW Women's Conference and the Harcourts Conference.
Sadhana is also a regular contributor to a number of national real estate journals and publications.