I had the opportunity to attend a "non-real estate" conference in Thailand recently and participated in an activity that made me ask the question: Has mediocrity become the new excellence?
There were about 40 delegates as part of a focus group and we were asked to write our name and the industry we work in on a piece of paper. This was then passed around the room and the delegates were able to write comments on what they disliked about their specific industry.
Now most of us are very aware of what people think about real estate agents. However, when it is written down and not one comment is positive, it does make you sit back and ask WHAT do we need to change?
Let me share some of the comments with you:
         We are seen as lazy
         Only interested in ourselves
         Not trusted
         Not sure agents are honest
         We don't treat tenants with respect
         Question our commission rates vs the work we do
         Lack of price guides for property is frustrating
         Poor feedback from inspections
         Selling/renting a home is stressful and agents are not empathetic to this
         Lack of understanding on the sale/renting process
         Lack of feedback
         No phone calls post inspections
So the easy answer here as you read this is: well, that's not me, I am different. The problem is, however, we are all tarred with the same brush - ever heard the saying we are only as strong as our weakest link?
The reality is that, as an industry, we have known about the above for many years. Yet what are we as leaders, business owners and agents really doing about it.
This level of feedback, in my opinion, is now too common for us to ignore.
Sadly, for many of us mediocrity has become the excellence, transactions are more important than relationships and we are constantly in search of new clients rather than repeat and referral business.
Clearly we are not all the same and there are a number of networks, agents and directors who do take the client experience they provide seriously.
However, as an industry we are only as strong as our weakest service provider!
For those of us who are leaders in this industry, what do we need to do within our own organisations to change this perception?
At Harcourts Victoria we have put a laser focus on the client experience - what do we need to do to make them memorable so that the moments of truth do not become moments of mediocrity?
We have been brave enough to mystery shop our network and now are on a journey to ensure that our service interactions and connections with our clients are planned, consistent, flexible, trained, embedded into the businesses and protected.
Just imagine for a moment if our industry, network, office or agents were described as the following:
         They make us feel special
         They keep us informed
         They provide a road map
         They make the process easy
         I trust them
         They work hard
         They are open and transparent
         I can hold them accountable
         They understand my stress and take it away
         They make the process so simple and seamless
I constantly look at companies like Apple, Virgin, McDonalds and Disney; they have got it right and these organisations are much bigger than us. So what is holding us back? We are!
Remember in congested markets – where consumers have choice customer service and the memorability of that service – how we make them feel will be the key point of difference!
Memorable service won't just happen. You need the right mindset, empowerment, imagination, creativity, process, training and commitment.
You need to be consistent and better than the average to create moments of magic all of the time.
ABOUT THE AUTHOR
---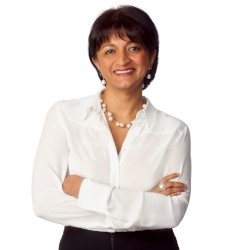 Sadhana Smiles is chief executive officer of Harcourts Victoria, the state division of one of Australia's leading and well respected real estate brands.
She is also a popular speaker and presenter, and is regularly asked to speak at some of the industry's most prestigious events, including ARPM, AREC, AREL, RELC, the REINSW Women's Conference and the Harcourts Conference.
Sadhana is also a regular contributor to a number of national real estate journals and publications.