When change comes it is pointless to behave like King Canute trying to turn back the waves, the minister for communications, Malcolm Turnbull, recently told the Future Forum, the annual Australian and New Zealand newspaper conference. Rather, cope with change by being like a surfer, using the waves to propel your journey.
As an industry that has been completely disintermediated by digital, the newspaper industry offers some important lessons to real estate, which is at the beginning of its change journey – a lot of which come under the heading of "things not to do". Too many editors and managers took the Knut option in the early days of transformation. 
But can real estate agents embrace the disruption that is coming to our industry? How do we successfully get our teams to adopt new behaviours and habits that will ensure our future success? This is something, even in my short time in this job at RP Data, I have heard agency principals and CEOs regularly asking.
Anyone who has tried to surf knows it takes a lot of practice just to stand up on the board, and even more to ride the big waves home, but it can be learnt. Here are my tips to change management for real estate:
Lesson 1: First, change yourself
When the need for change initially becomes apparent, it is human nature to identify what everyone else is doing wrong, what they need to do to change it and to like the idea of instructing them wisely but from a distance. 
But a much harder – but more important – role for any leader wanting to introduce change to their team is to look internally. What is your opinion about the change coming down the pipe? What behaviours do you demonstrate as a leader that will be influenced by the changes? What will you personally need to change about your behaviour or your habits, or your business? Feels uncomfortable, right?
There is a natural tendency to believe that change is something others need to do and to protect your own position. In this context, the resistance by your staff to changing their processes or behaviour comes into context. If you don't think you need to change, why should they? Be honest and upfront about how these changes are going to personally impact on you – and how that does freak you out a bit – and you've created a powerful story to engage with your people.
Lesson 2: Ask yourself "what if"?
David Kelley, the founder of Design Thinking at the Harvard Business School, claims one of the key ways to become an innovator is to recognise your biases and train your brain to think differently when they hit.
Here's a real estate example. When you were first told that social media would completely revolutionise the way agents engage with consumers, what was your first thought?
1)    That will never happen – social media is a complete waste of time.
2)    Yes, I've heard that but until someone shows me overwhelming evidence, I'm happy advertising exactly as I do now.
3)    Wow, really? That's an unusual idea. If it did happen, what would a social media strategy for a real estate agent look like?
The first response is denial, the second response is hearing the change, but feeling its impact can be ignored until, well probably until it is too late. The third is the design thinking model – to recognise your initial brain response of "no way!" and pushing through to think "okay, let's explore how". Kelley argues that by exploring how, you get a much better evidence of how disruptive the change might be while how, at the same time, you can "surf" it to the shore.
Lesson 3: Model the change you wish to see
Like so many leadership behaviours, if you want to get your team to change, you need to walk your own talk. You need to become familiar with the tech (not delegate it to your PA), you need to play with the ideas, you need to learn the basics, demonstrate their practice and understand their potential from the perspective of experience, not just theory.
The symbolic impact of a leader modelling the changes they wish to see sends a powerful message to everyone in your team. Equal if not more powerful is the symbolism of a leader failing to model the change he or she is dictating (in a bad way).
Lesson 4: Three nos and a yes
Every salesperson knows that to get a yes, you usually need to manage three 'nos'. This model is completely applicable to change management too. The first time you suggest change, it is usually met with a resounding no. The second, a slightly less firm 'I don't think so'. By the third try, you hear the waver in their voice as the "I don't know if I see the value" and by the fourth, you've got them trying the software, agreeing to consider – the deal is done.
The moral of the story with change management, like sales, you shouldn't give up on the first go. Or even the second or the third.
ABOUT THE AUTHOR
---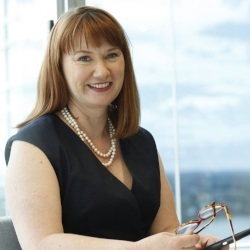 Kylie Davis is the principal at Real Content and author of seven landmark reports.
She is a 'data queen' whose research helps agents, property managers and principals better understand customers, markets and themselves. 
She is also a keen observer of the tech trends changing the way we work.