Never underestimate the power of persistence. Give up for a second, and that is exactly where you will finish.
Ever wondered how WD-40 got its name? Probably not, but the development of this simple anti-corrosive spray is the epitome of persistence. Its creator devoted his life to perfecting the formula, and only on his 40th attempt did he crack it - hence the name.
The manufacturers of WD-40 have grown to become one of the world's largest companies, and this year, celebrate their 60th anniversary. And how about James Dyson? It took him 15 years and over 5,000 prototypes to launch his revolutionary vacuum cleaner. He has since become the world's first billionaire inventor.
Study any successful individual, whether in business, sport, entertainment or even real estate, and the chances are they are extremely persistent. Somebody can be incredibly talented in their field, have a great education, or even years of experience, but they are unlikely to be truly successful unless they demonstrate persistence.
A quitter never wins, and a winner never quits
Giving up is easy, anyone can do it. For most people, the fear of failure is stronger than the desire to succeed; so persistence is clearly difficult to master. Persistence is the firm or obstinate continuance in a course of action in spite of difficulty or opposition. Regardless of how you are feeling, you press on even when you feel like quitting. The difference between people who accomplish their goals and those who don't is that they keep at it.
A real estate professional is faced with constant challenges, some of which can take their toll. There are occasions when most of us feel like throwing in the towel, but it is often our response to these moments that defines us. A great example of this is seen in our ability to conquer the fear of rejection. Successful agents merely view every 'no' as a step closer to a 'yes' and never confuse temporary defeat with permanent failure.
Take action
You wouldn't be human, if from time to time, your motivation wanes, but it is not your motivation that will see you succeed, it is your actions. Motivation is what gets you going, but it is your persistence that keeps you going. Persistence allows you to continue taking actions and achieving results, even when you do not feel motivated to do so.
Although difficult to master, persistence is a state of mind, so it can be cultivated. Here are some tips to help you become more persistent:
1. Have a vision
Recognise and clearly define what you want. Your vision has to be clear, exciting and achievable.
2. Articulate a plan
If you fail to plan, you plan to fail. In order to achieve your goal, you must have stepping stones to success. Put these plans down in writing and review them regularly.
3. Form good habits
Persistence is the direct result of your habits. We are what we repeatedly do. Persistence then, is not an act, but a habit.
4. Be resilient
In order to succeed you will need to develop thick skin. The world is full of negativity and criticism, but you must build up your immunity to any discouraging influences. Combining resilience with persistence can be omnipotent.
Big vision precedes big achievement
Persistence of action is borne from persistence of vision. A common trait of successful people is their ability to articulate a vision. A vision is a picture of the future we seek to create, described in the present tense, as if it were happening now. Vision without action is a daydream, and yet action without vision can become a nightmare.
A vision provides a driving force. It has to be clear, specific and simple. Always keep your vision in the forefront of your mind and don't take 'no' for an answer. Achieving your vision entails overcoming obstacles. Every goal, no matter how daunting, will be attainable if you just keep working at it.
It is easier to go down a hill than up it, but the view is much better from the top, so keep climbing!
ABOUT THE AUTHOR
---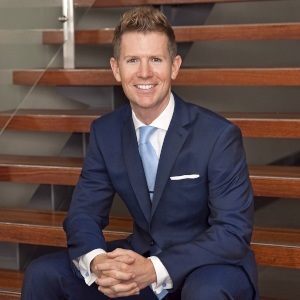 Douglas Driscoll is CEO of Starr Partners, and was named Industry Thought Leader of the Year at the Real Estate Business Awards 2016. Originally from the UK, Douglas is widely regarded as one of the industry's preeminent thought leaders, and is lauded for his dynamic and pioneering approach.