Is your real estate business ready for 'the big bang'? Do you have a plan for handling digital disruption? 
Or are you praying and hoping it doesn't affect you and your day-to-day business too much?
According to a Deloitte report, disruption is upon the real estate industry, just as it is upon a third of the Australian economy.
Being disrupted can be really unpleasant if you don't respond in the right way. I'm originally from the media industry and have first-hand experience of the havoc it can wreak when that industry decides to watch what happens first and then act… maybe… a bit. So believe me when I say the best form of defence is an attack – quickly!
The good news for real estate is that it's not expected to be as severe as it was for newspapers. But it's coming just the same.
Martin Read, a digital partner at Deloitte, says the current use of digital technologies has changed 52 per cent of the way real estate businesses run their cost structures, their revenue streams and their business strategies. That's more than half our businesses. And there's another 22 per cent to go.
How has that manifested?
It means that the basic value proposition of a real estate agent has significantly changed.
"The old value proposition of real estate agents was one of connecting people who want a house to people selling a house," Mr Read says. "The basic promise of the value proposition was to be a connector."
But online property portals do the job of connecting buyers and sellers more effectively than the old way of buyers and sellers visiting an agent.
"Customers can go in and set up a profile with an online portal and have properties pushed to them from multiple agents at the same time, rather than visiting multiple agents and collecting marketing material or seeking out advertisements for suitable properties," Mr Read says.
"In such an environment, the value that a real estate agent has is diminishing, because the technology is doing the job of connecting buyers and sellers much more effectively."
So, digital disruption for real estate agents is about the value of a real estate agent to connect sellers and buyers being made significantly less important due to technological changes. In fact, Mr Read argues that agents that stick to this model will go the way of the dinosaur.
"Those agents who see their future as being a connector will disappear," Mr Read says. "The question for real estate now becomes, what are the things agents can do that are not just about connection?"
The new value proposition for real estate agents is their ability to sell houses for more, and deliver services around buying, selling, renting and moving.
"The value proposition needs to change from being something basic – like connection – to being a maximum value model by getting a premium sale price for a house through the expertise of the agent," Mr Read says.
There is now a direct correlation between managing the digital footprint of your business and business health. This is because disruption is also making it cheaper and faster to do business for business owners – allowing you to reduce costs, speed up work flows and build new revenue streams while you improve your services.
Embrace the disruption, and it opens the opportunity to create a cheaper-to-run property agency business providing superior sale services that have premium price points, supported by new revenue streams.
Fight it, or put your head in the sand, and you'll find yourself making worse and worse margins, while being forced to cut costs in ways that affect your service levels and are unsustainable. 
ABOUT THE AUTHOR
---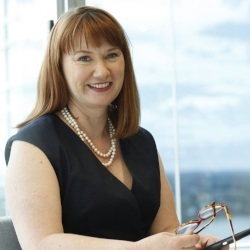 Kylie Davis is the principal at Real Content and author of seven landmark reports.
She is a 'data queen' whose research helps agents, property managers and principals better understand customers, markets and themselves. 
She is also a keen observer of the tech trends changing the way we work.