One in four small businesses is already experiencing higher than usual turnover ahead of the so-called "Great Resignation", a new survey has revealed.
It's led financial services firm Findex to express that the "Great Resignation" is "no longer looming but very much here".
With Australia pivoting from an elimination strategy towards living alongside coronavirus, Findex's survey has found staff retention is emerging as the top business concern for the year ahead.
Surveying more than 500 SMEs, Findex has revealed that more than one in two small businesses (53 per cent) hold concern about their ability to retain staff over the next 12 months.
All up, one-third of businesses – or 33 per cent – have reported a notable drop in employee satisfaction in just 12 months.
According to Findex, this drop in satisfaction could be stemming from an employer/employee disconnect.
Despite the popularity of remote and hybrid working models arising out of the pandemic, Findex found that 50 per cent of businesses have not consulted with their teams on their preferred working-from-home model – and do not have any plans to do so.
Alarmingly, it also found that almost two-thirds of employers want staff to return to the office for most of the working week despite acknowledging that they think only a third of staff will want to return to pre-COVID working arrangements.
According to Findex chief people officer Jane Betts, "it's concerning that half of businesses haven't consulted their teams on their preferred 'return to the office' approach".
Especially in an environment of skill shortages, immigration restrictions and greater talent mobility, she acknowledged hiring as becoming increasingly challenging.
Therefore, she advised: "Businesses should be looking to do everything in their power to retain their current workforce."
It's especially important when it appears for Australia and New Zealand that "the Great Resignation is no longer looming, but very much here".
According to Ms Betts, "it's not too late for businesses to find a way forward that can satisfy the needs of clients, employers and employees alike".
"The market is competitive but for the organisations prepared to change and adapt, they could be rewarded with the best of new talent and a modern business solution that is fit for purpose in the new working world order," she explained.
But, "the first thing managers and leaders need to do is to tap into what their employees want, as it's clear there's a big disconnect".
"What matters most to employees is very different in a post-COVID world, particularly when it comes to work-life balance and flexible working," she emphasised.
"We know that for employees, almost nine in 10 (85 per cent) want to continue to work from home or retain flexible working practices. But our data shows employers want the opposite and for teams to return back to the office for most, if not all, of the working week.
"This disconnect is not sustainable." 
Adam Flynn, the state director of Coronis Group Victoria, recently posed the question: Can real estate businesses retain the best talent without work-from-home flexibility? 
Sadhana Smiles and Grace Ormsby have also discussed the potential implications of the "Great Resignation" on Australian real estate on a recent episode of The WIRE. 
Flexible work, or a lack thereof, is not the only drawcard that's expected to impact employee retention over the coming year.
According to Findex, clarity on employer vaccination policies may also present retention challenges for businesses.
While almost a third of businesses – or 28 per cent – said they would require all employees to be fully vaccinated, a quarter of the employers surveyed – or 25 per cent – do support full vaccination only if mandated by the government.
ABOUT THE AUTHOR
---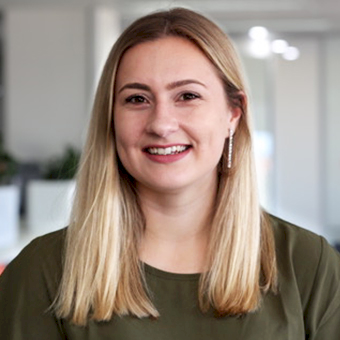 Grace is a journalist across Momentum property and investment brands. Grace joined Momentum Media in 2018, bringing with her a Bachelor of Laws and a Bachelor of Communication (Journalism) from the University of Newcastle. She's passionate about delivering easy to digest information and content relevant to her key audiences and stakeholders.