The network is kicking off 2022 with further expansion; a new residential, commercial and project marketing presence in Canberra.
Sam Dodimead is spearheading The Agency's move into the national capital as head of ACT, joining the group from boutique Canberra business Blackshaw, where he was director of project marketing.
Mr Dodimead has overseen more than $1 billion in real estate transactions, with The Agency highlighting his "intimate knowledge in site feasibility, acquisitions, planning and project marketing, his experience in working with developers to secure an array of development opportunities spans across land subdivisions, townhouse developments and high-rise apartment buildings".
The network also notes Mr Dodimead's team as "high-performing". He'll be joined in The Agency outfit by Luke Dent, Andrew Metcalf, and Nic Geou, with marketing and operations specialist Anita Kell also coming onboard.  
A pipeline of high calibre projects and residential listings are reportedly already in the works, with the Canberra team capable across the residential, project, and commercial sectors.
Looking to the team's 2021 results – in which they collectively sold 420 listings with a gross sales value of approximately $220 million, The Agency real estate chief executive Matt Lahood says the team has "an edge".
"The team's strong project marketing capability is [complemented] by the high-quality residential sales arm of their business," said Mr Lahood.
Hyping up the team, he said: "The significant level of development currently in the pipeline of our Canberra team cannot be understated. The relationships and trust they build with developers is second to none, which has enabled the team to sell out projects prior to completion. The team drives such high sales volume it can be challenging for some to keep track of."
Turning his attention to the local marketplace, Mr Lahood expressed that the "sheer" number of projects currently underway in the city reflects "the confidence from developers and investors in the long-term future and growth potential of the Canberra market, and underlines the increasing demand for commercial property".
According to Mr Dodimead, the team is already geared up for a busy 2022.
"We are anticipating delivering $500 million in off the plan sales in the Canberra market in 2022. We are also expecting to have a very active presence in the commercial market. In addition, we have exclusively listed a house that is expected to break the suburb record in Canberra's inner south by $1 million," the new head of ACT revealed.
Explaining his decision to join the network, Mr Dodimead said: "The Agency's national presence gives us the ability to launch projects nationally with scale to a much wider pool of buyers, and introduce sites to more developers with greater acquisition power."
The Agency Group managing director and CEO, Geoff Lucas, has indicated that the new office "aligns with our strategy to rapidly increase our presence on the east coast and grow into new geographic regions".
"Our entry into Canberra is in line with recognising the nation's capital as a significant growth opportunity for The Agency."
Mr Lucas said he and Mr Lahood have "long seen this market as a critical region of potential" – having grown businesses together in Canberra previously.
"Canberra boasts low unemployment rates and higher-than-national-average incomes, coupled with a highly educated and skilled workforce. These factors, as well as Canberra's liveability and appeal, have been strong driving forces in Canberra's house price growth," he said.
Looking ahead, the CEO believes Canberra will continue to be an attractive city for businesses, professionals and families.
"The arrival of international investors and skilled migrants is imminent, which will further propel demand for high quality property in the city.
"Canberra's geographical position is also significant, as its easy accessibility provides greater opportunity for our buyers and clients in the NSW Southern Highlands and Tablelands, Sydney and the Illawarra south coast region," Mr Lucas concluded.  
What to expect from the Canberra market in 2022
According to Mr Dodimead, the current strength of the residential market in the ACT "will remain a perpetual trend" – even with recent record-breaking value data.
Data from Domain showed Canberra hit a record-high median house price of $1,074,187 in the September 2021 quarter, reflecting 32.4 per cent year-on-year growth in the city and pushing it through the ranks to become the second-most expensive city in Australia, only behind Sydney.
Even with the high median house price, Mr Dodimead said the residential market "remains affordable in Canberra". 
Further explaining, the ACT head said: "Canberra is a city of highly educated and skilled professionals, with high levels of household wealth.
"I like to see it like this: It's very hard to find a restaurant booking in Canberra, good restaurants are always full. If interest rates go up around the country, Canberra is very well insulated from this as households can afford to absorb the cost. The high levels of borrowing power also ensure the residential market will remain strong."
And with developers having begun to add density, Mr Dodimead said even more amenities for residents had popped up – cafes, bars and shopping in every suburb, in turn improving liveability and creating a greater sense of community for residents. 
"As a city, Canberra has high overseas migration rates. Once borders open up again, we will have highly skilled migrants and professionals joining the public and private sector, which will help grow the economy," he forecast.
He also expects high demand in the investment space, with interstate and international investors showing interest.
"People want exposure to a market that is correlated to the government, as the Australian economy is strong globally, and investors see that as valuable. Rental yields are high and most properties are positively geared once they settle," Mr Dodimead pointed out.
ABOUT THE AUTHOR
---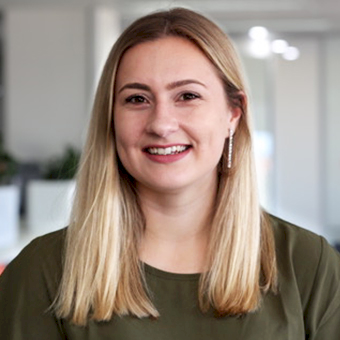 Grace is a journalist across Momentum property and investment brands. Grace joined Momentum Media in 2018, bringing with her a Bachelor of Laws and a Bachelor of Communication (Journalism) from the University of Newcastle. She's passionate about delivering easy to digest information and content relevant to her key audiences and stakeholders.