Michelle Mitchell, principal at LJ Hooker Lismore, and her colleagues all generally agree that the two weeks following the recent floods that devastated northern NSW were the worst of their lives.
But there's another point on which they concur. Though their hardships range from being evacuated from soon-to-be lost houses to having their homes spared but dealing with the devastation of their office, for them, the worst part wasn't the personal impact. "It's more about what had happened as a whole for the town," Ms Mitchell said during a recent conversation with REB.
She counts herself lucky, but the real estate veteran could have plenty to mourn on the personal front. Ms Mitchell had just cut the ribbon on a long-awaited new office. Purpose-built to withstand the highest floodwaters the region had ever seen, the official opening came only a week before water reached an unheard of 14.4 metres in the town, engulfing the new building, which stands 13.7 metres high, and its top-floor mezzanine that was meant to keep the office's equipment high and dry.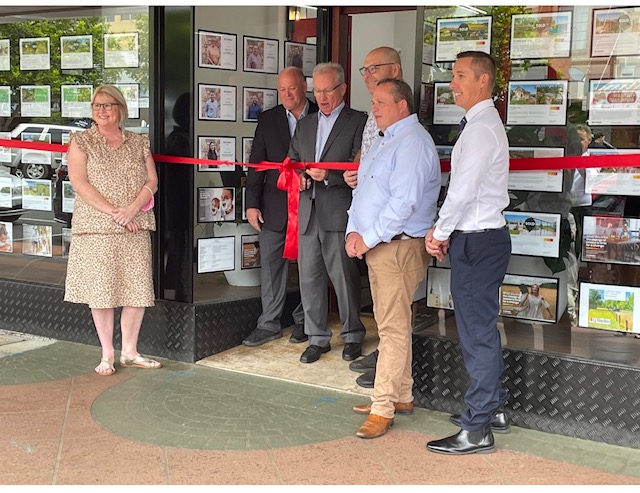 As she recounted the events that began in the last two days of February, though, this personal loss gets little mention in relation to what she sees as a real estate agency's primary priorities.
The safety of her tenants, staff, and others in the community who were facing evacuation was first on her mind as waters rose.
"As locals, many we knew in the community lost their homes and everything in it, so at first, we were trying to count how many of our tenants were impacted. We have a very big rent roll. And we do have a lot of properties that were in north and south Lismore," she said.
As an example, she cites the office's first task as ensuring the residents of a block of units housing elderly people, many of whom are without family, had all been taken to safety.
In general, her staff mobilised early to ensure their clients were safe and well.
"It was really important for the property managers and us as a team and the sales team to try and locate the people that we felt were in danger and just try to work out how we would navigate a way forward," she said.
Then as the waters receded, tenants in evacuation centres were naturally concerned with getting back into their properties, assessing the damage, and finding out when repairs could be made. Landlords, too, were concerned with their tenants, the state of their properties, and assessing where to go from here.
Starting on day three, "the phone just hasn't stopped," Ms Mitchell said.
Negotiating "the emotional side of the landlord and tenant relationship" has been a large focus of her team ever since, most of whom are working from her house, on their own personal computers for the time being. Ms Mitchell is waiting to replace equipment until she can restock from local businesses.
In a spare moment, the agent, who has also been coordinating donations from her contacts all over the state and further afield, has found time to organise something that she hoped might bolster spirits. The storefront of their centrally located Keen Street building, which would usually show properties on offer, now bears signs reading: "We love Lismore. Stay strong and be kind."
In the days after they were installed, many businesses reached out to signal they wanted to follow suit. She's provided the contact and templates to anyone who's asked. "We wanted to get that up straight away. We've got to show that positivity," Ms Mitchell said.
When time allows, Ms Mitchell and her team will rebuild. In the meantime, with many people relying on her for support, she's quick to give credit to those who have provided assistance to her, such as her longtime brand.
"The support we're getting, we don't feel like we're doing this alone," she said.
ABOUT THE AUTHOR
---
Based in Sydney, Juliet Helmke has a broad range of reporting and editorial experience across the areas of business, technology, entertainment and the arts. She was formerly Senior Editor at The New York Observer.