As the property market enters new territory, there's been a recent shift to attracting buyers rather than sellers – and agents need to be taking note.
You're out of free articles for this month
To continue reading the rest of this article, please log in.
Create free account to get unlimited news articles and more!
Bespoke Media's Nic Fren has noted that more and more agents are now focused on attracting buyers rather than sellers, resulting in a shift in the way agents are marketing themselves.
Agents are now "cooling their jets on the rampant self-promotion and campaigns to attract sellers", Mr Fren reflected, with many now "having to place more effort into winning over buyers".  
"I don't recall a time in my 10 years of marketing property on social media when there's been such a high demand and strategy to attract buyers on social platforms," he shared, adding that it's had the effect of raising the bar for agent behaviour.
It's a warning of sorts to agents who are continuing to self-promote through socials.
Mr Fren has argued that while the "look-at-me" strategy might work in a boom when everything is flying out the door, "when the market cools to what we are currently experiencing, owners want you 'selling' their property, not using it as a backdrop for your social media posts".
Acknowledging that many buyers out there are watching the social media channels of agents and the content related to properties they may be interested in, the chief executive imparted that these individuals are "quite often forming an opinion from what they see".
"It's worth remembering [that] owners are watching us on social media too – before they make contact with us," he said.
But instead of being concerned, agents should harness this power for their own benefit.
Mr Fren sees social media as "a great tool to show your leadership and strategy in this space, to demonstrate how active you are going to be in marketing their property, how you are going to make it easier for buyers to buy and how to create a buzz around a property once it hits the market".
To employ such a strategy, the marketing expert has offered up his top tips to attract buyers to property using social media:
Showcase in a snappy way
"Showcase as much of the property as you can in a short period of time," Mr Fren advised.
While arty photography and video may have a place on websites, he concedes that social media is a completely different ball game.
"On social media you will be rewarded for short, engaging video content that engages," he said.
Reminding agents that this audience hasn't gone looking for this property, it's been placed before them, Mr Fren said that "the conversation needs to be different from the polished version".
It's "a great opportunity to deliver a property in a more personal way." 
Don't drag out your marketing campaign
Mr Fren sees a 30-day campaign as too long for social media.
Instead, a well-executed campaign should be broken up into three parts: the pre-market campaign, the active campaign, and the get-ready-to-buy campaign.
"These are three touch points to identify different stages of the property marketing campaign.
"Using tools like look alike audiences and your email enquiries, you are able to create more targeted and direct marketing to keep that property front of mind," he shared.
Start with the gold
"You have three seconds to attract a buyer's interest," shared Mr Fren.
He urges agents not to waste that time by introducing themselves, stating, "they are on your page, they know who you are. Get on with it."
Instead, ask yourself the questions: "Who is the demographic? What are they going to love about the home?
"Start with that. Pique their interest so you can hold the engagement." 
Make it easy
"Simply asking them to call you isn't enough these days," the CEO stated.
Instead, consumers are all about convenience – and it needs to be as easy as possible.
He encourages agents to let their audience know that the contact details are in your bio – and that with a click of a button, they can contact you.
"It's going to make their experience so much easier than copying and pasting details from a caption," he stated.
Keep buyers in the loop
Mr Fren has also stressed the importance of keeping buyers up to date.
As well as letting them know that contracts and reports are available, he advises letting them know when there's only one week left to inspect.
"The more information you give the more engagement you will see," he imparted.
"Just because we know there's contracts available or the auction is next week, doesn't mean the buyers do.
"How often do we see a mad rush in the final days, because buyers don't realise what's involved in purchasing a property?"
All in all, Mr Fren said that agents must remember that buyers don't purchase as often as agents sell, so they need to be guided through the entire process. 
ABOUT THE AUTHOR
---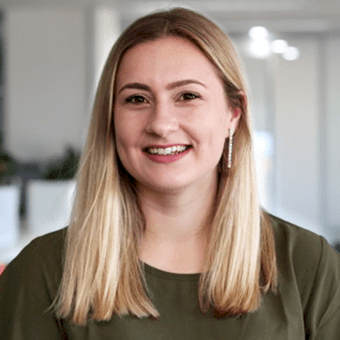 Grace is a journalist across Momentum property and investment brands. Grace joined Momentum Media in 2018, bringing with her a Bachelor of Laws and a Bachelor of Communication (Journalism) from the University of Newcastle. She's passionate about delivering easy to digest information and content relevant to her key audiences and stakeholders.