You should never underestimate the value of marketing your brand, according to a top New Zealand agent. 
Speaking on the AREC stage at this year's event on the Gold Coast, Auckland-based Diego Traglia was offering up some insight into how he structures his team when he revealed that having a marketing manager has been a "game changer" for his business.
"My marketing manager, she makes me look really good," he began.
Expressing that "she does literally everything", the marketing manager's role spans from flyers to online lead generation for the business.
It is reportedly what has enabled Mr Traglia's "Team Diego" branding, which he kicked off in 2019, to be "extremely strong in the marketplace".
As the number one agent for Harcourts Northern Region, and holding the number four spot for Harcourts internationally, the Harcourts Northwest Realty agent shared that sometimes when he himself attends open homes, people don't even realise "Diego" is a person; they are that acquainted with the branding as a standalone concept.
According to him, many "don't even know I work for Harcourts"; instead, thinking that the brand is simply "Team Diego".
That's why he believes "it's really, really powerful to have someone onboard that can help you with that".
Mr Traglia shared that hiring a marketing manager was what allowed his team to go from writing 150 sales a year to 300-plus sales.
In saying that, he is the first to acknowledge that marketing investment as "the last piece of the puzzle" for building out a "super team".
Advising agents who are looking to build out their own team that they should always start with a PA, he went on to emphasise that there's still plenty of power to be found in marketing, even without a marketing manager in the picture.
Mr Traglia is a self-professed fan of social media, calling it a "very simple" tool for real estate agents to use.
While agents and businesses can get creative, he stressed the importance of first ticking off the basics, such as property videos and market reports.
"It's not reinventing the wheel. It's basically just doing the basics and do it all the time," he advised.
When it comes to market reports, "if you're not doing that in this market or in this day and age, you really should start".
And property videos are just as vital – and don't need to come at a huge expense.
It's these videos that can then have money put behind them as advertising on Facebook and Instagram, he stated, sharing how for every property that takes this route, it's another opportunity for people to be exposed to the brand, and potentially click through to the website.
Once they are on the website, he recommends having a "pixel", which he explained as "a technical word for something that is going to be the stalker of the user that sees your website".
That tracker allows marketers to send paid ads to users who are most likely to be engaged by the content, as they have previously interacted with it, and once again, it will improve brand visibility with minimal effort.
Again emphasising that social media marketing shouldn't be complicated, he also stressed that social media marketing should be done with a personal touch, offering up one pearl of wisdom: "If your grandmother doesn't like the post on your Instagram or Facebook, don't have it on there for your clients."
ABOUT THE AUTHOR
---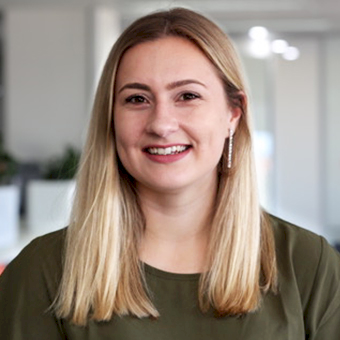 Grace is a journalist across Momentum property and investment brands. Grace joined Momentum Media in 2018, bringing with her a Bachelor of Laws and a Bachelor of Communication (Journalism) from the University of Newcastle. She's passionate about delivering easy to digest information and content relevant to her key audiences and stakeholders.